Benzinga Weekly Preview: Eyes On The Middle East As Lawmakers Discuss War On Terror, Nuclear Capabilities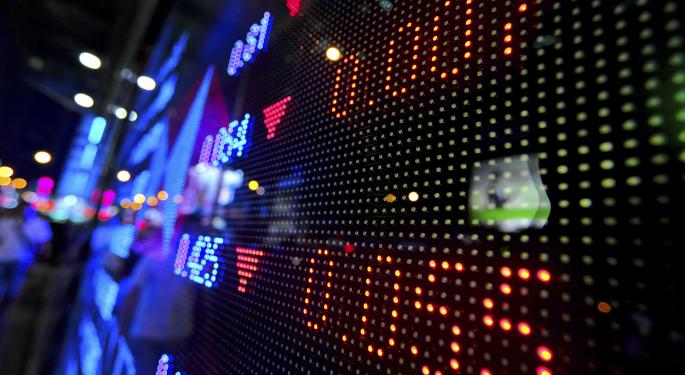 This week will hold plenty of data and events for markets to trade on as economic releases, earnings reports and speaking engagements all have the potential to move markets.
President Barack Obama is set to speak at the United Nations General Assembly, where most expect he will address the United States' role in the Middle East. The United Nations is also set to begin a five-day conference regarding nuclear energy and the controversy over Iran's nuclear capabilities.
Key Earnings Reports
Next week investors will be waiting for several key earnings reports including Accenture plc (NYSE: ACN), Nike Inc. (NYSE: NKE), Jabil Circuit, Inc. (NYSE: JBL) and BlackBerry Ltd (NASDAQ: BBRY).
Related Link: 4 Proven Trading Strategies You Can Learn In Just One Week
Accenture plc
Accenture is expected to report fourth quarter EPS of $1.10 on revenue of $7.62 billion, compared to last year's EPS of $1.01 on revenue of $7.09 billion.
On June 26, Merrill Lynch gave Accenture a Neutral rating with an $87.00 price objective, noting that narrow margins could weigh on the stock in the near term.
"3Q revenue trends were encouraging, but shares fell on margin concerns. While ACN reiterated its long-term goal of 10-30bp of annual margin expansion, FY14 guidance is now for +10bp. In 2Q, ACN highlighted pricing pressure, payroll costs, lower margins for early stage new large contracts, & investment/M&A costs. Pricing was stable sequentially in 3Q & contract profitability improved, but ACN noted it still has work to do on this front. In FY14, we forecast gross margin contraction of 50bp, offset by only +1.4% YoY for SG&A. Each 10bp of margin is $0.03 of EPS, or ~1%."
On September 12, Credit Suisse gave Accenture an Outperform rating with a $92.00 price target, forecasting that the company's earnings report will confirm that the company is back on a firm path to growth.
"Assuming Accenture sticks to the same 4% point spread in guidance then we believe that constant currency revenue guidance for Fy15 will frame the existing 6% consensus growth at 4-8%. However, it seems likely that Accenture will have to acknowledge the FX headwind. We think these technical factors mean there is limited scope for Accenture to surprise positively. However, we continue to see Accenture an innovation leader across the industry that is well placed to benefit from the fast growth SMAC technologies. Meanwhile, operational excellence should underpin the scope for modest margin expansion and robust cash flow. Hence we retain our Outperform rating."
On September 13, S&P Capital IQ gave Accenture a Sell rating with a $65.00 price target, noting that currency issues could continue to plague the company.
"We look for revenue growth of 5% in FY 14 (Aug.), reflecting what we see as challenges related to demand and pricing in the key consulting area, despite our view of relatively healthy bookings. We have also noted that currency recently has been an issue. We see some near-term softness in certain segments, but we believe new contracts have been ramping up. For FY 15, we see revenue growth improving to 6%."
Nike, Inc.
Nike is expected to report first quarter EPS of $0.88 on revenue of $7.80 billion, compared to last year's EPS of $0.86 on revenue of $6.97 billion.
On September 17, Merrill Lynch gave Nike a Buy rating with an $88.00 price objective, saying that European sales will likely continue to be strong in the wake of the World Cup.
"In Europe, we expect trends to remain strong in running, sportswear, training and basketball (off a low base)in UK and Germany, which should more than off set a deceleration in the football business (post-World Cup sell-in). We believe the strength in Western Europe will continue as Nike is in the early stages of the "amplify"strategy (investments in retail presentation) at their own direct-to-consumer locations and key wholesale accounts including FootLocker."
On June 26, Credit Suisse gave Nike a Neutral rating with an $80.00 target price, saying that although demand for the company's products remains strong, shares look fairly valued in comparison to peers.
"Underlying demand for Nike brands continues to impress, with top-line growth of 11% solid and futures growth remaining in the double-digits. Encouragingly, gross margin has started to move upwards (up 170bp Y/Y), suggesting that prior peaks may prove achievable in spite of higher inventory intensity. The two holdbacks we have are that SG&A investments are holding back flow through to the bottom line and valuation is elevated relative to apparel and footwear peers. On balance shares look fairly valued at current levels."
On September 13, S&P Capital IQ gave Nike a Buy rating with an $86.00 price target, saying that the company will likely continue to benefit from exposure at the World Cup in the quarter to come.
"We view the shares as attractively valued at recent levels, and see NKE poised to reap further gains from its global brand positioning after the World Cup. After a strong finish in FY 14, we think management's FY 15 guidance underscores its continued confidence in underlying near-term business fundamentals. Globally, we see NKE successfully leveraging its product innovation to drive consumer demand across various price points. Also, we see the company applying consumer insights from its DTC business to deliver the right assortments to its wholesale partners. In Greater China, we think NKE's focus on meeting the needs of discerning Chinese consumers is starting to gain traction."
Jabil Circuit, Inc.
Jabil Circuit is expected to report fourth quarter EPS of $0.00 on revenue of $3.82 billion, compared to last year's EPS of $0.56 on revenue of $4.81 billion.
On September 13, S&P Capital IQ gave Jabil a Hold rating with a $23.00 price target, saying that the company will likely see an increase in sales in the long term.
"Our hold opinion is based on our view of attractive valuation coupled with limited earnings visibility. We anticipate healthy bookings within JBL's High Velocity and Enterprise & Infrastructure segments. We also see more DMS segment product ramps in areas like health care, packaging, mobility, industrial, wearable computing and consumer lifestyle. Over the long term, we believe that the company's success in new and less-cyclical markets will help support sales and margin growth. We expect modest share repurchases and see JBL being opportunistic with acquisitions."
Related Link: A Wrap Up Of Alibaba Group Holding Ltd's First Day
BlackBerry
BlackBerry is expected to report a second quarter loss of $0.16 on revenue of $942.93 million, compared to last year's loss of $0.47 on revenue of $1.57 billion.
On June 19, Merrill Lynch gave BlackBerry an Underperform rating with a $6.00 price objective, noting that the company's plans for new hardware products will not be enough to reverse declining revenues in the long term.
"In our view quarter positives only mask the negative underlying trends and give the company some more time before showing another wave of revenue declines. On the positive side, a flurry of new hardware and software products could drive revenue ramp up in the second half of the year, hence the increase to our revenue and EPS estimates. However, we remain negative on the core fundamentals and believe revenue weakness will resume after the new products are launched and the channels are filled. We also expect service revenue growth to deteriorate, as we outline below. At a high level, we believe there is only limited place for Blackberry's ecosystem in the market, mostly concentrated around a small group of must-have customers/verticals. We reiterate our Underperform rating and $6 PO."
On July 30, Credit Suisse gave BlackBerry an Underperform rating with a $6.00 target price, noting that the company's future is still quite uncertain.
"BlackBerry's Security Summit in NY was constructive in tone, as management are positioning the company to become the end-to-end mobile security firm. While its history and brand in this area are certainly strong, our concern remains that the company will not be able to build a new services revenues stream to offset the decline we see in carrier access revenues. We maintain our price target of $6 and keep our UP rating."
On September 13, S&P Capital IQ gave BlackBerry a Hold rating with an $11.00 price target, cautioning that the company will struggle to rebuild its subscriber base after suffering large losses.
"Our hold recommendation on the shares reflects our concern regarding subscriber losses and difficulty in rebuilding enterprise relationships. We believe the company is looking to turn itself around by transitioning away from a hardware company to an enterprise mobile device management play. We expect BBRY to focus on physical keyboards, security, and monetizing software. However, we believe the company still has a long way to go to rebuild its relationships with enterprises, particularly those that have already left the platform. We think outsourcing efforts, through an agreement with Foxconn to manufacture certain devices and manage the associated hardware inventory, will significantly reduces fixed costs."
Economic Releases
Next week, Europe will be in focus with several important indicators from the eurozone due out. The region has been struggling as sanctions with Russia and falling inflation weigh on the economy. The European Central Bank announced two rounds of stimulus measures over the summer, the effects of which should start to become evident in the region's economic data.
Daily Schedule
Monday
Economic Releases Expected: eurozone consumer confidence, U.S. existing home sales
Tuesday
Earnings Expected: Bed Bath & Beyond Inc. (NASDAQ: BBBY), CarMax Inc. (NYSE: KMX), Steelcase Inc. (NYSE: SCS)
Economic Releases Expected: French GDP, French manufacturing PMI, French services PMI, German manufacturing PMI, German services PMI, eurozone services PMI, eurozone manufacturing PMI, U.S. redbook, U.S. manufacturing PMI
Wednesday
Earnings Expected: Paychex, Inc. (NASDAQ: PAYX), Vail Resorts, Inc. (NYSE: MTN), KB Home (NYSE: KBH), Jabil Circuit, Inc. (NYSE: JBL), Accenture plc. (NYSE: ACN)
Economic Releases Expected: German Ifo business climate index, Italian consumer confidence, U.S. new home sales
Thursday
Earnings Expected From: Thor Industries, Inc. (NYSE: THO), Nike, Inc. (NYSE: NKE), Micron Technology, Inc. (NASDAQ: MU), Diamond Foods, Inc. (NASDAQ: DMND)
Economic Releases Expected: Italian retail sales, U.S. durable goods orders, U.S. services PMI, Japanese CPI
Friday
View Comments and Join the Discussion!
Posted-In: Earnings News Guidance Previews Global Econ #s Pre-Market Outlook Markets Best of Benzinga