Hovnanian Enterprises Inc., Toll Brothers Inc. Earnings Preview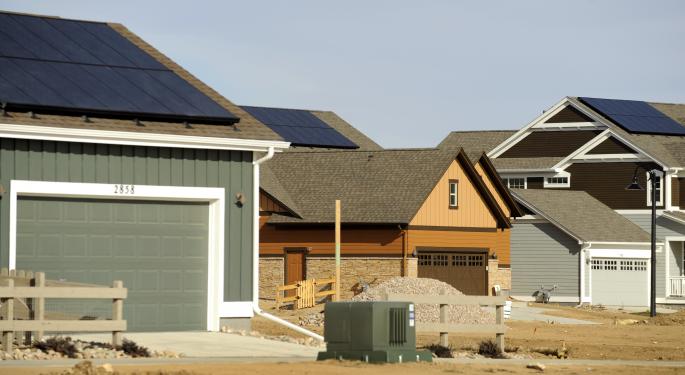 The new earnings season is a few weeks away yet, but among the off-season earnings reports coming up are those from residential homebuilders Hovnanian Enterprises, Inc. (NYSE: HOV) and Toll Brothers, Inc. (NYSE: TOL).
Reports on the housing markets have been mixed recently, and some competitors have missed analysts' expectation in recent reports. MKM Partners analysts suggested in Barron's over the weekend that Toll Brothers (NYSE: TOL) may have the edge between these two homebuilders.
Earnings Expectations
Toll Brothers reports Wednesday before the markets open, and the consensus forecast calls for its revenue to have jumped more than 43 percent from a year ago to $986.87 million. Earnings per share of $0.45 are expected, which would be up more than 42 percent from the same period of last year.
Related Link: Toll Brothers, Hovnanian Upcoming Q3 Margins Eyed By MKM Partners
Analysts on average predict that Hovnanian will report Thursday before the opening bell that its revenue for the quarter increased about 17 percent year over year to $559.47 million. Earnings of $0.09 per share are also in the consensus forecast, which compares to a reported profit of $0.06 per share in the same period of last year.
Hovnanian's EPS results fell well short of consensus expectations in the past two quarters, but the current estimate is the same as it was 60 days ago. Toll Brothers' EPS estimate is also unchanged in that time, though its earnings topped expectations in the previous three reports by more than 25 percent.
Looking ahead to the current quarter, sequential and year-over-year growth on both the top and bottom lines are so far anticipated from Toll Brothers. Analysts predict sequential gains for Hovnanian (NYSE: HOV) too, but a decline in EPS of more than four percent on a year-over-year basis.
A Brief Overview
Hovnanian's market cap of about $554 million compares to $6.3 billion for Toll Brothers. Neither offers a dividend. The former is headquartered in Red Bank, New Jersey, and the latter in Horsham, Pennsylvania. Hovnanian is the older, founded in 1959, while Toll Brothers was founded in 1967.
Other competitors include D.R. Horton and PulteGroup, both of which fell short of earnings expectations in most recent quarterly reports. The former is expected to show some growth on the top and bottom lines in the current quarter, while the forecast for the latter includes an EPS decline and flat revenue.
During the three months that ended in July, Hovnanian blamed rising expenses for its net loss in the previous quarter. Toll Brothers CEO said in the period that the housing recovery in the United States was still in the early stages. Increased prices helped boost its net income in the previous period.
Hovnanian has a long-term EPS growth forecast of just five percent. Toll Brothers (NYSE: TOL), on the other hand, has a long-term EPS growth forecast of about 49 percent. Both have price-to-earnings (P/E) ratios that are greater than the industry average.
When it comes to the operating margin, Toll Brothers has the advantage at about nine percent to Hovnanian's little more than seven percent. Hovnanian's return on equity is in the red compared to more than seven percent for Toll Brothers.
Related Link: Could Lennar Be Building The Foundation For A Rally?
Hovnanian also has a higher level of short interest as of the most recent settlement date at more than 16 percent of the float. That compares to less than six percent for Toll Brothers. Note that the number of Hovnanian shares short has been rising since June.
Consensus To Hold?
The consensus recommendation of analysts surveyed by Thomson First Call for both stocks is to hold shares. That has been so for at least three months in both cases. The analysts' mean price targets indicate about 11 percent potential upside in Hovnanian and around 10 percent in Toll Brothers.
Hovnanian's share price is down more than 35 percent year to date, while that of Toll Brothers is less than four percent lower. Over the past six months, Hovnanian has underperformed Toll Brothers, D.R. Horton and PulteGroup. Both of the featured stocks have underperformed the broader markets.
At the time of this writing, the author had no position in the mentioned equities.
Keep up with all the latest breaking news and trading ideas by following Benzinga on Twitter.
Posted-In: hovnanian Toll BrothersPreviews Trading Ideas Best of Benzinga
View Comments and Join the Discussion!