McDonald's Supplier Forced To Suspend Meat Production By Shanghai FDA
On Sunday night, Shanghai Husi Foods suspended production meat supplied McDonald's (NYSE: MCD) and YUM! Brands (NYSE: YUM) KFC and Pizza Hut chains.
The Shanghai Food and Drug Administration issued a suspension of operations for Shanghai Husi Foods after the agency's suspicions were aroused that the McDonald's and YUM! Brands supplier was producing food with materials past it's due date.
The supplier uses two production lines, one for chicken and another for beef and pork products.
China Daily stated reporters "who managed to enter Husi workshops said they saw clear evidence that stale beef and chicken were repackaged after processing and their shelf life was prolonged another year."
Shanghai Husi Food produces various products for McDonald's and KFC on mainland China.
The products, according to Husi ECPlaza website include:
Beef patty
Fully cooked pork sausage
Fully cooked chicken nugget
Shredded lettuce
Coated fish filet
Cooked frozen snail meat
Fully cooked crayfish
McDonald's is set to release earnings on July 22 and the Street is looking for $1.44 on revenues of $7.28. YUM! Brands released earnings on July 16 and beat by one-cent, reporting $0.73 on revenues (which missed by less than one percent) of $3.2B. McDonald's has missed on revenue expectations the passed four reporting quarters.
McDonald's - BEst EPS Adjusted - Source: Bloomberg Data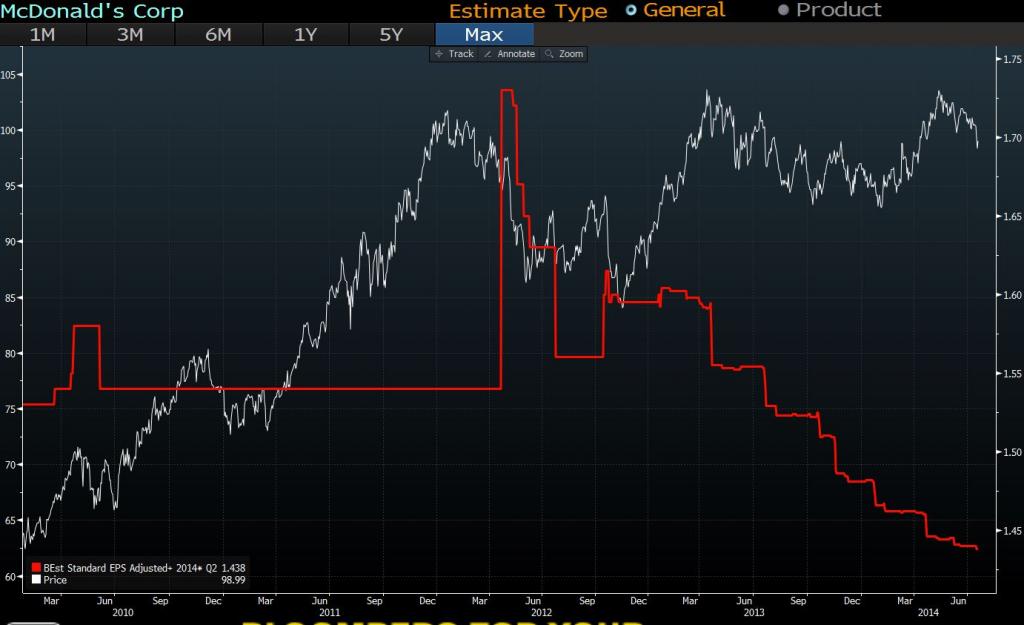 (Click To Enlarge)
YUM! Brands - Best EPS Adjusted - Source: Bloomberg Data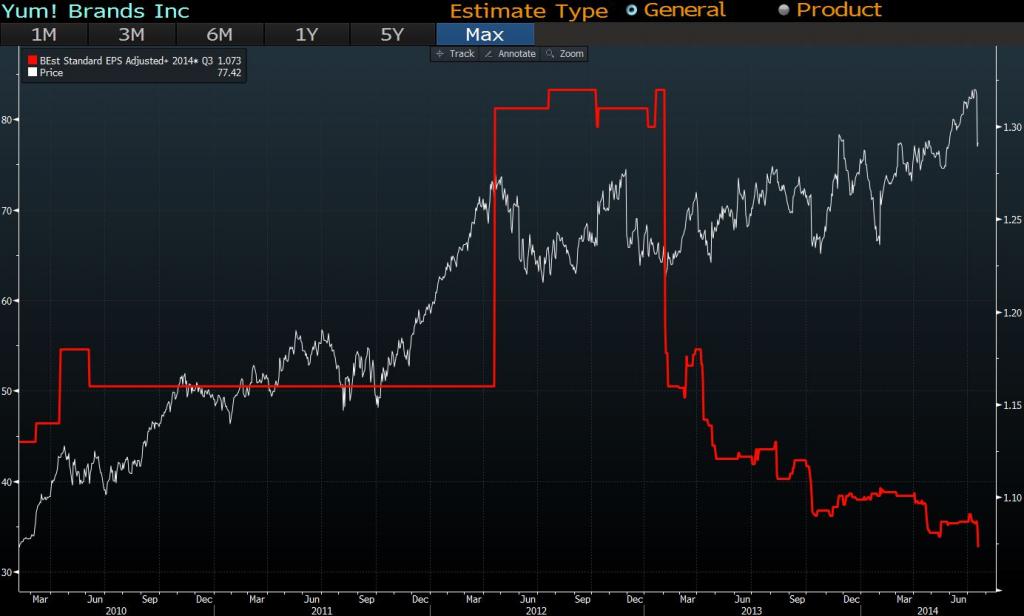 (Click To Enlarge)
Over the past month McDonald's has trended down and YUM performed well until they came off their earnings data release.
5-Minute Chart Over The Past 30 Days - Source: Bloomberg Data

(Click To Enlarge)
YUM's revenue was weak though the company did say it expects 40 percent growth in China driven by sales and restaurant markets.
With KFC and Pizza Hut being the only impact, it would appear the support from the 800 Taco Bell stores slated to be built in the US will help to offset any impact.
As for McDonald's, operations in China, Australia, and Japan, collectively know as APMEA, accounted for 54 percent of McDonald's revenue according to the company 10-K for the period ending December 31, 2013.
In McDonald's 10-Q for the period ending Q1 2014 the company highlighted that China drove APMEA's 0.8 percent YOY comparable sales growth (the US decreased 1.7 percent and Europe increased 1.4 percent).
McDonalds may continue to remain under pressure heading into earnings this week Tuesday.
According to Bloomberg the 30 analysts covering McDonald's are split evenly between Buy and Hold. The collective target price is $106.71 which is roughly eight percent above Friday's close of $98.99.
Analyst Ratings - Source: Bloomberg Data

(Click To Enlarge)
As shocking as the news of halted supplies to mainland China may appear in a headline, under the hood the impact to earnings and operations appears minimal for now.
Should news of illness hit and this production halt becomes a media focus point, then McDonald's will have a public relations expense to deal with. Expect analysts to question management on the conference call this Tuesday.
Lastly, as the week begins, on a daily retracement chart McDonald's is showing support at $98.
McDonald's 1-Year Daily Chart With Retracements - Source: Bloomberg Data
(Click To Enlarge)
View Comments and Join the Discussion!
Posted-In: China Daily KFC Pizza HutEarnings News FDA Global ETFs