Dow Trades Above 17,000 While S&P 500 Inches Closer To 2,000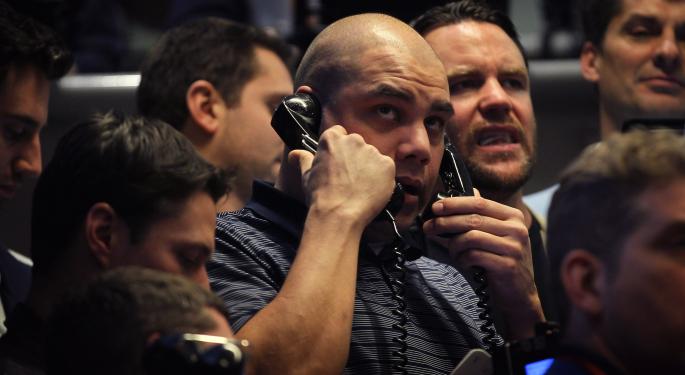 U.S. stocks rose ahead of the long weekend after the economy added a better-than-expected 288,000 jobs in June. The unemployment rate also dipped to 6.1 percent.
The Fed's Janet Yellen confirmed its views that ti will not raise its interest rates on Wednesday at an International Monetary Fund meeting in Washington.
"I do not presently see a need for monetary policy to deviate from a primary focus on attaining price stability and maximum employment, in order to address financial stability concerns," said Yellen.
Recommended: 4 Tips For Saving Money This 4th Of July
The Dow gained 0.55 percent, closing at 17,068.97
The S&P 500 gained 0.55 percent, closing at 1,985.40.
The Nasdaq gained 0.633 percent, closing at 4,485.93.
Gold lost 0.74 percent, trading at $1,321.10 an ounce.
Oil lost 0.67 percent, trading at $103.78 a barrel.
Silver lost 0.57 percent, trading at $21.18 an ounce.
News of Note
Initial Jobless Claims rose 2,000 to 315,000, above the consensus of 314,000 and above May's reading of 313,000. Continuing claims rose 11,000 to 2.57 million.
June Nonfarm Payrolls rose 288,000, exceeding expectations of 212,000 and coming in higher than May's 224,000 gain.
June U.S. PMI Services Index rose to 61 from 58.1 in May but fell short of the consensus of 61.1.
May Trade Balance shrunk to -$44.4 billion from -$47 billion in April.
June ISM Non-Manufacturing Index fell to 56 from 56.3 in May, falling short of estimates of 56.1.
EIA Natural Gas Inventory rose 100 bcf, in-line with expectations.
The European Central Bank left its benchmark main refinancing rate unchanged at 0.15 percent. The ECB also left its marginal lending facility unchanged at 0.4 percent, while deposit facility rates also remained unchanged at negative 0.1 percent.
The International Air Transport Association reported that passenger traffic grew by 6.2 percent in May after growing 7.6 percent in April. International demand rose 7.0 percent while domestic demand grew by only 4.6 percent.
Analyst Upgrades and Downgrades of Note
Analysts at Deutsche Bank maintained a Hold rating on Alcoa (NYSE: AA) with a price target raised to $15 from a previous $10. Shares gained 0.84 percent, closing at $14.98.
Analysts at JPMorgan reinstated coverage of AstraZeneca (NYSE: AZN) with an Underweight rating. Shares lost 0.88 percent, closing at $75.64.
Analysts at JPMorgan maintained a Neutral rating on Constellation Brands (NYSE: STZ) with a price target raised to $95 from a previous $82. Shares gained 0.76 percent, closing at $91.14.
Recommended: Target 'Respectfully Requests' Gun Owners Leave Weapons At Home
Analysts at Oppenheimer upgraded Cree (NASDAQ: CREE) to Outperform from Market Perform with a $59 price target. Shares gained 5.03 percent, closing at $52.84.
Equities-Specific News of Note
According to Reuters, AbbVie's (NYSE: ABBV) CEO Richard Gonzales has been holding discrete meetings with Shire (NASDAQ: SHPG) shareholders in London. Shares of AbbVie hit new 52-week highs of $58.27 before closing the day at $58.22, up 0.19 percent. Shares of Shire gained 0.05 percent, closing at $237.35.
American Apparel's (NYSE: APP) former CEO Dov Charney has given up his voting rights to Standard General. Shares gained 5.42 percent, closing at $0.8750.
According to CNBC, a merger announcement between Lorillard (NYSE: LO) and Reynold American (NYSE: RAI) will be announced in the coming weeks. Shares of Lorillard hit new 52-week highs of $65.39 before closing the day at $64.45 while shares of Reynold American gained 2.19 percent, closing at $61.48.
Walgreen (NYSE: WAG) reported that its June sales rose 8.9 percent from a year ago to $6.28 billion. Comparable-store sales rose 1.3 percent while comparable pharmacy sales rose 11.3 percent. Shares gained 1.19 percent, closing at $73.91.
Rite-Aid (NYSE: RAD) reported that its June sales rose 3.5 percent form a year ago to $1.995 billion. Front-end store-sales rose 0.9 percent and the company also reported a pharmacy comp of 5.4 percent. Shares gained 5.44 percent, closing at $7.56.
Nokia (NYSE: NOK) has acquired Nice System's (NASDAQ: NICE) advanced geolocation technologies to develop future 3-D modeling projects and increase automation to its networks. Shares of Nokia gained 1.58 percent, closing the day at $7.73 while shares of Nice System gained 0.54 percent, closing at $41.04.
Express Scripts (NASDAQ: ESRX) announced that it will drop coverage for 1,000 drug ingredients found in compounded medications. Shares gained 0.61 percent, closing at $69.43.
General Motors (NYSE: GM) is exploring adding a Wi-Fi option for every 2015 model vehicle. Shares finished the day unchanged at $37.74.
Amazon.com (NASDAQ: AMZN) has vowed to fight over an FTC allegation accusing Amazon of has charged users of its apps (especially children) for additional services despite the app being downloaded for free. Shares gained 1.36 percent, closing at $337.38.
Lululemon's (NASDAQ: LULU) founder Chip Wilson has been talking with private equity firms about taking Lululemon private. Shares gained 2.61 percent, closing at $42.48.
Winners of Note
Janna Partners disclosed a 9.9 percent stake in PetSmart (NASDAQ: PETM) and may take an activist role in pushing the company to sell itself. Shares gained 12.53 percent, closing at $67.30.
Recommended: 3 ETFs To Watch In The Wake Of Strong Jobs Number
Decliners of Note
NQ Mobile's (NYSE: NQ) auditor, PriceWaterhouseCooper told the company that it needs to perform additional procedures to expand its 2013 audit work. Ying Han, the chair of the company's audit committee is leaving the company, although the company stated the decision was due to personal reasons. The company also stated it will add a shareholder representative as an independent director. Shares hit new 52-week lows of $4.23 before closing the day at $4.57, down 32.40 percent.
Quote of the Day
"Democracy is the government of the people, by the people, for the people." - Abraham Lincoln
View Comments and Join the Discussion!
Posted-In: Alcoa AmazonEarnings News Econ #s Economics After-Hours Center Movers Best of Benzinga