Earnings Expectations For The Week Of June 16: FedEx, Oracle And More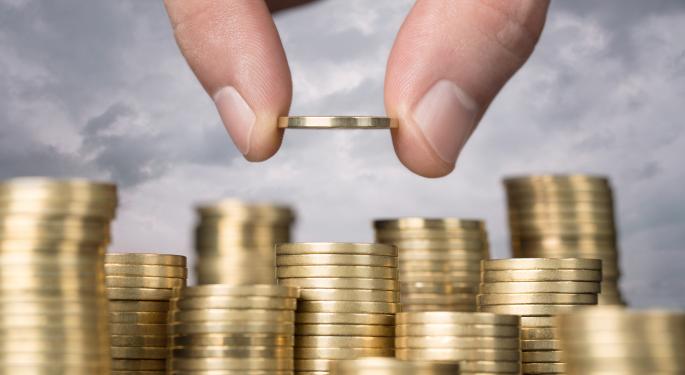 Scheduled quarterly reports from BlackBerry (NASDAQ: BBRY), FedEx (NYSE: FDX), Kroger (NYSE: KR), Oracle (NASDAQ: ORCL) and Rite Aid (NYSE: RAD) and will highlight the coming week on the earnings front.
Analysts are looking for year-over-year growth on the top and bottom lines for all of them, expect an earnings decline from Rite Aid and a net loss from BlackBerry. Below is a closer look at what analysts expect from these and some of the week's other most prominent quarterly reports.
See also: Benzinga Weekly Preview: New Amazon Smartphone Makes Its Debut
BlackBerry
Analysts expect this beleaguered wireless company to say that it had a net loss of $0.25 per share in its fiscal first quarter. That would compare to a net loss of $0.13 in the year-ago period. And revenues for the quarter are forecast to have fallen from $3.07 billion a year ago to $963.93 million for the three months that ended in May.
So far the forecast for the current quarter calls for similar results, though that would be a narrower loss than a year ago and a smaller revenue decline. A narrower net loss is expected for the full year as well. The company is scheduled to share its results Thursday before the markets open.
FedEx
The forecast for this Memphis-based transportation and business services giant calls for earnings of $2.36 per share and for revenue to total $11.66 billion for the most recent quarter. In the year-ago fiscal fourth quarter, the company posted a profit of $2.13 per share and revenue came to $11.44 billion.
Analysts are also looking for $6.68 per share and $45.40 billion in revenue for the full fiscal year that ended in May. That would be up from $6.23 per share and $44.29 billion in the previous year. Look for FedEx to share its latest results Wednesday before the opening bell.
Kroger
The fiscal first-quarter forecast for this leading supermarket operator calls for earnings per share (EPS) to be up more than 12 percent from the year-ago period to $1.05 in Thursday morning's report. And sales are expected to be more than eight percent higher to $32.59 billion.
Note that the consensus EPS estimate has ticked up by a penny over the past 60 days, and the company has not fallen short of analysts' consensus expectations in the past four quarters. So far, year-on-year gains on the top and bottom lines are forecast for the current quarter too.
Oracle
In its report late Thursday, this enterprise software giant is expected to report that its EPS increased from $0.87 per share in the year-ago quarter to $0.95 for the three months that ended in May. Full-year EPS are expected to be about eight percent higher than a year ago as well. Both EPS estimates are the same as they were 60 days ago.
Oracle's revenues for the fiscal fourth quarter are predicted to have grown almost five percent to $711.48 billion, while for the full year they are more than three percent higher to $38.44 billion. So far, revenue and EPS growth are predicted for the current quarter as well.
Rite Aid
The third-largest drug store operator in the United States is expected to report earnings of $0.05 per share in Thursday morning's report. That would be down from a profit of $0.09 per share in the same period of last year. Note that in the previous four quarters, Rite Aid has not fallen short of consensus estimates.
Rite Aid also is expected to say revenues grew more than two percent from a year ago to $6.43 billion for the fiscal first quarter. So far, less than three percent year-on-year growth in revenue is predicted for the current quarter, as well as earnings growth of more than 62 percent.
See also: These 3 Small Cap Companies Have Big Dividends Approaching
And Others
Companies expected to report quarterly earnings growth this week also include CarMax, Pier 1 Imports and Red Hat. But EPS declines are forecast for Adobe Systems, Darden Restaurants, Smith & Wesson and TIBCO Software. Jabil Circuit is expected to have swung to a net loss, while Yingli Green Energy posts another net loss.
The following week will be another fairly quiet one on the earnings front, but look for quarterly reports from Barnes & Noble, General Mills, Monsanto, Nike and Walgreen.
Keep up with all the latest breaking news and trading ideas by following us on Twitter.
View Comments and Join the Discussion!
Posted-In: adobe systems Blackberry Carmax Darden RestaurantsEarnings Previews Pre-Market Outlook Trading Ideas Best of Benzinga