3 Stocks To Consider Trading Before They Make Headlines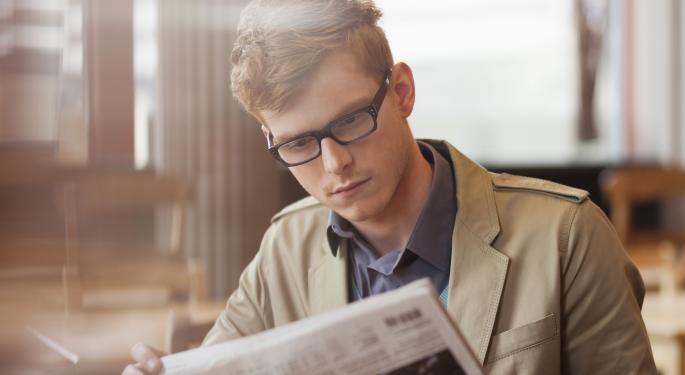 The U.S. stock market continued its near-term rally on Thursday, with the Dow and S&P finishing the day at new all-time highs.
Although the summertime is normally known for slow trading, things are starting to heat up on Wall Street after the Dow climbed 100 points and the Nasdaq rose better than one percent.
Among the day's top stories was a proposed $32 billion buyout of T-Mobile (NYSE: TMUS) by Sprint (NYSE: S).
Both stocks actually fell on the news. Sprint shares closed the session down four percent while T-Mobile lost better than two percent. Based on the trading action, it is pretty clear that the market is skeptical that this deal will get done.
The rumored per share takeover price for T-Mobile is $40.00, yet the stock closed Thursday's session at $33.49, down 2.30 percent. The merger will surely face stiff anti-trust hurdles and could even fall apart in the next couple of days.
Big movers on the session included Ciena (NASDAQ: CIEN), Vera Bradley (NYSE: VRA) and Zynga (NASDAQ: ZNGA). Ciena shares surged more than 18 percent after a strong-first quarter earnings report.
Related Link: 5 Top Performing Semiconductor Stocks
Vera Bradley fell more than five percent after its first-quarter results and Zynga plunged nine percent after a cautious analyst note and news that three top executives are departing the company. The stock has now lost around 22 percent in 2014 amid continued operational struggles at the San Francisco-based online gaming firm.
The technical outlook for the U.S. stock market continues to appear favorable and it would not be surprising to see the S&P 500 make a run at the psychologically significant 2,000 level in the coming weeks.
With this in mind, here's several catalyst-driven trading ideas for the upcoming week:
Abraxas Petroleum (NASDAQ: AXAS)
This small-cap oil and gas exploration and development company updated its 2014 production guidance on Thursday at an industry conference. Abraxas now sees a production range between 5,500 and 5,700 barrels of oil equivalent per day compared to its previous guidance of 5,200 to 5,300 barrels a day.
This news sent the stock soaring during the session. Abraxas shares closed the day up around 12.50 percent to $5.23. The stock's 52-week trading range is between $2.01 and $5.80, and in light of the bullish production news, Abraxas may make a run at a new 52-week high in the coming weeks.
The stock currently trades at a trailing P/E of under 12 and a forward P/E under 11. On a fundamental basis, this is not a terribly expensive stock despite a history of very solid revenue growth. While net income has been choppy for Abraxas over the last few years, the company has managed to grow its revenue from $58 million in fiscal 2010 to over $94 million in fiscal 2013. For fiscal 2014, Wall Street is projecting sales growth of 37.50 percent to $129.74 million.
In 2015, revenue is estimated to rise another 28.50 percent to $166.76 million. Despite the big pop in the stock on Thursday, Abraxas would appear to continue to be a name that can provide investors with growth at a reasonable price.
BioDelivery Sciences International (NASDAQ: BDSI)
This is a stock that aggressive traders may want to consider buying on Friday. The company has a June 7 PDUFA date for a drug called Bunavail, indicated for the maintenance treatment of opioid dependence. Bunavail is formulated as a combination of buprenorphine and naloxone, and is similar to Reckitt Benckiser's blockbuster drug Suboxone.
In 2014, Suboxone has become the 36th best selling prescription medication in the United States. The drug was approved for the maintenance treatment of opioid dependence in 2002 and has generated revenue of nearly $1.4 billion over the last 52-weeks (through March 2014).
BioDelivery Sciences currently has a market-cap of just $468 million, but that might change significantly if Bunavail can capture even a small fraction of Suboxone's market. Analysts are currently predicting peak sales of $350 million. The company certainly appears optimistic about gaining FDA approval this weekend.
In a press release from late March, BDSI's president and CEO Dr. Mark A. Sirgo outlined new marketing partnerships with two companies, Quintiles and Ashfield Market Access, in order to support the commercialization of Bunavail.
Related Link: 3 Stocks To Watch After Strong Earnings Reports
"We have been working with and have formed strong relationships with these two companies over the past year, and in conjunction with them have developed a commercial plan that will support what we believe will be a successful launch of BUNAVAIL in the U.S. later this year," he said.
It is also quite obvious that investors are anticipating a positive outcome for the drug. At the end of 2011, the shares were trading hands for under $1, compared to the current share price of $9.67, with most of the gains being attributable to optimism surrounding Bunavail.
Hertz Global Holdings (NYSE: HTZ)
The Florida-based car rental and leasing company will be releasing its quarterly earnings results after the closing bell next Monday. Heading into the report, the stock has modestly outperformed the S&P 500 in 2014, rising almost seven percent. Over the last 52-weeks, Hertz has registered a solid 18 percent gain. At current levels, the company has a market-cap of just under $14 billion and the shares are sitting at a new 52-week high.
Hertz has a very high beta, well above 2, which means that it has historically been more than two times as volatile as the market as a whole. This suggests that the stock could make a big move in either direction after the company reports its earnings results.
Heading into the print, Wall Street analysts have consensus earnings per share estimates of $0.09. In the year ago period, Hertz reported EPS of $0.21. The high estimate on the Street is $0.12 with a low estimate of $0.07. Sales are expected to grow 5.30 percent to $2.56 billion.
The stock currently trades at a trailing P/E of 40, a forward P/E of 13 and a PEG ratio of 1. Therefore, on a forward looking basis, this does not appear to be a terribly expensive stock. These modest valuation metrics look even more attractive considering the company's extremely consistent earnings and revenue growth over the last five years.
In fiscal 2010, Hertz reported a loss of $53 million on revenue of $7.563 billion. This compares to net income of $346 million on revenue of $10.772 billion in fiscal 2013.
Posted-In: Dr. Mark A. Sirgo SuboxoneLong Ideas Short Ideas Pre-Market Outlook Trading Ideas Best of Benzinga
View Comments and Join the Discussion!