Office Depot To Close 400 Stores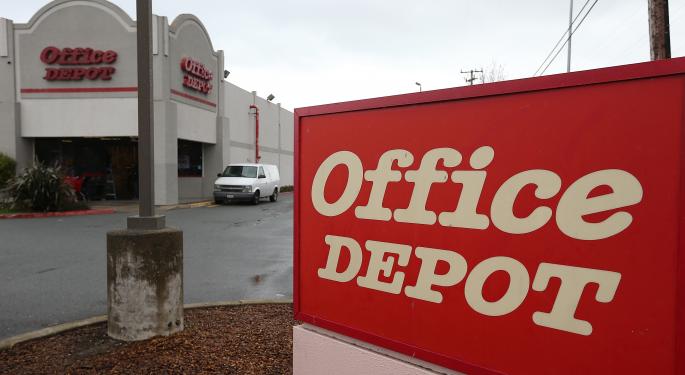 Office Depot (NYSE: ODP) is wrapping up the consolidation of its merger last year with OfficeMax by closing at least 400 stores.
That announcement came in alongside the company's first quarter earnings results on Tuesday, which pleasantly surprised both analysts and Office Depot officials.
"After a weather-challenged start to the year, sales trends improved as the quarter progressed, and we exceeded our expectations for both cost reduction and operational execution," Office Depot chairman and CEO Roland Smith said in a press statement.
Smith also said that, with the merger's "integration synergies" occurring faster than anticipated, the company has increased its full year 2014 projections – with its adjusted operating income up to at least $160 million, compared to its prior outlook of around $140 million.
Related: Rough Seas Ahead For The Cruise Industry?
Office Depot, which completed its $1.2 billion merger with OfficeMax late last year, reportedly has 1,900 stores in the Uinted States. Smith said one of the company's priorities for this year, along with meeting customer demand, is to consolidate and optimize its store portfolio – and eliminate overlapping stores in the wake of the merger.
He added that 150 of the 400 stores mentioned are scheduled to close this year, with the remainder of those closures to be completed by the end of 2016.
Office Depot and its competitor in the office retail business, Staples, have both been facing fading sales figures – as consumers either go online or to other, larger retailers for their office supply needs.
Earlier this year Staples announced it was closing 225 of its stores in the U.S. and Canada, or about 12 percent of its North American outlets.
But analysts seem to approve of Office Depot's actions.
"Same-store sales were down four percent last quarter so (this is) definitely a move in the right direction ... despite all of the headwinds," Scott Tilghman, with B. Riley and Co., told Reuters.
Posted-In: B. Riley & Co. office retail office suppliesEarnings M&A News Retail Sales Events Best of Benzinga
View Comments and Join the Discussion!