Panera Bread Earnings Preview: With Panera 2.0 Years Away, Is Short Term Growth a Concern?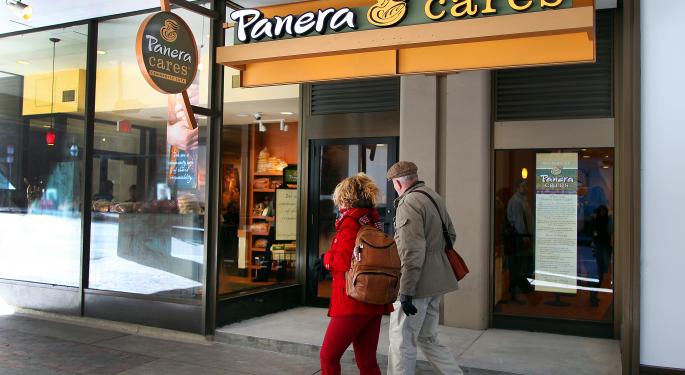 Panera Bread (NASDAQ: PNRA) will report its first quarter 2014 results on Tuesday after market close. The popular quick service restaurant is expected to earn $1.52 per share on revenue of $598.07 million.
Panera Bread reported its fourth quarter 2013 results on February 18 when the company earned $1.96 per share and beating the consensus estimate of $1.94. Revenue of $661.7 million slightly fell short of the consensus estimate of $662.63 million.
As to be expected, Panera Bread blamed its revenue shortfall on weather related issues that plagued the entire industry. Comparable-store sales fell ten percent or more in areas that were hit by extreme weather issues and at the company wide level, comparable-store sales dipped two percent from the previous quarter.
During Panera Bread's fourth quarter results, the company guided its first quarter earnings per share to be in a range of $1.49 to $1.55, below the consensus estimate of $1.70. The company also guided its full year 2014 earnings per share to be $6.80 to $7.05, below the consensus estimate of $7.31.
On March 25, Panera Bread reaffirmed its first quarter and full year guidance during an investor day conference. The company, however, did not offer a 2015 outlook as management hinted strategic initiatives will result in longer-term gains but short term margin concerns.
These initiatives was later revealed to be part of Panera's "2.0" transformation which introduce technology innovations including a heavy reliance on mobile and apps to overhaul the entire Panera experience. These initiatives will result in substantially reduced customer wait times and errors with orders.
Panera Bread expects the rollout of its Panera 2.0 initiatives will be fully rolled out by the end of 2015 causing investors and analysts to worry that Panera Bread has little growth initiatives to boost shares in the short-term.
Miller Tabak: Panera is a top pick for 2014
Stephen Anderson, senior analyst of restaurants at Miller Tabak & Co believes that Panera Bread is a top pick for 2014 and beyond.
According to Anderson, Panera Bread is expected to post modestly negative comps for the upcoming quarter and costs will likely remain higher in the near term from Panera's 2.0 implementation.
"We project these higher expenses will be offset in the next 12-18 months by various cost savings, and looking ahead to 2015, we still think of a combination of accelerated comp growth, lower year over year food costs, and additional efforts to improve execution will result in a return to margin expansion in 2015," Anderson wrote in an industry wide report on April 16.
Until then, according to Anderson believes that Panera Bread has a solid growth plan with initiatives to consider non-traditional sites for development such as transportation and institutional facilities.
According to Anderson, investors could expect share buybacks to occur that will return value to investors. Panera Bread is holding approximately $125 million in cash with $248 million remaining in the current buyback authorization.
Looking further down the road, Anderson believes that saturation in North America will not come until the early 2020s, several years later than the analyst previously projected.
Anderson is projecting Panera Bread to earn $1.53 per share in the first quarter on revenue of $602.7 million.
Wunderlich: Sales first; margins second
Robert Derrington of Wunderlich Securities downgraded Panera Bread to Hold from Buy on March 26. The analyst cut his price target to $190 from $205 as Panera Bread's earnings will prove to be "lumpy" through 2015.
Since Derrington's downgrade in March, there have been no changes to the analyst's views on the stock.
Shares are Buy rated with a $210 price target.
"In late March, management reaffirmed prior 2014 guidance including two percent to four percent same-store-sales and earnings per share of $6.80 to $7.05," Darrington wrote in an updated note to clients on April 22. The analyst added that "while expansion of key 2.0 initiatives are expected to lift sales, the rollout of many of its key initiatives could result in choppy earnings growth in the near and medium term."
Derrington is suggesting a cautious approach going in to Panera's first quarter earnings while the risk factor could prove to be a concern in the second quarter.
Derrington believes that same-store-sales for the first quarter could come in modestly better than a flat projection and an improvement from same-store-sales declines of 2.2 percent in the first 48 days of the first quarter.
However, in the second quarter Derrington is projecting Panera Bread to experience margin pressures from new programs which could add risk to Derrington's second quarter earnings per share estimate of $1.78 which is already below the Street's consensus estimate of $1.85.
Derrington is projecting Panera Bread to earn $1.52 per share on revenue of $594.9 million.
Shares are Hold rated with a $190 price target.
View Comments and Join the Discussion!
Posted-In: Panera Bread Panera Bread 2.0 Robert Derrington Stephen AndersonEarnings News