Coffee Won't Keep Dunkin' Shareholders Warm: Shares Dip Following Disappointing Results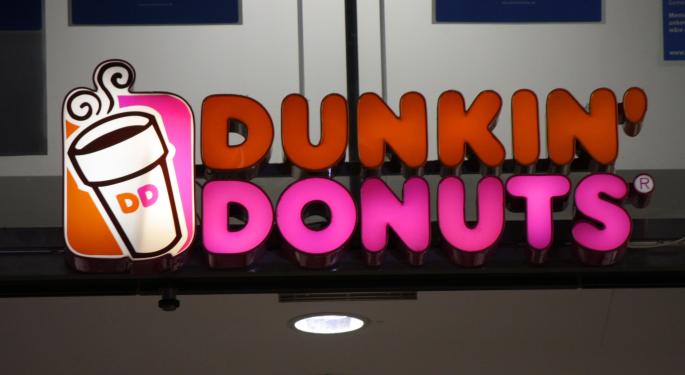 On Thursday, Dunkin' Brands Group, Inc. (NASDAQ: DNKN) reported first quarter 2014 results. Chairman and Chief Executive Officer Nigel Travis commented, "We had a difficult first quarter with our comparable store sales growth in the U.S. significantly impacted by severe weather in the regions of the country where most of our Dunkin' Donuts restaurants are located. However, we remain confident that we will hit our targets for the full year."
Travis went on to say, "Our franchisees achieved strong restaurant growth in the quarter adding 69 net new Dunkin' Donuts locations in the U.S. We're also excited to announce that we expect the first traditional Dunkin' Donuts restaurant to open in California by the end of 2014, ahead of our original expectations. Additionally, we launched the DD Perks Rewards Program nationally at the end of January, and, more recently, online cake ordering for Baskin-Robbins, both major milestones in using technology to drive sales in our restaurants in the U.S. and eventually globally." Summary of First Quarter Results
Diluted adjusted EPS increased 13.8 percent to $0.33 versus the $0.36 estimate.
The company reported U.S. comparable store sales growth of 1.2 percent.
Revenue for the quarter increased 6.2 percent.
Operating income for the first quarter increased 8.9 percent, or $5.6 million, from the prior year due to increased in royalty income and the sales margin on ice cream products. Adjusted operating income grew 7 percent, or $4.9 million.
Net income fell $0.8 million, or 3.5 percent, as a result from a $13.7 million loss on debt extinguishment and refinancing. Adjusted net income increased $4.5 million, or 14.4 percent compared with the first quarter of 2013.
Dunkin' Brands franchisees and licensees opened 96 new restaurants worldwide. The breakdown includes 69 new Dunkin' Donuts U.S. locations, 52 new Baskin-Robbins International locations, 1 new Baskin-Robbins U.S. location, and 26 net closures for Dunkin' Donuts International. U.S. franchisees remodeled 94 restaurants during the first quarter.
Company Announces Q2 Cash Dividend
Dunkin' Brands Group announced that the Board of Directors declared a quarterly cash dividend to shareholders.
Shareholders of record at the close of business on May 27, 2014 will receive a dividend of $0.23 per share of common stock payable on June 4, 2014.
Company's Outlook
Dunkin' Brands expects FY2014 adjusted EPS of $1.79-1.83 versus $1.82 analyst estimate.
The company expects Dunkin' Donuts U.S. comparable store sales growth of 3 to 4 percent and Baskin-Robbins U.S. comparable store sales growth of 1 to 3 percent.
Management sees revenue growth of between 6 and 8 percent and adjusted operating income growth of between 10 and 12 percent.
Shares of Dunkin' Brands Group closed at $47.59 on Wednesday. The stock has fallen as low as $46.17, down 3.0756% on Thursday, following missed results.
View Comments and Join the Discussion!
Posted-In: Baskin-Robbins Nigel TravisEarnings News Guidance Dividends Management Trading Ideas Best of Benzinga