Earnings Expectations For The Week Of March 10: The Season Winds Down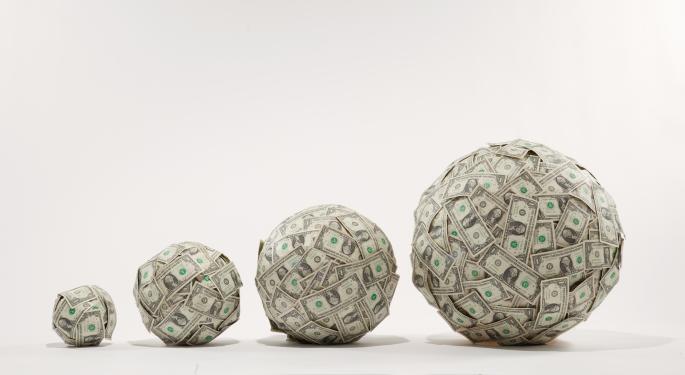 As the earnings season winds down, some the most anticipated quarterly reports this week.
Most notably, reports will come from alternative energy companies FuelCell Energy (NASDAQ: FCEL) and Plug Power (NASDAQ: PLUG), retailers American Eagle Outfitters (NYSE: AEO) and Dollar General (NYSE: DG), as well as biopharmaceutical company Novavax (NASDAQ: NVAX) and in-flight Internet connectivity provider Gogo (NASDAQ: GOGO).
Here is a quick look at what analysts expect from these and other results this week.
See also: Weekly Preview: Ukraine Tension Likely To Drive Markets
American Eagle Outfitters
Analysts expect this retailer to post earnings of $0.26 per share for its fiscal fourth quarter, less than half what they were a year ago. And revenues for the quarter are estimated to total $1.04 billion, which would be more than seven percent lower than a year ago. Note that earnings per share (EPS) have come within a penny of consensus estimates in the past four quarters.
The consensus full-year forecast has earnings at $0.73 per share and $3.31 billion in sales. That would be down more than 47 percent and almost five percent, respectively, relative to the previous year. The company is scheduled to share its results Tuesday before the markets open.
Dollar General
When it shares its results Thursday morning, this variety store operator is expected to say its profit for the fourth quarter rose from $0.97 per share a year ago to $1.02. For the full-year, the earnings are expected to come to $3.21 per share, up from $2.91 in the previous year.
The forecast also calls for quarterly revenues of $4.61 billion, up more than nine percent, and for full-year revenue to have grown about 10 percent to $17.63 billion. In addition, analysts thus far are looking for more than 10 percent growth in revenue for the current quarter.
FuelCell Energy
In its report late Monday, this maker and operator of stationary fuel cell power plants is expected to post a per-share net loss of $0.04 for its most recent quarter, compared with a net loss of $0.07 per share in the year-ago period. Note that the net loss in the previous period was greater than expected.
Revenues are predicted to have grown more than 19 percent to $43.44 million for the fiscal quarter that ended in January. So far, revenue is expected to be up about 15 percent in the current quarter and to be more than seven percent higher for the current year.
Gogo
In its Thursday morning report, Gogo is expected to show a net loss of $0.27 per share for its second full quarter since coming public, and a per-share loss of $1.48 for the full year. Note that in the past 60 days, the quarterly EPS estimate is unchanged while the full-year one has ticked up by a penny.
The company also is expected to say that revenues totaled $85.45 million for the fourth quarter and $320.19 million for the year. So far, the net loss for the current quarter is expected to be narrower sequentially, while revenue is forecast to have grown sequentially.
Novavax
The fourth-quarter net loss from this Rockville, Maryland-based biotech is expected to come to $0.08 per share, on $6.22 million in revenue, in Monday's report. That would compare to a net loss of $0.07 per share and sales of $4.57 million in the same period of the previous year.
The full-year forecast suggests the net loss will have widened to $0.32 per share, and revenue will have declined more than 16 percent to $18.40 million. So far, the net loss predicted for the current quarter is the same as in the year-ago period, but revenue is expected to have jumped more than 123 percent.
Plug Power
The forecast for this maker of fuel cell systems calls for a per-share net loss of $0.08 and for revenue to total $7.45 million for the fourth quarter. In the year-ago period, the net loss was $0.22 per share and sales came to $5.92 million. But note that net losses were deeper than expected in half of the past four quarters.
For the full year, the consensus expectations are for a loss of $0.48 per share and revenue of $26.05 million. That would compare with the $0.93 per share loss and $26.11 million in sales in the previous year. Plug Power is scheduled to share its results Thursday before the opening bell.
See also: 7 Of The Most Hated Stocks In The Market
And Others
Analysts also foresee net losses from Aeropostale, Caesars Entertainment, Men's Wearhouse and Synta Pharmaceuticals when they report this week.
But they are looking for earnings growth this week from Dick's Sporting Goods, Krispy Kreme Doughnuts, Ulta Salon and Williams-Sonoma. On the other hand, Express, Urban Outfitters and VeriFone Systems are expected to show a year-over-year decline in their per-share earnings.
The following week, look for quarterly results from FedEx, General Mills, Nike, Oracle and Tiffany.
Keep up with all the latest breaking news and trading ideas by following us on Twitter.
Posted-In: Aeropostale American Eagle Outfitters Caesars Entertainment dick's sporting goodsEarnings News Previews Trading Ideas Best of Benzinga
View Comments and Join the Discussion!