Amazon's Dirty Little Secret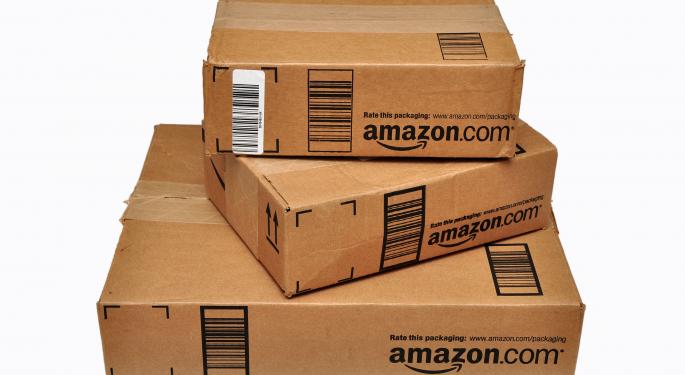 Amazon (NASDAQ: AMZN) may not be the invulnerable behemoth that it appears to be.
During the fourth quarter, Amazon reported an EPS of $0.51. This was lower than the Street's estimate of $0.66, but proved to be a solid improvement over the year-ago period, when Amazon reported an EPS of $0.21.
While many investors have been satisfied by the company's results, others have a more negative outlook.
"My biggest short, by far, is Amazon," John Thompson, founder and CEO of Vilas Capital Management, told Benzinga. "It's really simple: there's a massive market cap and no earnings, and I don't see them ever having earnings."
In addition to the fourth quarter -- which includes the all-important holiday shopping season -- Amazon reported a net loss of $0.09 per share in the third quarter and a net loss of $0.02 in the second quarter. The dot-com retailer reported a net income of $0.18 per share in the first quarter, but that was $0.10 lower than Amazon's results from the year-ago period.
Related: Amazon Paid $700K For Each Episode Of 'Under The Dome'
"The stock has done fairly well," said Thompson. "They convinced Wall Street to look at revenue. But I'm a simple Midwest guy who went to the University of Chicago and what they would teach you there is the value of a company is the value of its assets minus liabilities, which is its book value."
"It's kind of like the mortgage on your house," he added, "if your house is worth $400,000 and you owe $250,000 on it, it's worth $150,000. So you've got that aspect of the company."
Investing for the Future
Thompson doesn't buy into the hype that Amazon is investing for the future.
"If you say, 'Look, they're investing for the future,' and this or that -- well, Coca-Cola is investing for the future and they seem to have earnings," he said. "Morgan Stanley invests for the future and they have earnings. Google invests for the future and they have earnings."
But it's the core business that worries Thompson the most.
"[Amazon is] trying to convince the market that their core business is profitable and they're just taking all their earnings and investing it into new startup things to grow even faster," he said. "And I think that's not true. I don't think the core business is profitable.
"If you look at their revenue minus their expenses, their net income is basically zero or very close to it," he continued. "I'm not saying they're losing money, but I think they're breaking even."
Profit? Where!?
Thompson, who has shorted Amazon a few times over the last couple of years, is now increasing his short position.
"The company does not break out profitability on the business line," he said. "The company is extremely evasive when it is asked specific questions: 'How many Kindles did you sell? What are your margins?' They're extremely tight to the vest with all that stuff, which, up until this point, the market has said, 'Well, that's fine for competitive reasons or whatever."
Related: Amazon.com and the Search for Reinvigorated Growth in 2014
Shares of Amazon rose more than 54 percent in 2013. Year-to-date, the company has declined more than nine percent.
"My view is that it's because they're trying to mask the fact that they do not make any money selling TVs or whatever they sell on their website, delivering it door-to-door," Thompson added. "They don't want the market to realize that."
Expensive Delivery
There's another reason why Thompson is short Amazon: he believes the delivery costs are too high.
"The problem with Amazon is that it's way too expensive to deliver stuff door-to-door," he said. "If you do it for free, it works if you're selling $100 shirts at Nordstrom and it cost you $6 to make in Vietnam. There's a lot of margin in there."
The same is not true for other items.
Thompson gave an example, where a colleague ordered some tire chains from Amazon. He didn't use them so he sent them back. In both cases, shipping was free.
"These are chains, by the way," Thompson emphasized. "You go to the post office and ask how much it costs to send chains back and forth around the country -- it's not free! There's just not enough margin in their business to afford the free shipping."
Finally, Thompson expressed concern about the rise of online sales taxes.
"The sales tax advantage that they enjoyed for many years is going away fairly quickly over the next couple of years," he said. "That's not a good thing."
Disclosure: At the time of this writing, Louis Bedigian had no position in the equities mentioned in this report.
Posted-In: Amazon commentsEarnings News Short Ideas Retail Sales Tech Trading Ideas Best of Benzinga
View Comments and Join the Discussion!