3 Reasons To Stick With Wal-Mart For The Long Term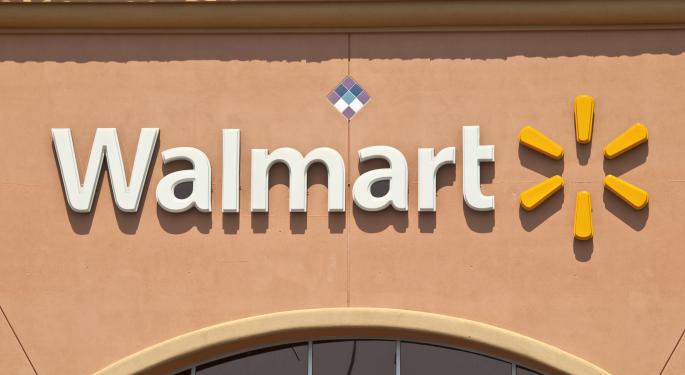 While there is no shortage of terrible publicly traded companies in the retail sector, such as Sears, RadioShack and J.C. Penney, there are three reasons why Wal-Mart (NYSE: WMT) is a terrific long-term investment, even though its recent earnings have it down.
Wal-Mart is the biggest and the best at what it does.
There is not another retailer that operates as efficiently and as effectively as Wal-Mart does on the scale that it does. That alone is a formidable economic moat, which protects a business from the forces of time and competition. In that regard, Wal-Mart is much like ExxonMobil and Coca-Cola. Not surprisingly, legendary investor Warren Buffett, the biggest and the best at what he does, is a major shareholder of Coca-Cola, ExxonMobil, and Wal-Mart.
Related: 3 Reasons Why High Tech, Not Congress, Will Ease Income Inequality
Wal-Mart pays it shareholders to be long-term owners.
The shareholders of Wal-Mat historically get a raise every year to own the stock. How is that? Wal-Mart is a "Dividend Aristocrat." To achieve that status, a company must have increased its dividend annually for at least 25 consecutive years. The longer Wal-Mart stock is owned, the larger the amount of the dividend grows for the shareholder.
Wal-Mart's beta, gross margin and return-on-equity are superior, which are bullish indicators.
Combined, that makes for a positive outlook for Wal-Mart's stock. Studies by Russell Investments have shown that companies with low betas have higher returns. That was detailed in a previous article on Benzinga. The robust gross margin of Wal-Mart results in the company having the resources to constantly improve. The high return-on-equity brings to the shareholders more on all that is owned.
With the rising dividend yield, shareholders of Wal-Mart should enjoy a rewarding total return.
View Comments and Join the Discussion!
Posted-In: Earnings Long Ideas News Dividends Dividends Technicals Retail Sales Trading Ideas Best of Benzinga