Earnings Expectations For The Week Of February 3: GM, Twitter, Disney And More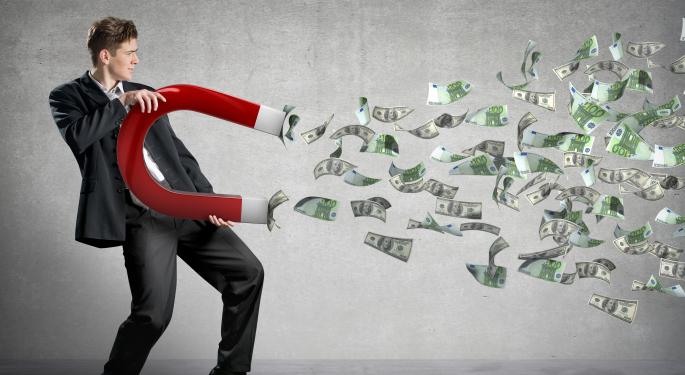 January, with its five percent correction, is behind us, and earnings continue to roll out this week, whether or not the groundhog saw his shadow.
Highlights will include quarterly results from General Motors (NYSE: GM), Merck (NYSE: MRK), Philip Morris (NYSE: PM) and Walt Disney (NYSE: DIS), from which analysts expect to see earnings growth.
But a year-over-year earnings decline is forecast for Time Warner (NYSE: TWX), while Twitter (NYSE: TWTR) is expected to post a new loss. Others stepping into the earnings spotlight this week include BP, Kellogg, Michael Kors, Sony, Toyota and Zynga. Below is a quick look at what analysts expect from some of this week's most prominent quarterly reports.
See also: Weekly Preview: Twitter To Release Earnings For The First Time Since Going Public
General Motors
In its report early Thursday, this Big Three automaker is expected to post per-share earnings of $0.86 for quarter that ended in December. That would be up from a profit of $0.48 per share in the year-ago period. Full-year earnings per share (EPS) are forecast to be four percent higher year-on-year to $3.38.
Revenues are predicted to have risen about four percent to $40.89 billion for the quarter and two percent to $155.42 billion for the full year. So far, revenue is expected to be up almost five percent for both the current quarter and the current year.
Merck & Co.
The forecast for this pharmaceutical giant, maker of Gardasil and Singulair, calls for EPS of $0.88 and for revenues to total $11.36 billion for the fourth quarter. That would compare to $0.83 per share and $11.74 billion in sales in the year-ago period.
For the full year, the consensus estimates are $3.50 per share in earnings and sales of $44.15 billion. That would be down more than eight percent and more than six percent, respectively, relative to the previous year. Merck is scheduled to share its results Wednesday before the markets open.
Philip Morris International
Analysts expect Philip Morris to post earnings of $1.37 per share for its fourth quarter, up from $1.24 per share a year ago. Also, revenues for the quarter are estimated to total $7.79 billion, which would be marginally lower than a year ago.
The full-year forecast calls for earnings growth of about three percent to $5.40 per share, and for revenues to be essentially flat at $31.24 billion. Look for the New York-based cigarette maker to share its results Thursday before the opening bell.
Time Warner
Fourth-quarter earnings from the world's second largest media and entertainment conglomerate are expected to come to $1.15 per share, on $8.39 billion in revenue, in Wednesday morning's report. In the same period of the previous year, the company reported EPS of $1.17 and sales of $8.16 billion.
The full-year forecast is a little better, with a gain of more than 12 percent in EPS to $3.75, as well as revenue growth of about three percent to $29.61 billion. So far, growth in revenue and EPS are predicted from the current quarter, relative to the year-ago period.
Twitter
In its first earnings report as a public company, scheduled for late Wednesday, this social media darling is expected to show net losses of $0.02 per share for the quarter and $0.19 for the full year. Note that in the past 60 days, the quarterly EPS estimate has dropped by a penny while the one for all of 2013 has risen by a penny.
Twitter also is expected to say that revenues came to $217.78 million in quarter and $639.39 million for the full year. So far, revenue and earnings results for the current quarter are expected to be about the same as in the fourth quarter, but analysts are looking for revenue of just over $1 billion for this year.
See also: Twitter Takes Much Needed Step, Acquires 900 IBM Patents
Walt Disney
When it shares its results Wednesday afternoon, this media and entertainment giant is expected to say per-share earnings for the fiscal first quarter rose about 13 percent from a year ago to $0.91. Note that Disney beat consensus EPS estimates by a penny or two in the previous three periods.
The forecast also calls for a year-over-year gain in revenues of almost eight percent to $12.23 billion. In addition, analysts thus far are looking for six percent growth in revenue for the current quarter, as well as sequential and year-on-year growth in per-share earnings.
And Others
Analysts also are looking for earnings growth this week from Aetna, Archer Daniels Midland, Beam, Boston Scientific, Eaton, Expedia, Green Mountain Coffee Roasters, Kellogg, KKR, LinkedIn, Lions Gate Entertainment, Marathon Oil, Michael Kors, News Corp., Pandora Media, Sony, Take-Two Interactive Software and Toyota.
EPS from Anadarko Petroleum, Gilead Sciences and Sysco are predicted to be about the same as a year ago. But Activision Blizzard, AstraZeneca, BP, Gannett, Harmony Gold Mining, Twenty-First Century Fox and Yum! Brands are expected to show a year-over-year decline in per-share earnings. And analysts are looking for Arch Coal, Yelp and Zynga to post a net loss for their most recent quarters.
Keep up with all the latest breaking news and trading ideas by following us on Twitter.
View Comments and Join the Discussion!
Posted-In: Activision Blizzard Aetna anadarko petroleumEarnings News Previews Pre-Market Outlook Trading Ideas Best of Benzinga