Zynga Soared More Than 20% After Hours...Here's Why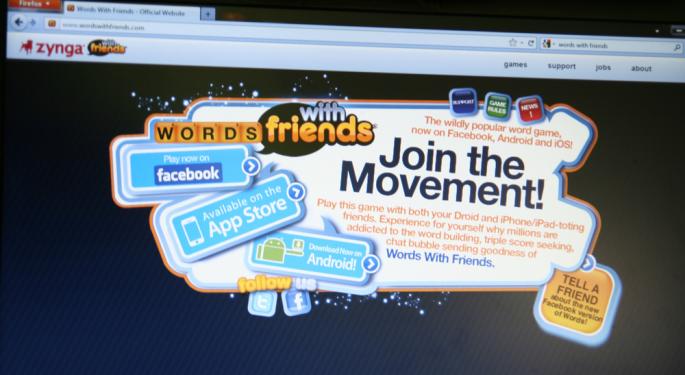 For anybody who believes that Zynga (NASDAQ: ZNGA) is the poster-child for what some call a social media bubble, it's hard to present an argument to the contrary but Thursday's news breathed some life into a company on the brink of extinction.
Remember when Zynga was the Candy Crush of gaming? Even people who wouldn't call themselves gamers were playing FarmVille. Zynga and Facebook had a symbiotic relationship where one was helping the other.
But as gaming changed, Zynga was left behind, unable to capitalize on the changing landscape of mobile gaming. The social media bubble, if there is one, burst for Zynga and investors haven't had much to get excited about.
But they were excited Thursday after hours. Zynga announced that it would shed 15 percent of its workforce to cut costs. Equally important, it said that it would purchase mobile gaming developer NaturalMotion for $527 million.
NaturalMotion is a 12-year-old studio whose best-known game is probably Clumsy Ninja, a game it created for Apple. The company also created the Euphoria game engine—simulation technology that helped to create some of the visuals in "Grand Theft Auto V" and other games.
Related: Google Earnings Disappoint But the Stock Doesn't
Zynga COO Clive Downie said in an interview, "They are not an acquisition to fill a gap but one to expand our capabilities." But everybody knows that the acquisition is to fill a gap—a gap that took a once double digit stock to below $4 and no new games that come close to the success of FarmVille.
In July, Zynga hired Don Mattrick, the former head of Microsoft's Xbox business. He replaced co-founder Mark Pincus and has been on a cost cutting campaign since his hire. Mattrick continues to eliminate jobs, something applauded by investors, and create strategy to revitalize the company's product pipeline.
This round of layoffs will equate to about 314 people.
Zynga reported a narrower-than-expected quarterly loss, which was characterized as a ray of sunshine but not much of a sign of life. All other metrics, including user engagement were still weak and its revenue fell to $176.4 million—down from $311.16 million one-year prior.
In premarket trading, Zynga is up 18 percent after posting a four percent gain in regular trading Thursday.
Disclosure: At the time of this writing, Tim Parker had no position in the companies mentioned.
Posted-In: Facebook farmvilleEarnings News Management M&A After-Hours Center Tech Best of Benzinga
View Comments and Join the Discussion!