Earnings Expectations For The Week Of January 27: Facebook, Google, Apple And More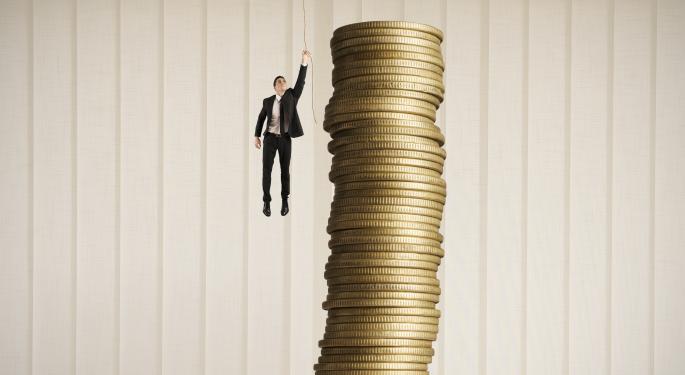 The earnings crunch is on this week. Highlights will include reports from Amazon.com, Apple, Boeing, Comcast, Facebook, Google and Yahoo! All of them are expected to report year-over-year growth in per-share earnings.
But analysts are looking for declining profits from the likes of Caterpillar, Exxon Mobil and Ford when they share their quarterly results this week.
Below is a quick day-by-day run down of analyst expectations for some of the week's most prominent reports.
Monday
Early Monday, Caterpillar (NYSE: CAT) is expected to say that its fourth-quarter EPS came to $1.28 and revenue totaled $13.64 billion. That would be down from $1.46 per share and $16.08 billion in revenue in the year-ago period. Full-year results are expected to be lower as well.
See also: Caterpillar Earnings Preview: Mining Slump Still a Drag
Apple (NASDAQ: AAPL) is expected to report later in the day, and analysts are looking for EPS to have risen from $13.81 a year ago to $14.09 in the fiscal first quarter. Revenue is expected to come in at $57.46 billion. That would be up more than five percent from in the same period of last year.
American Electric Power and Royal Caribbean Cruises also step into the earnings spotlight Monday, and they are expected to show a gain in earnings. Earnings from Seagate Technology are expected to be the same as a year ago, while falling EPS are predicted for Rayonier and Zion Bancorp, as well as a net loss from U.S. Steel.
Tuesday
Comcast (NASDAQ: CMCSA) and Ford (NYSE: F) step into the earnings spotlight before Tuesday's opening bell. The forecast for the former calls for a gain in EPS of more than 23 percent for the most recent quarter, while the latter is expected to say that its quarterly EPS fell more than nine percent. Quarterly revenue is expected to have risen more than four percent and about two percent, respectively.
The consensus forecast for Yahoo! (NYSE: YHOO) calls for EPS to be up more than 15 percent to $0.38 for the quarter and up almost 20 percent to $1.46 for all of 2013. Revenue, though, is expected to have slipped less than two percent for both the quarter and the full year.
Others forecast to post year-over-year earnings growth on Tuesday include Amgen, AT&T, Danaher, DR Horton, DuPont, Electronic Arts, Pfizer, 3D Systems and VMware. An earnings decline is expected from Corning.
Wednesday
Boeing (NYSE: BA) is scheduled to report early Wednesday. Analysts are looking for EPS for the fourth quarter to have increased more than 18 percent from a year ago to $1.57. Revenue is expected to total $22.74 billion, which would be a gain of about two percent from in the comparable period of last year.
The fourth-quarter forecast for Facebook (NASDAQ: FB) calls for $0.27 EPS and revenue of $2.34 billion. That would be up year over year from $0.17 per share and $1.58 billion. Analysts are looking for full-year EPS and revenue to be up about 37 percent and about 50 percent, respectively.
Citrix Systems, Dow Chemical, EMC, JetBlue, Las Vegas Sands and Southern Company are expected to post earnings growth as well when they report Wednesday. Novartis's EPS are predicted to be the same as in the corresponding period of last year.
Analysts predict smaller per-share earnings from Fortinet, Hess, Marathon Petroleum, Phillips 66, Qualcomm, Symantec, Valero Energy and WellPoint, as well as net losses from Crocs and Vertex Pharmaceuticals.
Thursday
Exxon Mobil (NYSE: XOM) is expected to say before the markets open that its quarterly earnings fell to $1.91 per share from $2.20 in the year-ago period. Revenue for the period is presumed to total $113.19 billion, or about one percent lower than in the year-ago period.
Among the highlights Thursday after the closing bell will be reports from Amazon.com (NASDAQ: AMZN) and Google (NASDAQ: GOOG). For their most recent quarters, the former is expected to post EPS of $0.66 and the latter $12.21 EPS. That would be up more than 69 percent and more than 13 percent, respectively.
Strong growth in revenue is expected too. The forecast for Amazon calls for sales to be more than 22 percent higher, both for the fourth quarter and the full year. The search giant is expected to show revenue growth of more than 37 percent for the quarter and for all of 2013.
Also Thursday, look for earnings growth from Altria, Blackstone Group, Cameron International, Celgene, Colgate-Palmolive, Harley-Davidson, PulteGroup, 3M, Time Warner Cable, Viacom, Visa and Wynn Resorts, if the analysts are correct.
But the consensus forecasts for Broadcom, Cardinal Health, ConocoPhillips, Eli Lilly, Occidental Petroleum, Potash Corp. of Saskatchewan, Raytheon, Royal Dutch Shell and UPS call for year-over-year declines in their EPS. A quarterly net loss is predicted for Peabody Energy.
See also: Weekly Preview: Tech Sector To Steal The Spotlight
Friday
On deck to share their most recent results early Friday are Chevron and National Oilwell Varco, which are expected to show declining earnings.
Dominion Resources, Honda, MasterCard, Mattel, Tyco International, Tyson Foods and Weyerhaeuser are expected to join the parade of earnings gainers when they report Friday before the opening bell.
Keep up with all the latest breaking news and trading ideas by following us on Twitter.
View Comments and Join the Discussion!
Posted-In: 3D Systems 3M altriaEarnings News Previews Pre-Market Outlook Trading Ideas Best of Benzinga