Caterpillar Earnings Preview: Mining Slump Still a Drag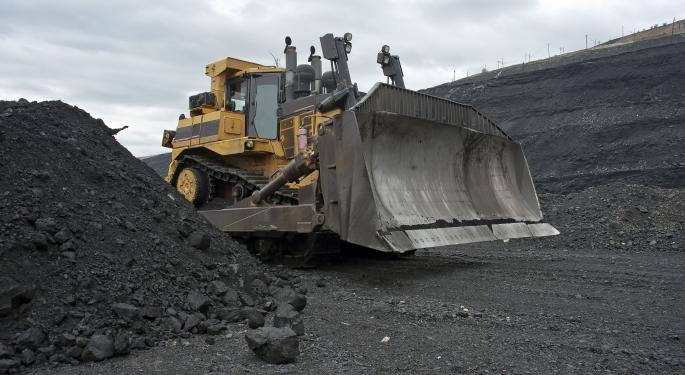 Heavy equipment maker Caterpillar (NYSE: CAT) -- which has been facing increased competition from mining equipment makers in China and India -- is scheduled to report its fourth-quarter full-year 2013 results on Monday, before the markets open.
While the housing and wider economic recovery are expected to benefit Caterpillar, it has an ongoing problem with weakness in the mining sector. Investors will be looking to see how the company positions itself for further declines of capex in the mining industry.
Related: Four Of 2013's Most Disappointing Stocks
Expectations
Analysts on average predict that Caterpillar will report its revenue for the quarter declined about 15 percent year-over-year, to $13.64 billion. Earnings of $1.28 per share are also in the consensus forecast. That would be down from a reported profit of $1.46 per share in the comparable period of last year.
That consensus earnings per share (EPS) estimate slipped by a penny in the past 60 days. Note as well that analysts have overestimated Caterpillar's EPS estimates in the previous four quarters by as much as 14.7 percent. The miss in the third quarter was by 22 cents, or more than 13 percent.
In the third-quarter report, management blamed its Resource Industries segment, which is principally mining, for the bulk of the disappointing results. Caterpillar also lowered its full-year guidance for a second time. The share price rose less than two percent in the days following the report.
The analysts' consensus full-year forecast now calls for $5.49 per share in earnings on revenue of $54.86 billion. That would be down from $8.90 per share and $65.88 billion in the previous year. That consensus EPS estimate is the same as it was 60 days ago.
The Company
Caterpillar is a manufacturer of construction and mining equipment, diesel and natural gas engines, industrial gas turbines and diesel-electric locomotives worldwide. It also offers retail and wholesale financing for its products, as well as insurance brokerage services.
The company was founded in 1925, and its headquarters are in Peoria, Illinois. Caterpillar is a component of the S&P 500 and the Dow Jones Industrial Average, and it now has a market capitalization of more than $54 billion. Doug Oberhelman has been chief executive officer of the company since July 2010 and chairman of the board since November 2010.
Competitors include Deere and Joy Global. The former topped consensus EPS estimates by more than 11 percent in its most recent report, while the latter fell short by a penny per share. Both are expect to post declining revenues for the current quarter.
During the three months that ended in December, Caterpillar announced mining equipment plant closures in Texas and Virginia, maintained its dividend rate and reported disappointing sales for both October and November.
Related: Feds Investigate Caterpilliar Division For Alleged Dumping Of Train Parts Into Ocean
Performance
Caterpillar has a long-term earnings per share growth forecast near zero and a price-to-earnings (P/E) ratio greater than the industry average. Its operating margin is less than the industry average, and it has a return on equity of less than 20 percent. The dividend yield is near 2.6 percent.
The number of Caterpillar shares sold short, as of the Dec. 31 settlement date, represents more than three percent of the total float. Short interest has been growing slowly since mid-November. It would take more than four days to close out all of the short positions.
Twelve of the 23 analysts surveyed by Thomson/First Call who follow the stock recommend buying shares. None of them recommend selling. The analysts' mean price target, or where they expect the stock to go, is less than five percent higher than the current share price.
Despite a pullback of about six percent in the past week, the share price is more than four percent higher than 90 days ago. The 50-day moving average broke above the 200-day moving average in December. Over the past six months, Caterpillar has underperformed not only the competitors mentioned above, but the S&P 500 as well.
At the time of this writing, the author had no position in the mentioned equities.
View Comments and Join the Discussion!
Posted-In: Caterpillar construction construction equipment DeereEarnings News Previews Trading Ideas Best of Benzinga