Starbucks Earnings Preview: Double-Digit EPS, Sales Growth Expected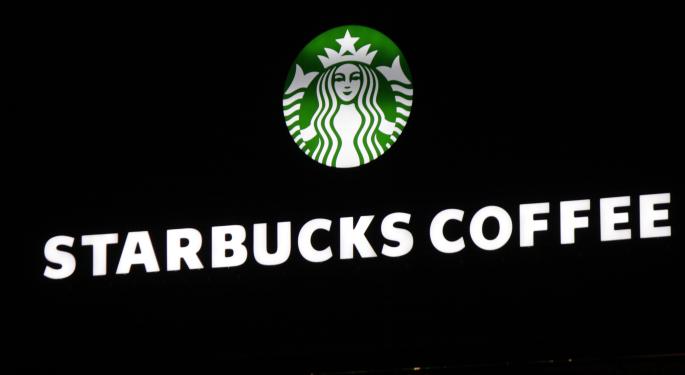 Starbucks (NASDAQ: SBUX), which was quick to fix a recently discovered vulnerability with its smartphone app, is scheduled to report its fiscal first-quarter results Thursday, January 23, after the markets close.
Goldman Sachs just downgraded Starbucks on concerns over its same-store sales trends, so investors will be keeping an eye that in this report. And they will be hoping for good news on the company's expansion through franchising efforts and whether store design changes have borne fruit.
See also: Security Expert Sides With Starbucks, Thinks Hack Is Unlikely
Expectations
Analysts on average predict that Starbucks will report its revenue for the quarter rose more than 13 percent year-over-year to $4.30 billion. Earnings of $0.69 per share are also in the consensus forecast. That would be up from a reported profit of $0.57 per share in the comparable period of last year.
Analysts seem to be pretty sure about their estimates, as the consensus has not changed in the past 60 days, and individual estimates only range from $0.67 to $0.71 per share. But analysts on average underestimated earnings per share (EPS) results in the previous three quarters by two or three cents.
The company said in the fourth-quarter report: "Outstanding global sales growth combined with record earnings and operating margin demonstrate the fundamental health of our business model and our continued ability to successfully execute on new initiatives while maintaining financial discipline." Despite the strong results, shares ended up trading at about the same level a week later.
Looking ahead to the current quarter, the analysts' consensus forecast so far calls for year-over-year EPS growth of about nine percent, as well as revenues that are about 12 percent higher. And the full-year forecast so far calls for EPS and revenues to be up more than 14 percent and more than 12 percent, respectively, relative to the previous year.
The Company
Starbucks is a retailer of specialty coffee with more than 10,000 company-operated stores and more than 9,500 licensed stores worldwide. Its brands include Starbucks, Tazo, Seattle's Best Coffee, Starbucks VIA Ready Brew, Evolution Fresh, Teavana and Verismo.
This S&P 500 component was founded in 1985 and is headquartered in Seattle. The company has a market capitalization of more than $55 billion. Howard Schultz is the founder, chairman and chief executive officer.
Competitors include Dunkin' Brands, Green Mountain Coffee Roasters and McDonald's. Dunkin' and Green Mountain are expected to report strong earnings growth for their most recent quarter. Results from McDonald's, which also reports Thursday, are expected to be positive but modest.
During the three months that ended in December, Starbucks opened a new Evolution Fresh production facility, launched "Tweet-a-Coffee," ended its packaged coffee dispute with Kraft Foods, launched a new reserve coffee, priced $750 million of senior notes and opened its first store in Monaco.
See also: Starbucks Looks Toward Franchise Strategy to Caffeinate European Business
Performance
Starbucks has a long-term EPS growth forecast of more than 19 percent, but its price-to-earnings (P/E) ratio is much higher than the industry average. The operating margin also is greater than the industry average, but the return on equity is less than one percent. The dividend yield is about 1.4 percent.
The number of Starbucks shares sold short, as of the December 31 settlement date, represents about one percent of the float. That is the lowest level of short interest in at least a year. It would take less than two days to close out all of the short positions.
Of the 29 analysts surveyed by Thomson/First Call who follow the stock, 15 of them rate the stock at Strong Buy, and 10 others also recommend buying shares. The mean price target, or where the analysts expect the stock to go, represents more than 16 percent potential upside. Yet that would be a new multiyear high.
The share price has retreated more than five percent in the past 90 days. It is still well above the 200-day moving average and more than 36 percent higher than a year ago. Over the past six months, the stock has outperformed Green Mountain Coffee Roasters and McDonald's, and its performance has been in line with Dunkin' Brands and the S&P 500.
At the time of this writing, the author had no position in the mentioned equities.
Keep up with all the latest breaking news and trading ideas by following us on Twitter.
View Comments and Join the Discussion!
Posted-In: Dunkin' Brands green mountain coffee roasters Kraft Foods McDonald'sEarnings News Previews Trading Ideas Best of Benzinga