Market Wrap For November 18: Markets Hit New Highs Before Carl Icahn Comments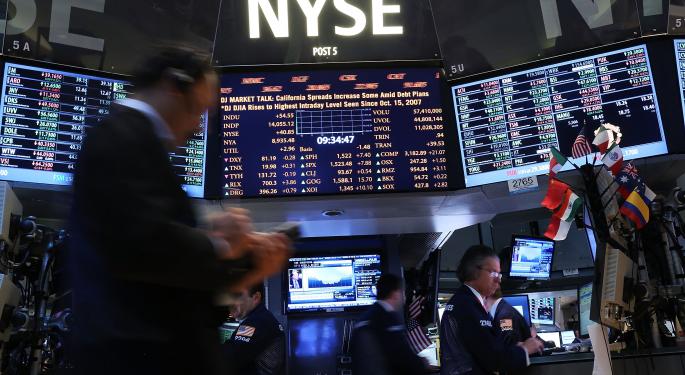 Asian markets set the tone for Monday's trading session with Hong Kong and Shanghai indices receiving a boost from China's reforms which will open up the country's financial sector and ease restrictions on investments.
Europe followed suit with major indices inching higher. It was only appropriate for major American indices to continue the trend. The Dow set a new all time high, this time above the 16,000 mark while the S&P 500 climbed above the 1,800 levels.
The momentum took a quick turn as the markets erased earlier gains after Carl Icahn reportedly said he is "very cautious" on equities, and the market could have a "big drop."
Shares of the Dow Jones closed higher by 0.09 percent at 15,975.76.
Shares of the S&P 500 closed lower by 0.37 percent at 1,791.56.
Shares of the Nasdaq closed lower by 0.93 percent at 3,949.07.
Gold lost 1.15 percent, trading at $1,272.60 an ounce.
Oil declined 0.92 percent, trading at $92.98 a barrel.
Silver lost 1.67 percent, trading at $20.38.
News of Note
Thunderstorms and tornadoes wreaked havoc over the weekend, killing at least six people in the Midwest region.
At 10:00 am ET the National Association of Home Builders released its NAHB/Wells Fargo Housing Market Index. The index came in at 54, below the estimated 56. The previous reading was 54. Rick Judson, the industry group's chairman said: "Given the current interest rate and pricing environment, consumers continue to show interest in purchasing new homes, but are holding back because Congress keeps pushing critical decisions budget, tax and government spending issues doesn't the road."
The Federal Reserve is considering delaying by a year the date in which banks will have to comply with all aspects of the Volcker rule. The rules are currently set to kick in July 2014.
Following the release of reform programs in China, data out of the world's second largest economy showed an increase in new home prices within its four main cities.
Russian billionaire Mikhail Prokhorov has agreed to acquire a 21.75 percent in Uralkali, the world's biggest potash miner. Uralkali single-handedly disrupted the entire global potash market after it ended its joint venture with Belaruskali in July.
Equities-Specific News of Note
The Financial Sector SPDR (NYSE: XLF) reached its 2008 highs in trading today, although the ETF is still substantially below its 2007 highs. The ETF hit a high of $21.27 before closing down 0.05 percent for the day at $21.12.
Over the weekend Apple (NASDAQ: AAPL) has acquired Israeli based PrimeSense. PrimeSense's gesture recognition technology is already used in Xbox's Kinect sensor. Shares were widely unaffected, closing the day lower by 1.19 percent at $518.72.
Related: Report: apple Finalizing Acquisition of PrimeSense
Tesla (NASDAQ: TSLA) is in discussions with several firms to purchase battery supplies for its electric vehicles. Shares of Tesla showed no signs of slowing down its recent reversal, closing the day lower by 10.27 percent at $121.54.
Boeing (NYSE: BA) rakes in over $130 billion in deals following a successful Dubai Air Show event over the weekend. Shares finished the day higher by 1.70 percent at $138.39.
Related: Dubai Air Show Roundup: Boeing Emerges A Winner
Facebook (NASDAQ: FB) received some negative press today via the New York Times. An article was published titled "where Facebook is no longer the default place on the web where people go to network." Shares closed the day down 6.5 percent to $45.83, well off its 52 week highs of $54.83 when the company released its quarterly earnings on October 30.
T-Mobile USA (NYSE: TMUS) announced a $2 billion offering of senior notes due in 2022 and 2024. The funds will be allocated towards "general corporate purposes." Shares were unaffected, down 0.06 percent for the day at $25.99
Microsoft (NASDAQ: MSFT) was under the spotlight again. This time, a note from Bank of America (NYSE: BAC) hypothesized that shares of the company have a 10 percent downside if Alan Mulally is not named as the company's next CEO. The analysts believe there is a 20 percent chance that the current Ford (NYSE: F) boss will get the nod to replace Steve Ballmer. Shares of Microsoft closed the day lower by 1.71 percent at $37.19.
In two separate report released today by Bank of America, the analysts explained their bullish point of views for 3D printing stocks. Stratasys (NASDAQ: SSYS) and 3D Systems (NASDAQ: DDD) were given price targets of $140 and $90 respectively. Shares of Stratasys closed the day up 2.5 percent at $128.17. 3D Systems also closed higher by 0.49 percent at $80.56. While not named in the analyst reports, Voxeljet AG, (NYSE: VJET) another provider of 3D printers also rose 16.3 percent to $68.66.
Related: 3D Printers: What The Analysts Are Saying
Gambling revenue in Macau is on pace for a 20 percent year over year increase according to Sterne Agee. Investors will keep a close eye on the major casino players such as Las Vegas Sands, (NYSE: LVS) (down 0.62 percent to $70.78) Wynn Resorts (NASDAQ: WYNN) (down 1.6 percent to $163.64) and MGM Grand (NYSE: MGM) (down 1.03 percent to $19.25) over the coming weeks in to earning season.
Analysts at Sterne Agee bumped up its price target on Costco (NASDAQ: COST) to $144 from $126. Shares however declined 0.70 percent for the day at $123.32.
Wunderlich has joined several of its peers in giving Twitter (NYSE: TWTR) a bearish rating. Shares are Sell rated with a $34 target. Twitter closed the day losing 6.78 percent to $41.00. Shares have traded as low as $39.40 during its IPO debut.
Shares of Sony (NYSE: SNE) gained 1.19 percent to close at $18.72 as early indications reveal sales of the newly released PlayStation 4 are strong. A tear down of the device reveals total components cost $296, leaving the company with a nice profit margin with its $399 selling price.
Winners of Note
Israeli based Alon Holdings Blue Square (NYSE: BSI) is in talks to sell its holdings of several major Israeli supermarkets and pharmacy chains to a private equity firm. Shares of Alon closed the day higher by 16.12 percent at $4.61.
After jumping 271 percent on Friday, InterCloud (NASDAQ: ICLD) rose 49.89 percent closing at $14.18. The company reported third quarter 2013 results on Friday which included a 448 percent increase in revenue to $16.2 million. Gross profit increased to $5.5 million compared to $1.2 million in the same quarter 2012. The 52-week range is $2.20 to $36.00.
Decliners of Note
Shares of Supervalu (NYSE: SVU) lost 8.72 percent closing at $6.28 after the company was downgraded to a Sell rating from Neutral by Goldman Sachs (NYSE: GS). The price target was also lowered to $2 from $6.
FAB Universal (NYSE: FU) fell 16.82 percent for the day at $4.40 after a negative article reported that the company sold a bond issue without disclosing it in the company's 10-Qs, a clear violation of SEC regulation. In mid afternoon trading, it was revealed that Jim Rogers has increased his stake in the company by 10,000 shares to 69,000 shares. Shares briefly rallied, but not enough to recover its losses.
Earnings of Note
Premarket, JinkoSolar Holding (NYSE: JKS) reported an EPS of $1.44, substantially higher than the analyst estimate of $0.35. Revenue was also a huge beat, coming in at $320.7 million, compared to the estimate of $302.22. Shares closed the day up 12.88 percent to $33.30.
Post market, Salesforce.com (NYSE: CRM) reported its third quarter EPS of $0.09, in line with estimates. Revenues came in higher than the Street's estimates of $1.06 billion at $1.08 billion. The company also revealed a newly formed strategic partnership with Hewlett-Packard Company (NYSE: HPQ). The partnership will create the new "Salesforce Superpod" which will run on HP's Converged Infrastructure. Shares of Salesforce.com were trading slightly higher after the earnings release, up around 0.09 percent trading at $56.02. Shares also hit a new 52 week high of $58.37 during today's trading session.
Quote of the Day
"Do you know the only thing that gives me pleasure? It's to see my dividends coming in." – John D. Rockefeller.
View Comments and Join the Discussion!
Posted-In: 3D Printer Alan Mulally Asian marketsEarnings News Econ #s After-Hours Center Reviews Best of Benzinga