3 Reasons Every Family Office Should Own Wal-Mart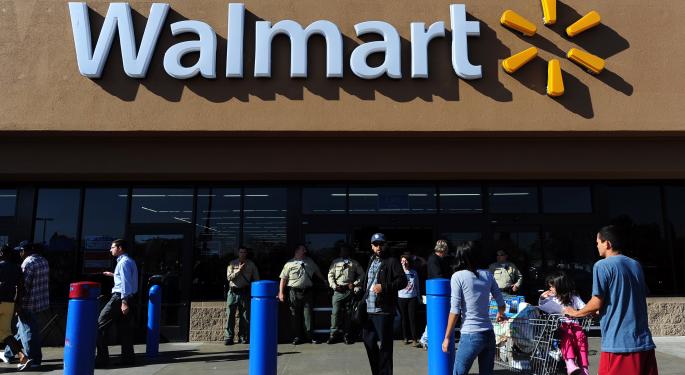 By beating Wall Street estimates with its most recent quarterly results, Wal-Mart (NYSE: WMT) has again demonstrated why it should be in the portfolio of every family office.
A family office is an entity formed to invest for a designated family. Its goals are generally to beat the market average (generate "alpha") while providing current income. If it cannot do that, there is no reason not to simply invest the family assets in an index fund.
There are three factors why Wal-Mart is a better investment than an index fund, and should be owned by every family office.
For value, growth, and income considerations, Wal-Mart is an ideal holding for a family office. Those provide for the needs of long term investors, such as family offices. In many areas, it tops competitors such as Target (NYSE: TGT) and Costco (NASDAQ: COST).
For value goals, Wal-Mart, even though it is the world's largest retailer, is trading at a discount.
The price-to-sales ratio is just 0.55. That means that every dollar of sales for Wal-Mart is going at a 45 percent discount in the share price. At under 14 the price-to-earnings are cheap, too. By contrast, the forward-price-earnings ratio for Costco  is 22.45.
And even though it has $400 billion annually in sales, Wal-Mart is still growing.
Growth investors should be pleased by the double digit earnings-per-share growth this year. For Target Corp, earnings-per-share growth was only 5.60 percent. Wall Street expects earnings-per-share growth to continue in that range. What is also impressive in terms of growth is that Wal-Mart did well over the Great Recession.
For income purposes, the dividend growth of Wal-Mart is particularly appealing to a family office.
The average dividend for a member of the Standard & Poor's 500 Index is around 1.9 percent. The dividend yield for Wal-Mart is 2.37 percent. Costco Corporation pays a dividend of one percent.
As Wal-Mart has increased its dividend for 25 consecutive years, it has earned the title of "Dividend Aristocrat." Family offices and others who own the stock of Wal-Mart can look forward to the dividend continuing to grow into the future.
For growth, value, and income purposes, every family office should own Wal-Mart. That Warren Buffett is a major shareholder is also another significant bullish factor.
View Comments and Join the Discussion!
Posted-In: Earnings Long Ideas News Dividends Dividends Technicals Retail Sales Economics Best of Benzinga