Nordstrom Earnings Preview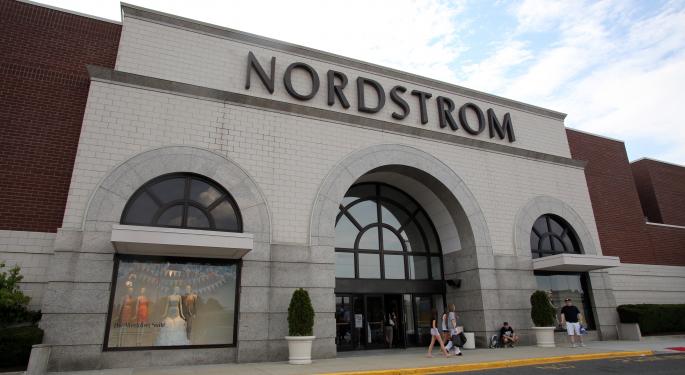 Nordstrom (NYSE: JWN) will report their third quarter earnings after the markets close. Nordstrom is estimated to post Q3 earnings at $0.66 per share on revenue of $2.87 billion.
Piper Jaffray analyst Neely Tamminga published an Earnings Preview for Nordstrom and Kohl's (NYSE: KSS) yesterday. Piper Jaffray does not anticipate retailers to be overly bullish prior to Black Friday.
Tamminga commented, "we are concerned about the near-term optics on FQ3 in that a key week of Anniversary Sale moved into FQ2 resulting in a likely negative "comp" for FQ3 (PJCe -0.5% vs. consensus at -0.1%). Additionally, we believe the company remains committed to making key, sound, yet costly investments in their technology and data systems. This could have a negative impact on deleveraging expenses in the quarter as well." The analyst modeled their EPS estimate of $0.68 above consensus of $0.66.
Paul Trussell, a research analayst at Deutsche Bank, published a note last Friday with a favorable bias on Nordstrom. Trussell wrote, "We continue to remain favorably biased on JWN, as the company remains a "best-in-class" retailer, in our view, with sector-best SSS historically, MSD+ sq. ft. growth (off-price & INTL.), strong online contributions (including the now profitable Hautelook), a solid b-sheet (2.0% div. yield & consistent buybacks), and a wholly owned CC portfolio." Deutsche Bank modeled their EPS estimate of $0.63, slightly below consensus.
Topeka Capital Markets added, "October sales generally turned out better than many expected, prompting a relief rally across the group last week. Retail winners all have strong or improving product and tightly controlled inventory and expenses, not to mention fast growing online businesses. We believe JWN fits all these criteria--strong in accessories and footwear, it is re-energizing women's apparel, far ahead of the pack in omnichannel and expanding its vibrant off-price Rack business. It's investing in the future while maintaining tight controls. We rate JWN a Buy."
On Wednesday, Daniel Jones from The Motley Fool wrote in an article that he expects Kohl's to come in on the lower side of these three retailers. Jones also noted that, "Though Macy's bottom line improvement is certainly the best of the bunch, it's Nordstrom that takes the crown when it comes to top line growth. Over the same time horizon as the other companies profiled herein, Nordstrom has been able to increase its revenue by 41.7% from the nearly $8.6 billion it saw in 2009 to the $12.1 billion it reported in its last annual report."
Earlier today, Kohl's reported an 18 percent drop in its third-quarter profit and quarterly profit declined to $177 million, or $0.81 per share. Last year, Kohl's had $215 million in profit, or $0.91 per share. Revenue also decreased from $4.49 billion to $4.49 and the company lowered their full-year profit forecast.
Macy's (NYSE: M) reported a rise in its third-quarter profit this morning with quarterly profit of $177 million, or $0.47 per share. Last year, Macy's had $145 million in profit, or $0.36 per share. Same-store sales further increased 3.5 percent, beating analysts' expectations for a 2.1 percent rise.
Nordstrom closed at $63.38 on Wednesday. Kohl's is currently trading at -7.83% and Macy's is +0.44%.
Posted-In: Deutsche Bank Neely Tamminga Paul Trussell Piper Jaffray The Motley Fool Topeka Capital MarketsEarnings News
View Comments and Join the Discussion!