Netflix Earnings Preview: Eyes On Subscriber Growth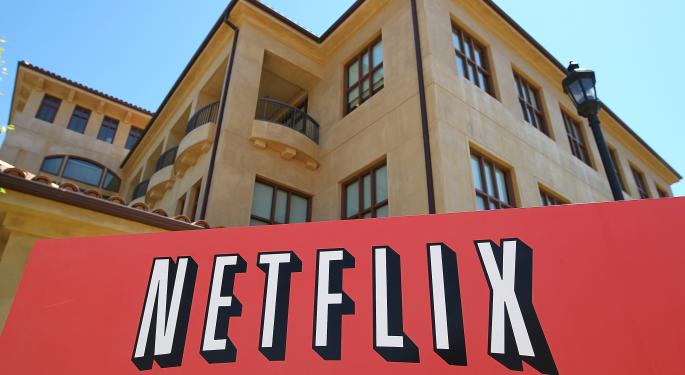 Netflix (NASDAQ: NFLX), which just announced a deal with Sony (NYSE: SNE) to produce more original programming, is scheduled to report its third-quarter 2013 results Monday, October 21, after the end of the trading session.
Investors will be looking for continued strong subscriber growth and international expansion, as well as improved profit margins in its U.S. streaming business and smaller losses from its international operations.
See also: Sony, Netflix Team For Original Series From 'Damages' Creators
Expectations
Analysts on average predict that Netflix will report revenue for the third quarter that rose more than 21 percent year-over-year to $1.10 billion. Earnings of $0.49 per share are also in the consensus forecast. That compares to a reported profit of $0.13 per share in the comparable period of last year and to $0.49 in the previous quarter.
In the past 60 days, that consensus earnings per share (EPS) estimate has ticked up by a penny. And note that analysts underestimated Netflix earnings in all but one of the past eight quarters.
Netflix said it added more than 630,000 domestic streaming subscribers in the second quarter, but that was fewer than Wall Street expected. The company also reported margin expansion and rosy guidance. Yet, the share price retreated almost eight percent following the second-quarter report.
Looking ahead to the current quarter and the full year, the forecast currently calls for another strong year-over-year rise in EPS, well as revenue that is more than 20 percent higher, for both periods. Note that the consensus EPS estimate for the full year has risen by four cents in the past 60 days.
The Company
Netflix operates in three segments. Its Domestic Streaming segment offers access to content delivered over the Internet. The International Streaming segment engages in the streaming services primarily in Canada, Europe and Latin America. And the Domestic DVD segment provides DVDs-by-mail subscription services.
This S&P 500 component was founded in 1997 and is headquartered in Los Gatos, California. The company has a market capitalization near $19.6 billion. Reed Hastings has served as chief executive officer since September 1998 and chairman of the board since its inception.
Competitors include Amazon.com (NASDAQ: AMZN), Dish Network (NASDAQ: DISH) and Outerwall (NASDAQ: OUTR), which operates the Redbox DVD rental kiosks and was formerly known as Coinstar.
Amazon is expected to post a net loss for the most recent quarter, but strong revenue growth. Analysts are looking for a year-over-year decline in earnings but marginal growth in revenue from Outerwall. The forecast has Dish swinging to a profit from a year ago net loss. Amazon and Outerwall are scheduled to share their third-quarter results later in the week.
During the three months that ended in September, Netflix set a deal with the Weinstein Co., debuted its My List feature, launched streaming service in the Netherlands, saw its "House of Cards" win an Emmy and announced it was seeking partnerships with U.S. cable companies.
Performance
Netflix has a long-term EPS growth forecast of more than 22 percent. However, its price-to-earnings (P/E) ratio is in the stratosphere. And the return on equity is less than six percent. Also, the company offers no dividend at this time.
The number of Netflix shares sold short, as of the September settlement date, represents about 12 percent of the float. But that was the second lowest level of short interest in at least a year. It would take more than two days to close out all of the short positions.
The consensus recommendation of the analysts surveyed by Thomson/First Call who follow the stock has been to hold shares for the past three months. So it is little surprise that the current share price has overrun the analysts' mean price target. While the analysts see no potential upside at this time, price targets could be raised if Netflix offers a big upside surprise or more rosy guidance.
See also: J.P. Morgan Raises Estimates And PT On Netflix Ahead Of 3Q Earnings Report
The share price is up about 104 percent over the past six months and reached an all-time high on Friday. It is above the 50-day and 200-day moving averages. Also over the past six months, the stock has outperformed the competitors mentioned above, as well as the broader markets.
At the time of this writing, the author had no position in the mentioned equities.
Follow us on Twitter.
Posted-In: Amazon.com Coinstar Dish Network NetflixEarnings News Previews Trading Ideas Best of Benzinga
View Comments and Join the Discussion!