Market Wrap For Friday, October 18: Markets Continue to Make New Highs On Upbeat Earnings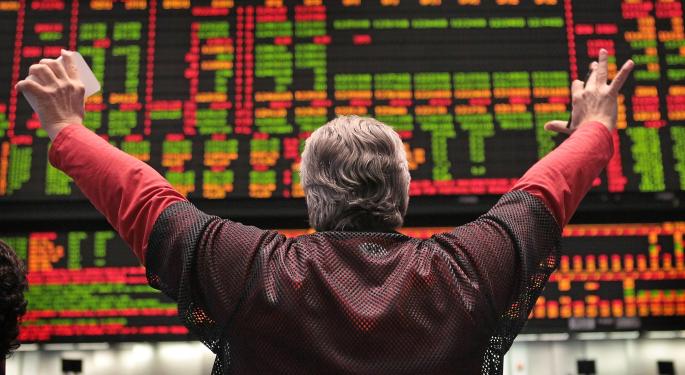 Markets continued to leap higher on a weak dollar as the Federal Reserve is expected to continue its 85 billion dollar quantitative easing.
After announcing a small earnings beat last night, shares of Google (NASDAQ: GOOG) are up more than 13 percent, helping push the Nasdaq up more than twice as much as the S&P 500. This is the first time shares of Google have topped $1,000.
Major Indexes
The Dow Jones Industrial Average rose 28 points, or 0.18 percent to close at 15,399.65.
The S&P 500 added 11.35 points, or 0.65 percent to close at 1,744.50.
The Nasdaq jumped 51.13 points, or 1.32 percent to close at 3,914.28.
The Russell 2000 climbed 12.5 points, or 1.13 percent to close at 1,114.77.
Stock Movers
General Electric Co (NYSE: GE) reported an 8.6% drop in its third-quarter profit, however this beat analyst estimates. Shares rose 3.42 percent to $25.52.
Align Technology (NASDAQ: ALGN) shot up 26.24 percent to $57.98 after the company reported upbeat third-quarter results.
Athenahealth (NASDAQ: ATHN) gained 24.05 percent to $1310.83 following a strong third quarter report and a conference call that impressed traders.
Google (NASDAQ: GOOG) was the big gainer, up 13.8 percent to $122.61 after reporting better-than-expected third-quarter results.
Ariad Pharmaceuticals (NASDAQ: ARIA) tumbled 40.67 percent to $2.67 after the company announced discontinuation of the Phase 3 EPIC trial of Iclusig.
Advanced Micro Devices (NYSE: AMD) shares sold down 13.69 percent to $3.53 after the company reported a six percent fall in its personal computer chip sales.
Acacia Research (NASDAQ: ACTG) was down 21.10 percent to $15.48 after the company reported Q3 results. Stephens downgraded the stock from Overweight to Underweight.
Commodities
Energy futures were largely unmoved Friday. WTI crude held the $100 level, up 0.02 to $100.69. At last check Brent was up 0.8 percent to $109.98. Natural gas moved less than a penny to $3.76.
After jumping higher Thursday, precious metals ended the week down. Gold futures fell 0.6 percent heading into the equity market close to $1,315.10. Silver futures dropped 0.17 percent to $21.91.
Global markets
Markets were up across the world, with Japan being the only major loser. China's Shanghai index rose 0.24 percent with Hong Kong's Hang Seng up 1.06 percent. Japan's dropped 0.17 percent on the day.
The Euro Stoxx index, which tracks 50 blue chips rose 0.76 percent, with London's FTSE adding 0.71 percent. France's CAC index moved up 1.09 percent.
Currencies
After taking a huge hit yesterday, the Dollar was mostly flat to finish out the week. At last check, the Powershares ETF (NYSE: UUP) which tracks the value of the US dollar versus a basket of foreign currencies moved up 0.02 percent to 21.45.
The closely watched EUR/USD pair rose 0.05 percent to $1.3682. Other big movers on the day include the AUD/USD, which rose 0.35 percent.
Volume and Volatility
Volume was as expected Thursday, with 130 million shares of the SPRD S&P 500 ETF (NYSE: SPY) trading hands. This compares to the ten day average of 140 million.
Volatility took a slide down Friday, with the CBOE measure of Volatility (VIX), down 1.34 percent to 13.3.
Posted-In: Earnings News Guidance Emerging Markets Eurozone Futures Commodities Forex Best of Benzinga
View Comments and Join the Discussion!