Market Wrap For Thursday, October 17: S&P Record High On Debt Deal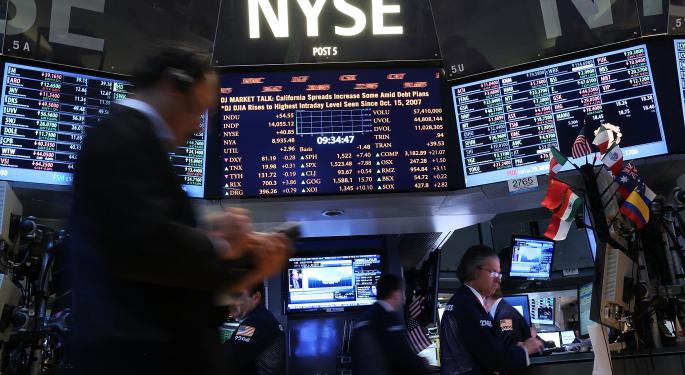 With the government back in business and the debt ceiling raised, the S&P leapt to a record high. The federal government will be reopened until January 15 and the country can continue to borrow funds until February 7.
The biggest companies to report earnings today include Philip Morris (NYSE: PM) which showed a small EPS beat, and Goldman Sachs (NYSE: GS) which beat on earnings, but missed revenue, ultimately sending shares down for the day.
Major Averages
The Dow Jones Industrial Average was the only losing index on the day, down 2.18, or 0.01 percent to 15,371.65.
The S&P 500 added 11.61 points, or 0.67 percent, to 1,733.15.
The Nasdaq Composite climbed 23.72 points, or 0.62 percent, to 3,7863.15.
The Russell 2000 jumped 9.85 points or 0.9 percent to 1,102.27.
Job Data
Initial jobless claims for the week ended October 12th were worse than expected at 358,000. Analysts were expecting 355,000 new claims, although claims for the previous week were 375,000. Continuing claims however were better than expected. 2.86 million people filed claims compared to the analyst estimation of 2.92 million.
Stock Movers
Pactera Technology International (NASDAQ: PACT) shot up 8.1 percent to $7.07 after the company agreed to be acquired by a consortium led by Blackstone.
SanDisk (NASDAQ: SNDK) rose 8.83 percent to $68.50 after the company reported upbeat third-quarter results.
Winnebago Industries (NYSE: WGO) gained 4.91 percent to $28.62 after the company reported a better-than-expected fourth-quarter profit.
Amarin Corporation plc (NASDAQ: AMRN) tumbled 61.12 percent to $2.01 after the company announced negative FDA Advisory Committee outcome for the use of Vascepa in the treatment of high triglycerides with mixed dyslipidemia.
Select Comfort (NASDAQ: SCSS) shares tumbled 21.53 percent to $18.99 after the company reported a fall in its Q3 profit and cut its full-year forecast.
International Business Machines (NYSE: IBM) was 6.49 percent to $174.61 after the company reported downbeat third-quarter revenue.
Commodities
Crude oil was down Thursday as money flowed into equity markets on signing of the debt deal. WTI is just $0.67 from the $100 level. Near the end of equities trading, WTI was down 1.58 percent to $100.67. Brent dropped 1.47 percent to $108.96. Natural gas was down just one penny on the day to $3.76.
Conversely, precious metals were up Thursday. COMEX gold futures were back above $1,300 to $1,319 (2.86 percent). Silver futures jumped 2.11 percent to $21.82.
Global Markets
China is expected to release GDP data Friday, which will send markets spinning. Last night, China's Shanghai index dropped 0.21 percent and Hong Kong's Hang Seng fell 0.57 percent. Japan also moved up 0.83 percent.
European trading was mostly flat on the day. The index that tracks eurozone blue chips fell 0.17 percent, London's FTSE rose just 0.07 percent, and France's CAC dropped 0.1 percent.
Currencies
The U.S. dollar tumbled Thursday on announcement the government would not default. The PowerShares ETF (NYSE: UUP) that tracks the performance of the greenback dropped to its lowest level since mid 2011. The measure was down 1.11 percent to 21.45.
The closely watched EUR/USD pair was last up 1.06 percent to $1.3677 on the dollar's weakness. The GBP couple rose 1.34 percent, and the USD/JPY dropped 0.86 percent to 97.92.
Volatility and Volume
Volume was slightly down, despite several earnings reports. Only 122 million shares of the SPDR S&P 500 ETF (NYSE: SPY) traded hands, compared to the ten day average of 144 million.
After spiking higher in the middle of the week, the CBOE measure of volatility (VIX) fell almost nine percent to 13.41.
View Comments and Join the Discussion!
Posted-In: Earnings News Guidance Emerging Markets Eurozone Futures Commodities Forex Best of Benzinga