Google Earnings Preview: Reading Between the Lines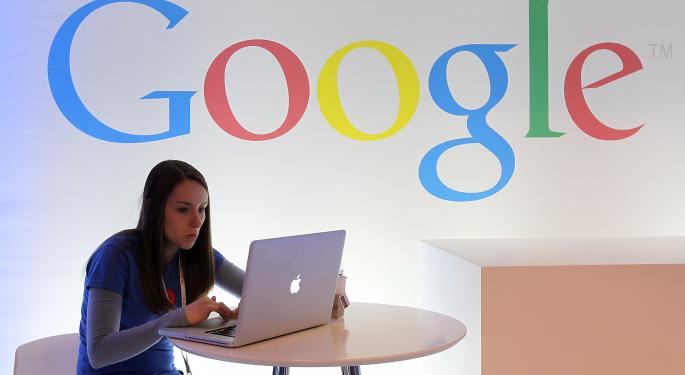 Google (NASDAQ: GOOG), which is expected to release a smartwatch by the end of the month and its next Nexus smartphone soon, is scheduled to report its third-quarter results Thursday, October 17, after the markets close.
Investors will be looking for continued dominance in Internet search and advertising and ongoing growth of the Android operating system. They will also have an eye on the ad price, or "cost per click," which has fallen year-over-year for seven consecutive quarters.
Expectations
Analysts on average predict that Google will report revenue for the quarter that rose about 30.7 percent year-over-year to $14.80 billion. Per-share earnings are expected to come to $10.34, which would be up from $9.03 per share in the same quarter of last year.
That consensus earnings per share (EPS) estimate has dropped in the past 60 days by three cents. Also, note that Google fell short earnings expectations in two of the past four quarters. Second-quarter EPS came in more than 11 percent below the analysts' average forecast.
"Google had a great quarter with over $14 billion in revenue -- up 19% year-on-year," CEO Larry Page said in the second-quarter report. EPS was also higher, but costs per click fell about six percent. The share price pulled back less than three percent following the second-quarter report.
Looking ahead to the current quarter, the analysts' consensus forecast calls for sequential and year-over-year growth in both earnings and revenue. Full-year EPS are expected to be more than eight percent higher, relative to the previous year, on a rise of more than 39 percent in revenues.
The Company
Google is an Internet search and advertising giant, but its products and services also include YouTube, Google Chrome Web browser, the Android open-source operating system, Google Maps and other Google Apps, and Google TV and various mobile wireless devices and related products and services.
The company has a market capitalization of almost $300 billion, though it does not offer a dividend. Google is headquartered in Mountain View, California. Larry Page has been the chief executive officer since April of 2011 and Eric Schmidt has been chairman since March 2001.
Competitors include the likes of Facebook (NYSE: FB), which shares its results at the end of the month, and Yahoo! (NASDAQ: YHOO), which reported on Tuesday. The former is expected to show strong revenue growth year-over-year but EPS about the same as in the previous quarter. The latter posted lower EPS that still were better than expected.
During the three months that ended in September, Google saw Chromebook shipments soar, sold out of its first shipment of Chromecast, upgraded its search function, acquired patents to enhance its Google Glass initiative and tweaked its logo.
Performance
Google's long-term EPS growth forecast is more than 11 percent. The price-to-earnings (P/E) ratio is less than that of Facebook, while it has an operating margin that is greater than that of Yahoo! Google has a return on equity of more than 28 percent.
See also: Short Sellers Pile On Facebook and Google
The number of shares sold short as of the most recent settlement date was almost 5.4 million. That is about two percent of the total float and the highest level of short interest in at least a year. The days to cover was less than three.
Of the 42 analysts surveyed by Thomson/First Call who follow the stock, 12 rate it at Strong Buy and another 20 also recommend buying shares. According to a Credit Suisse analyst, "Over the longer term, Google remains one of the best-positioned in our space to reap the benefits of the proliferation of connected devices. We therefore remain optimistic on Google's ability to achieve our mid-teens revenue growth forecasts."
The analysts believe the stock has some headroom as their mean price target suggests almost 11 percent potential upside, relative to the current share price. That consensus target price would be a new multiyear high.
See also: Credit Suisse Reiterates Outperform on Google as Enhanced Campaigns, PLA Adoption Propel Top-Line Growth
Shares are still down more than three percent since the second-quarter report. However, the share price is up about 21 percent year-to-date. Note that the 50-day and the 200-day moving averages look like they may be headed for a death cross. Over the past six months, the stock has outperformed the competitors mentioned above, as well as the Nasdaq.
At the time of this writing, the author had no position in the mentioned equities.
Posted-In: Facebook Google Yahoo!Earnings News Previews Trading Ideas Best of Benzinga
View Comments and Join the Discussion!