Market Wrap For Monday, October 14: Let The Earnings Begin!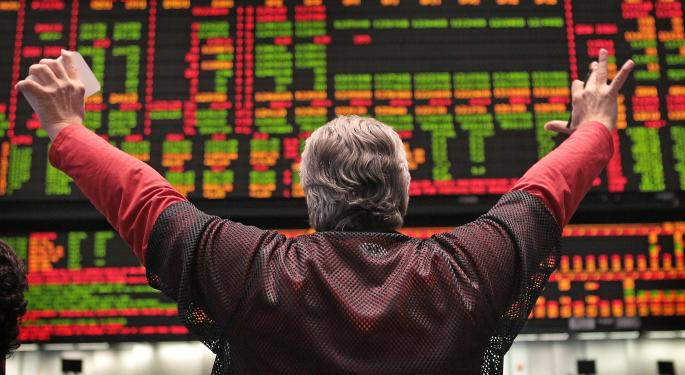 Government default and earnings will be the talk of the week as the government default date nears and almost 100 companies are expected to report earnings this week. Keep in mind that little economic data is released this week.
Markets rallied this afternoon as news broke that president Obama will meet with congressional leaders of both major parties. Harry Reid said he is very optimistic a deal will be reached this week, extending market gains.
Major Indexes
The Dow Jones Industrial Average rose surged 64.15 points, or 0.42 percent to close at 15,301.26.
The S&P 500 added 6.94 points, or 0.41 percent to close at 1,710.14.
The Nasdaq rose points 23.40, or 0.62 percent to close at 3,815.27.
The Russell 2000 climbed 5.9 points, or 0.54 percent to close at 1,090.21.
Stock Movers
Shares of Benefitfocus (NASDAQ: BNFT) rose 14.74 percent to $48.03 after Goldman Sachs initiated coverage on the stock with a Buy rating.
Kulicke and Soffa Industries (NASDAQ: KLIC) gained 9.26 percent to $13.21 following a bullish Barron's article over the weekend.
Expedia (NASDAQ: EXPE) dropped 6.22 percent to $48.51 after Deutsche Bank downgraded the stock from Buy to Hold and lowered target price from $66 to $51.
Fair Isaac (NYSE: FICO) shares tumbled 4.64 percent to $54.67 after the company lowered its FY13 outlook.
Whirlpool (NYSE: WHR) 6.6 percent to $131.15 following a report out of Cleveland Research forecasting much lower than expected demand in the US for appliances.
Commodities
Energy futures were mostly flat to kick off the week. At last check, WTI oil was up 0.24 percent to $102.26. Brent down 0.45 percent to $110.78. Natural gas was the biggest mover, up 1.01 percent to $3.81.
Surprisingly, precious metals were up despite confidence that a debt ceiling deal will be reached. Gold futures rose 0.6 percent heading into the equity market close to $1,275.80. Silver futures gained 0.33 percent to $21.33.
Global markets
Asian markets, which will be heavily influenced by likelihood of a US default, moved higher Monday. The Shanghai index rose 0.43 percent with Hong Kong's Hang Seng up 1.16 percent. Japan's volatile Nikkei added 1.48 percent.
European markets were mostly unmoved. The Euro Stoxx index, which tracks 50 blue chips rose 0.11 percent, London's FTSE added 0.32 percent, and France's CAC moved up just 0.07 percent.
Currencies
The Powershares ETF (NYSE: UUP) which tracks the value of the US dollar versus a basket of foreign currencies fell 0.18 percent today with higher domestic markets.
The closely watched EUR/USD pair rose 0.16 percent to $1.3566. Other big movers on the day include the AUD/USD, which rose 0.35 percent.
Volume and Volatility
Volume was light today as traders gear up for Tuesday's heavy earnings period. 102 million shares of the SPRD S&P 500 ETF (NYSE: SPY) traded hands, compared to elevated ten day average of 140 million.
After spiking higher this morning, the CBOE measure of S&P 500 volatility moved lower to close 2.86 percent higher. At last check, the metric was sitting at 16.17.
Posted-In: Earnings News Futures Commodities Forex Economics After-Hours Center Markets Best of Benzinga
View Comments and Join the Discussion!