Earnings Expectations For The Week Of October 7: A New Earnings Season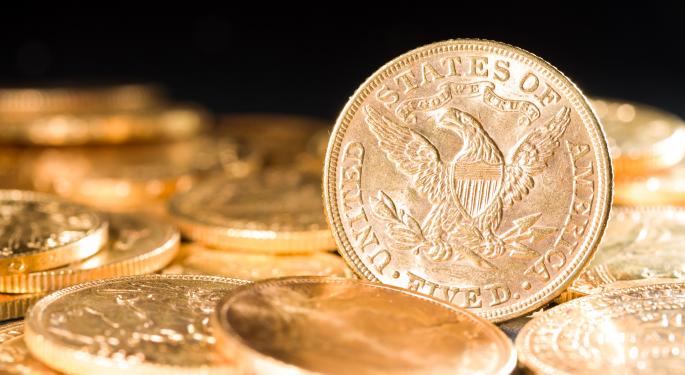 Yum! Brands (NYSE: YUM), J.P. Morgan (NYSE: JPM) and Wells Fargo (NYSE: WFC) will kick off the new earnings season this week. Analysts are looking for revenue declines from these three, and only Wells Fargo to post year-over-year earnings growth.
Since it has dropped out of the Dow Jones Industrial Average, Alcoa's (NYSE: AA) results may no longer be seen as the kickoff of the new earnings season.
Others scheduled to step into the earnings spotlight this week include Costco Wholesale (NASDAQ: COST), Family Dollar (NYSE: FDO) and Micron Technology (NYSE: MU). Here is a quick look at analysts' expectations for some the week's most prominent quarterly reports.
See also: Weekly Preview: U.S. Government Shutdown Looks Set To Continue
Costco
Analysts expect the second largest retailer in the United States to say that its earnings per share (EPS) grew less than five percent year-over-year to $1.46 in the fiscal fourth quarter. Also, revenues for the quarter are estimated to be about two percent higher to total $32.85 billion.
The full-year forecast calls for $4.56 per share on $105.54 billion, which would be up from $3.97 and $99.14 billion last year. Note that the EPS estimates for both the quarter and the fiscal year have remained steady in the past 60 days. Costco is scheduled to share its results early Wednesday morning.
Family Dollar
This variety store operator is expected to report earnings of $0.84 per share for its fiscal fourth quarter and a profit of $3.78 per share for the full year. That would be up from $0.75 and $3.64 per share, respectively, in the year-ago period.
Analysts believe revenues for the quarter will be about eight percent higher to $2.56 billion, while those for the full year grew almost 12 percent from the previous year to $10.45 billion. Look for the Family Dollar earnings report Wednesday before the opening bell.
J.P. Morgan
In its report early Friday, the second largest U.S. bank by assets is expected to post third-quarter earnings that were more than 11 percent lower than in the year-ago period, to $1.24. Revenues for the quarter are predicted to have dropped less than seven percent to $24.11 billion.
Note that 60 days ago the consensus EPS estimate was up at $1.39. The estimates for the current quarter and the full year have slipped in that time as well. However, the company topped analysts' expectations by more than 10 percent in the previous four periods.
See also: Are Financial Stocks Setting Up for a Crash?
Micron Technology
The fiscal fourth-quarter forecast for this flash memory product maker calls for EPS to come to $0.25 and for revenues to total $2.70 billion. That compares to a net loss of $0.24 and $1.96 billion in the year ago period. Analysts seem confident, as their consensus EPS estimate has risen in the past 60 days from $0.21.
For the full year, however, analysts predict a net loss of $0.25 per share and $8.94 billion in revenue, which would be up from a per-share loss of $1.04 and $8.23 billion last year. Look for the company to share its results Thursday after the markets close.
Wells Fargo
Third-quarter earnings from the largest U.S. bank by market capitalization are forecast to come to $0.97 per share in Friday morning's report. That would be up about nine percent from in the year-ago period. Earnings topped consensus EPS estimates by more than five percent in the previous quarter.
The San Francisco-based company is expected to say that revenues totaled $ 21.00 billion in the third quarter, which would be lower than a year ago by about one percent. So far, a revenue drop of more than four percent and a six percent rise in earnings are forecast for the current quarter as well.
Yum! Brands
This operator of the KFC, Pizza Hut and Taco Bell restaurants is expected to report late Tuesday that for its third quarter it had earnings of $0.93 per share and $3.53 billion in revenue. In the same period of the previous year, it reported $0.99 EPS on revenue of $3.57 billion.
Note that the company posted better-than-expected EPS in the past four quarters. But the consensus EPS estimate for the most recent quarter has slipped by two cents over the past 60 days. So far, growth of both EPS and revenue is forecast for the current quarter.
And Others
Other companies likely to report year-over-year earnings growth this week include Alcoa (NYSE: AA), Fastenal (NASDAQ: FAST), Lindsey (NYSE: LNN), Marriott Vacations (NYSE: VAC), Progressive (NYSE: PGR) and Wolverine World Wide (NYSE: WWW).
Per-share earnings from Helen of Troy (NASDAQ: HELE) and Safeway (NYSE: SWY) are expected to be the same as a year ago. Analysts are looking for net losses from Ruby Tuesday (NYSE: RT) and Tower Group (NASDAQ: TWGP).
The following week, quarterly reports are expected from Bank of America (NYSE: BAC), Coca-Cola (NYSE: KO), General Electric (NYSE: GE), Google (NASDAQ: GOOG), Intel (NASDAQ: INTC) and many others.
View Comments and Join the Discussion!
Posted-In: Alcoa Bank of America Coca-cola costco wholesaleEarnings News Previews Trading Ideas Best of Benzinga