Market Wrap For Friday, September 27: Dow Ends The Week Negative For First Time In Month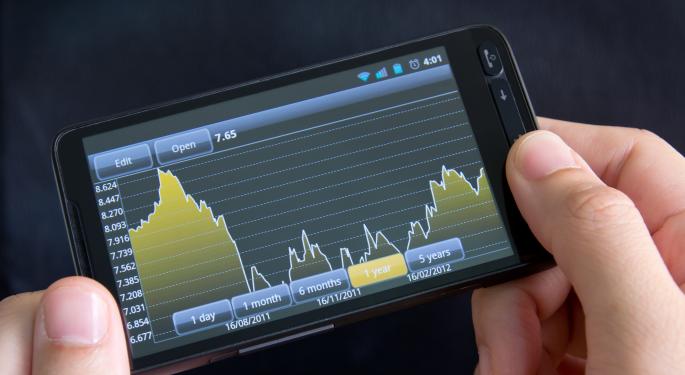 For the first time in a month, the Dow had a negative week after trading down four days this week.
Top news items include consumer confidence, personal income figures, and BlackBerry's (NASDAQ: BBRY) disappointing quarter.
Major Indexes
The Dow Jones Industrial Average dropped 70.06 points, or 0.46 percent, to 15,258.24.
The S&P 500 fell around 6.92 points, or 0.41 percent, to close just above 1,691.75.
The Nasdaq rose a little less than 5.84 points, or 0.15 percent, to 3,781.59.
The Russell 3000 dropped 3.49 points or 0.34 percent to 1,017.31.
Consumer Confidence
The University of Michigan's final consumer confidence figure for September was slightly worse than expected at 77.5 versus 78. This is still above the previous reading of 76.8.
Personal Income and Spending
Both personal income and personal spending came in as expected. Personal income rose 0.4 percent for August after 0.1 percent growth in July. Personal spending rose 0.3 percent for the month after 0.1 percent growth for July.
Stock Movers
RDA Microelectronics (NASDAQ: RDA) shot up 11.96 percent to $15.54 after the company received a non-binding acquisition proposal.
Finish Line (NASDAQ: FINL) got a boost, shooting up 9.02 percent to $24.41 after the company reported a 6.1 percent rise in its fiscal second-quarter earnings.
Cerner Corporation (NASDAQ: CERN) was also on the rise, gaining 7.76 percent to $52.61 after news hit that the company won a landmark contract with Intermountain this afternoon.
Nektar Therapeutics (NASDAQ: NKTR) were down 23.90 percent to $10.54 after the company reported that the results from Phase 2 trial of NKTR-181 missed primary efficacy endpoint.
United Continental Holdings (NYSE: UAL) was down as well, falling 9.28 percent to $30.91 following more fears of a government shutdown.
J.C. Penney Company (NYSE: JCP) was down, falling 13.15 percent to $9.05 after the company priced its underwritten public offering of 84.0 million shares of its common stock at $9.65 per share.
Commodities
Late in Tuesday's trading session, WTI crude futures had fallen 0.22 percent to $102.80 while Brent crude was down 0.71 percent to $108.43. Natural gas was higher on the session, up 0.14 percent to $3.50.
Precious metals saw gains on the session. At last check, COMEX gold futures were up 1.19 percent to $1,339.80. Silver recorded more modest gains, up just 0.29 percent to $21.83.
Volume and Volatility
One again volume was very light on the session. Heading into the close, only 76 million shares of the SPDR S&P 500 ETF (NYSE: SPY) had traded hands, compared to the three month average of 127 million.
Volatility surged higher on the session with the CBOE measure (VIX) up 12.16 percent at last check to 15.77.
Currencies
The U.S. Dollar lost value with a down equity market to end the week. Near the close, the PowerShares DB US Dollar Index Bullish ETF (NYSE: UUP), which tracks the performance of the greenback versus a basket of foreign currencies, had fallen 0.37 percent to $21.65.
The closely watched EUR/USD rose 0.24 percent to $1.3521. Other key movers on the day include the USD/JPY down 0.75 and the AUD/USD down 0.51 percent.
Global Markets
Asian markets were mixed overnight with China at a small gain and Japan recording a small loss. The Shanghai index picked up 0.2 percent with Hong Kong's Hang Seng also up 0.36 percent. Japan's Nikkei dropped 0.26 percent on the day.
European markets were overall down on the day. The Euro Stoxx index, which tracks 50 euro zone blue chips fell 0.12 percent. London's FTSE dropped 0.81 percent, and France's CAC finished the day even.
Posted-In: Earnings News Emerging Markets Eurozone Futures Commodities Forex Global Best of Benzinga
View Comments and Join the Discussion!