Market Wrap For September 26: Initial Jobless Claims At Six Year Low (2007)!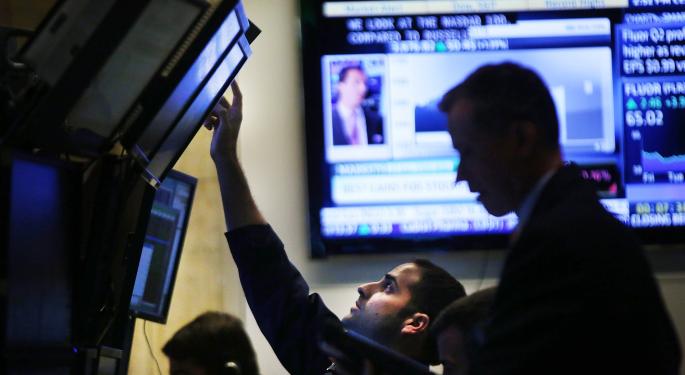 Markets started the day bounding higher after initial jobless claims hit a six year low, despite a GDP miss.
It was announced that JPMorgan (NYSE: JPM) may pay 11 billion dollars to settle with the Justice Department for questionable mortgage securities that helped cause the 2008 recession. To put this in perspective, the bank recorded revenue of 107 billion in 2012.
Other top news includes PayPal buying Braintree, a payment solution company, for 800 million, and Obama Care insurance prices released.
Major Averages
The Dow Jones Industrial Average rose 55.04 points, or 0.36 percent, to 15,328.30.
The S&P 500 climbed 5.8 points, or 0.35 percent, to 1,698.67.
The Nasdaq Composite gained 26.33 points, or 0.7 percent, to close at 3,787.43.
The Russell 3000 added 3.95 points, or 0.39 percent to finish at 1,020.78.
Jobless Claims
Continuous claims for the week ended September 14th came in as expected at 2.82 million, up from 2.79 million the week before. However, initial jobless claims were just 305,000 while economists were looking for 325,000. This is the lowest level since 2007.
GDP
The final second quarter GDP estimate came out today. At 2.5 percent growth, analysts were close with their prediction of 2.6 percent. This is the same as the previous estimate.
The GDP price index, which is used to measure inflation, was up just 0.6 percent despite the Federal Reserves 85 billion dollar monthly stimulus.
Stock Movers
HB Fuller Co (NYSE: FUL) shot up 7.08 percent to $43.28 after the company reported Q3 results.
Bed Bath & Beyond (NASDAQ: BBBY) bounced up 4.45 percent to $77.52 after the company reported upbeat fiscal second-quarter earnings.
Hertz Global Holdings (NYSE: HTZ) were down 16.1 percent to $21.63 after the company lowered its full-year outlook.
Avis Budget Group (NASDAQ: CAR) was down as well for Hertz's lowered full year outlook. Shares dropped 6.84 percent to $28.04.
Jabil Circuit (NYSE: JBL) was down 9.92 percent to $21.62 after the company issued a weak outlook for the current quarter.
Commodities
Crude oil moved slightly higher along with the stock market on Thursday. Near the close of equities, WTI crude futures were up 0.27 percent to $102.94. Brent futures gained 0.81 percent to $109.20. Natural gas contracts added just a penny to end the day near $3.50.
Conversely, precious metals took a hit on the day. At last check, COMEX gold futures were down 0.96 percent to $1,323.40. Silver contracts fell 0.8 percent to $21.71 near the close. Copper futures climbed roughly almost one percent to $330.30.
Currencies
The U.S. dollar was higher on the day, recovering from Wednesday's sell off. Near the close of equity trading, the PowerShares DB US Dollar Index Bullish ETF (NYSE: UUP), which tracks the performance of the greenback versus a basket of foreign currencies, was up 0.28 percent to $21.73.
The closely watched EUR/USD pair fell 0.31 percent on to $1.3484. Other big movers included the USD/JPY, which rose 0.44 percent, and the USD/BRL which was up 0.62 percent on the day.
Volume and Volatility
Volume was very light on Thursday with only 73.5 million shares of the SPDR S&P 500 ETF (NYSE: SPY) trading hands compared to the three month average of 127 million.
The VIX measure of volatility was up 1.5 percent on the day to 14.21 after shooting downward Thursday morning.
Global Markets
Asian markets were mixed overnight. The Shanghai index fell 1.94 percent with Hong Kong's Hang Seng down 0.26 percent. Japan's volatile Nikkei moved up 1.22 percent on the day.
European markets were mostly flat on the day. The Euro Stoxx index, which tracks 50 euro zone blue chips fell 0.15 percent percent. London's FTSE rose 0.21 percent, and France's CAC dropped 0.21 percent.
Follow Luke Jacobi on Twitter @LukeJacobi. Feel Free to make any suggestions for the Market Wrap.
Posted-In: Earnings News Emerging Markets Eurozone Futures Commodities Forex Econ #s
View Comments and Join the Discussion!