Macy's Will Ramp Up Marketing To Counter Slow Sales (M)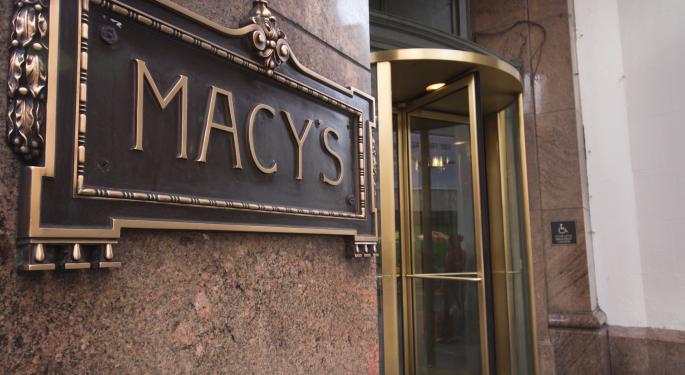 In the world of retail, disappointing numbers are a call to action.
In the case of Macy's (NYSE: M), a 1.6 percent decline in Q2 transactions will result in renewed efforts on the marketing front going into the second half of the year, according to The Wall Street Journal.
The idea is to get customers into stores. Macy's Chief Financial Officer, Karen Hoguet, on a conference call with analysts said Macy's believes that, instead of visiting their department stores, customers have been spending on other goods and services.
"We believe much of our weakness is due to the health of the consumer and to the fact that the consumer is choosing to make purchases in non-department store categories," Hoguet said. Specific categories mentioned include cars, housing, and home improvement projects.
Because of a modest increase in profit to $281 million (from $279 million last year), Macy's cut its EPS estimate to $3.80 from $3.90. Hoguet blamed the anemic results on the fact that consumers shifted from high-end, high-margin items like jewelry to lower-margin clothing items during the quarter. She also said Macy's faced aggressive end-of-season promotions by competitors, which also hurt sales.
Hoguet said, "We may have waited a bit too long to start marking down warm-weather goods."
Related: Macy's Shows 20 Percent Profit on Strong Q1 Sales
Finally, according to Hoguet, new banking regulations have made it harder for Macy's to sign-up new credit-card customers, another factor that resulted in less traffic and slower sales.
The good news is that sales in August have been up so far. As one of the first in the sector to report, Macy's likely serves as a bellwether for a segment of retail that has already expressed concerns about sales during the all-important back to school shopping season.
Macy's CEO, Terry Lundgren in a statement reported by Fox Business said that "customers are responding favorably" to recent sales promotions and the company has seen strengthening in sales of women's' clothing, which has shown poor results up until now.
Macy's still has about $2.2 billion in repurchase authority after buying back 9.2 million shares in Q2 at a cost of about $446.7 million.
Macy's shares ended the day Wednesday off more than four percent, outpacing competitors, including Bon-Ton Stores (NASDAQ: BONT), down 2.3 percent, Sears Holdings (NASDAQ: SHLD), off more than one percent, and Wal-Mart (NYSE: WMT), down less than a percent on the day.
At the time of this writing, Jim Probasco had no position in any mentioned securities.
Posted-In: Bon-Ton Stores Inc. Karen HoguetEarnings News Guidance Wall Street Journal Events Media Best of Benzinga
View Comments and Join the Discussion!