Starbucks Earnings Preview: Expectations Remain High (SBUX)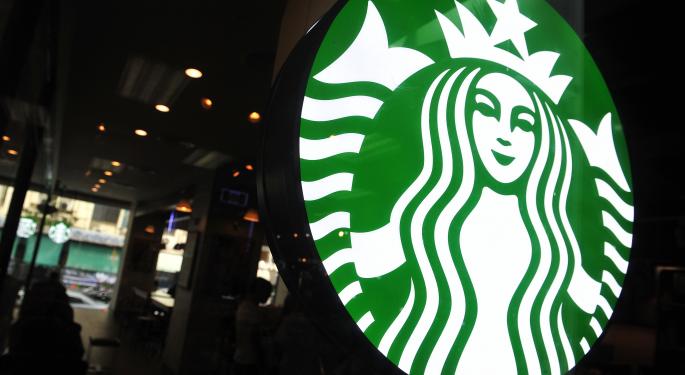 Starbucks (NASDAQ: SBUX), which just announced it plans to offer Greek yogurt, is scheduled to report its fiscal third-quarter results Thursday, July 25, after the markets close.
Expectations are high after the company's strong showing back in the second quarter, and shares are up more than 16 percent in the past 90 days. Investors will be watching for continued strong revenue growth due in part to recent menu changes, store redesigns and increased loyalty program usage.
See also: These Ridiculous Facts About the Coffee Industry Will Blow Your Mind
Expectations
Analysts on average predict that Starbucks will report its revenue for the quarter rose more than 12 percent year-over-year to $3.72 billion. Earnings of $0.53 per share are also in the consensus forecast. That would be up from a reported profit of $0.43 per share in the comparable period of last year.
Analysts seem to be pretty sure about their estimates, as the consensus has not changed in the past 60 days, and individual estimates only range from $0.51 to $0.55 per share. The company's earnings per share (EPS) results matched consensus estimates in the previous two quarters, and they were within a penny or two of expectations in the six quarters before that.
In the second-quarter report, Starbucks attributed record results to strong comp sales, improved efficiency and cost controls. The company also raised its full-year earnings growth target. The share price pulled back a bit following the second-quarter report, but ended up trading in about the same place a week later.
Looking ahead to the current quarter, the analysts' consensus forecast so far calls for year-over-year EPS growth of more than 19 percent, as well as revenues that are about 13 percent higher. And the full-year forecast also calls for EPS and revenues to be up about 18 percent and 12 percent, respectively, relative to the previous year.
The Company
Starbucks is a retailer of specialty coffee with more than 9,400 company-operated stores and more than 8,600 licensed stores worldwide. Its brands include Starbucks, Tazo, Seattle's Best Coffee, Starbucks VIA Ready Brew, Evolution Fresh, Teavana and Verismo.
This S&P 500 component was founded in 1985 and is headquartered in Seattle. The company has a market capitalization of more than $50 billion. Howard Schultz is the founder, chairman and chief executive officer.
Competitors include Dunkin' Brands (NASDAQ: DNKN), Green Mountain Coffee Roasters (NASDAQ: GMCR) and McDonald's (NYSE: MCD). Dunkin' is expected to report, also on Thursday, some earnings and revenue growth for its most recent quarter, while Green Moutain results are expected to be strong when it reports in August. McDonald's posted an earnings miss earlier this week.
During the three months that ended in June, Starbucks made some management changes, reached a new Keurig deal with Green Mountain, appointed a new supply chain executive VP, raised some drink prices and announced plans to expand in Thailand and Malaysia.
See also: Starbucks: It's Not Just for Coffee Drinkers Anymore
Performance
Starbucks has a long-term EPS growth forecast of more than 19 percent, but its price-to-earnings (P/E) ratio is higher than the industry average. The operating margin also is greater than the industry average, the return on equity is about 29 percent and the return on investment is more than 23 percent.
The number of Starbucks shares sold short, as of the end of June, represents a little more than one percent of the float. That is the second lowest level of short interest since the end of January. The days to cover was less than two.
Of the 28 analysts surveyed by Thomson/First Call who follow the stock, 11 of them rate the stock at Strong Buy, and 12 others also recommend buying shares. But the analysts' mean price target, or where they expect the stock to go, represents only about five percent potential upside. Yet that would be a new multiyear high.
The share price has risen more than 25 percent since the beginning of the year and reached a multiyear high earlier this month. Shares are trading well above the 50-day and 200-day moving averages. Over the past six months, the stock has underperformed Green Mountain Coffee Roasters, but it has outperformed Dunkin' Brands, McDonald's and the S&P 500.
View Comments and Join the Discussion!
Posted-In: Dunkin' Brands green mountain coffee roasters McDonald'sEarnings Long Ideas Short Ideas Previews Trading Ideas Best of Benzinga