Restoration Hardware Spikes As Earnings, Revenue, Guidance Beat Estimates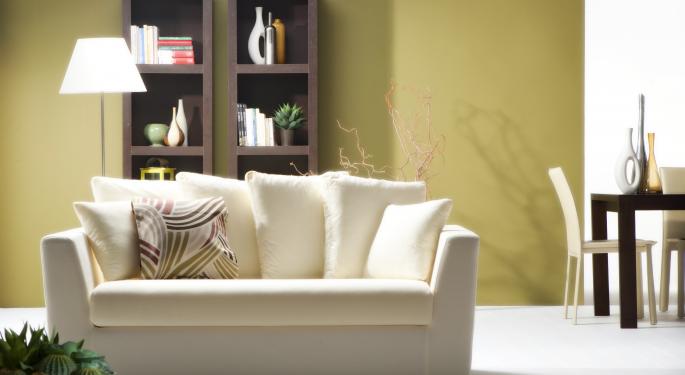 Shares of Restoration Hardware (NYSE: RH) spiked after-hours as the company reported better than expected first quarter earnings and revenue. Also, Restoration Hardware reported guidance for the second quarter and full year above analyst expectations, helping fuel gains.
First Quarter
For the fiscal first quarter ended May 4, Restoration Hardware reported earnings per share of $0.06, 50 percent higher than the consensus analyst forecast of $0.04. Revenue was also strong in the quarter as the company reported sales of $301.3 million. Analysts expected the company to report sales of $299.13 million, so the reported figure represented a beat of 0.73 percent on the top line.
Guidance Beats
The company issued guidance for the second quarter and raised guidance for the full year. In the second quarter of this fiscal year, the company now expects to earn between $0.40 and $0.42 per share, outpacing the consensus estimate of $0.38 earnings per share.
For the full fiscal year, Restoration Hardware expects to report earnings per share between $1.41 and $1.47, higher than the previous guidance of $1.29 to $1.37 and higher than the consensus analyst forecast of $1.40 earnings per share for the full year. The company also boosted its revenue forecast to $1.47 billion to $1.51 billion from $1.42 billion to $1.45 billion. Analysts expect revenue for the full year to be $1.48 billion.
Management Comments
Carlos Alberini, Chief Executive Officer, said, "We are extremely pleased with our first quarter performance and financial results. During the period, we delivered an increase in net revenues of 38%, comp store sales growth of 41%, and a significant improvement in profitability as we continued to invest in our infrastructure and new businesses to support our growth."
Mr. Alberini commented, "We are receiving overwhelming support and interest from the landlord community, with offers for leases with more favorable terms that are typically available only to anchor tenants in several of the most prestigious shopping centers in North America. We believe that over time, these new deals will enable us to deliver higher sales and increased earnings, reduce our capital investment, and achieve higher ROIC. We now see opportunities to have Full Line Design Galleries in more than the approximately 50 markets we previously identified and are currently in lease discussions for over 30 locations in North America, including New York, Chicago, Miami, Denver, Nashville, New Orleans and San Diego, among many others."
Gary Friedman, Chairman Emeritus, Creator and Curator commented, "Our continued industry leading performance is a reflection of our demonstrated ability to innovate, curate and integrate new products, businesses and experiences. Our Spring Collection, inclusive of our new catalogs, RH Tableware and RH Objects of Curiosity, is performing ahead of our plans. This Fall, we plan to launch two new catalogs, RH Leather and RH Rugs. The new catalogs will include expanded and dominant collections presented in a dramatic and innovative context."
'As previously announced, this Fall we will also launch RH Contemporary Art, post the Rain Room exhibition at the Museum of Modern Art in New York, with our inaugural exhibition 'Autonomy' with existing and newly commissioned artworks by the Rain Room creators, random International, in our new art gallery in the Meatpacking-Chelsea Arts District. We will also launch our immersive new online Contemporary Art platform, as well as an Art Journal."
Mr. Friedman continued, "Also announced today, is our intent to launch two new businesses, RH Kitchen and Tableware and RH Antiquities. RH Kitchen and Tableware provides another logical opportunity for growth as we expand beyond our initial tableware offering and create a curated collection of kitchen furniture, appliances, lighting, cookware, tools, and food. RH Antiquities will provide an opportunity to fill current customer demand with a curated collection of antiques as we enter this $25 billion highly fragmented market. These new businesses will further enhance our brand position and provide meaningful long-term growth opportunities."
Market Impact
Restoration Holdings' shares popped 10.24 percent after-hours on the news after gaining 2.54 percent intraday. Shares broke to a new 52-week high of $65.00 per share after-hours.
Posted-In: Earnings News Guidance After-Hours Center Markets Press Releases Best of Benzinga
View Comments and Join the Discussion!