PVH Corp. Reports Blowout First Quarter Results, Shares Climb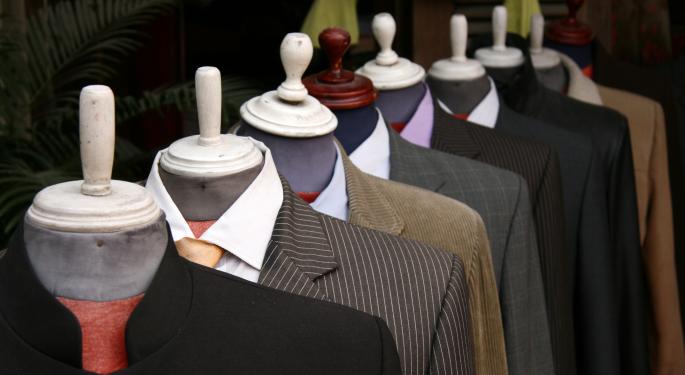 Apparel Maker PVH Corp. (NYSE: PVH) of brands such as Calvin Klein and Izod reported first quarter results after the close Wednesday that beat analyst expectations. Shares rose after-hours on the news of the earnings beat.
First Quarter Results
For the fiscal first quarter, PVH reported earnings per share of $1.91 vs. $1.35 expected, a beat of 41.48 percent, and also were higher than the company's guidance of $1.33 per share. Earnings per share grew 241 percent over the same period last year when the company reported earnings per share of $1.30.
Revenue came in at $1.94 for the first quarter compared to the consensus analyst estimate of $1.91 billion. Sales grew 35.66 percent over the same period last year when the company reported revenue of $1.43 billion. The increase was principally driven by the addition of approximately $487 million of revenue related to the newly acquired Warnaco businesses.
Guidance
For the second quarter, PVH expects earnings per share to be $1.35, in line with analyst estimates. Revenue is expected to be $1.9 billion, 3.3 percent higher than the consensus forecast of $1.84 billion. PVH also reaffirmed full year guidance at EPS of $7.00 and revenue of $8.2 billion for the full year.
Segment Breakdown
The Calvin Klein segment of PVH was extremely strong in the quarter, as sales rose 143.5 percent from a year ago. Meanwhile, sales in the Tommy Hilfiger segment only grew 5 percent while the Heritage Brands segment saw a solid gain of 24 percent year-over-year.
Management Views
Commenting on these results, Emanuel Chirico, Chairman and Chief Executive Officer, noted, "We are very pleased with our first quarter performance, which included our newly acquired Warnaco businesses and significantly exceeded our guidance. Our results demonstrated the strength of the Calvin Klein and Tommy Hilfiger businesses, which both continue to exhibit strong global growth, despite the macro-environment and unseasonably cold weather that negatively impacted sales of spring product in North America and Europe."
"We were also pleased to see the strong operating improvements in our pre-existing Heritage Brands wholesale business, primarily in the sportswear division, and believe the Speedo, Warner's and Olga brands are proving to be strategic complements to our pre-existing Heritage Brands portfolio."
Mr. Chirico continued, "During the first quarter, we began to make the necessary investments to rebuild Warnaco's Calvin Klein jeanswear and underwear businesses, which will allow us to capitalize on their long-term growth opportunities. We are committed to successfully executing on our previously announced initiatives, which include our focus on upgrading the quality and product design of Calvin Klein jeanswear, investing in marketing and merchandising, reducing excess inventory levels, and restructuring the sales distribution mix for these businesses in Europe and North America."
"Additionally, significant steps are being taken to enhance the existing operating infrastructure and fill key positions across the organization. The impact of these initiatives will result in a more pronounced increase in expenses in the second half of the year. Taking into account all of these initiatives and that we are only four months into our acquisition, we believe it is prudent to hold our full year non-GAAP earnings guidance at $7.00."
Mr. Chirico concluded, "2013 will be a year of transition for PVH. We are actively implementing our integration plans to build upon the foundation of PVH around the world and pave the way for the continued success of our businesses. We are optimistic that the expansion of our brands globally and the sound execution of our business strategies will continue to drive long-term growth and stockholder value."
Market Impact
PVH shares climbed almost 7 percent after-hours to $118.85. Shares closed Wednesday at $111.28 for a small gain.
Posted-In: Earnings News Guidance Press Releases Best of Benzinga
View Comments and Join the Discussion!