Tiger Woods Back to World's Highest Paid Athlete, Thanks to Lucrative Nike, Electronic Arts Deals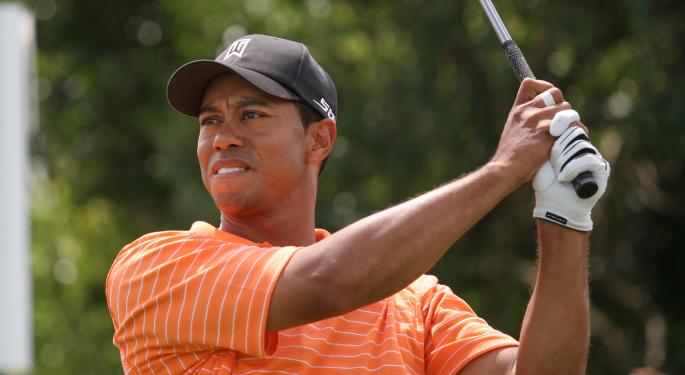 Forbes' latest update to the highest paid athletes in the world lists Tiger Woods back in the number one slot. Previously, he had slipped as his earnings from winnings declined and sponsors dropped him in the wake of his sex scandal.
However, the list is dominated by the usual suspects. Notably, the highest paid athletes generally take home most of their pay in endorsements, showing the corporate value of large sports figures.
Benzinga breaks down the top 10 and also finds the biggest corporate sponsors for each of these athletes.
Posted-In: Aaron Rodgers Cristiano Ronaldo David Beckham Drew BreesNews Success Stories Intraday Update Media Best of Benzinga
1. Tiger Woods: $78.1 Million

37-year old Tiger Woods tops the list once again as the recently divorced golf superstar raked in an astounding $78.1 million as of the beginning of June. Tiger earned $13.1 million from winnings and $65 million from sponsorships.

Key sponsors for Tiger include Electronic Arts with his video game deal, Nike, and NetJets, which is owned by Warren Buffett's Berkshire Hathaway.

Photo courtesy of wallnen.com

2. Roger Federer: $71.5 Million

Tennis giant Roger Federer rose to number 2 in the recent 2013 rankings after being the fifth-highest paid athlete in 2012. Earning $71.5 million in 2013, Federer has made the same as Tiger in endorsements, $65 million, but trails him in winnings at $6.5 million.

Key sponsors for Federer include Proctor and Gamble's Gillette, Swiss banking giant Credit Suisse, and Nike.

Photo courtesy of top-walls.com

3. Kobe Bryant: $61.9 Million

Kobe Bryant rose to number three on the current list, from six previously. Despite ending the season on the injured list, Kobe made $61.9 million as he was the highest paid NBA player. His salary was $27.9 million and he made $34 million from endorsements.

Key sponsors for Kobe include Coca-Cola and Nike.

Photo courtesy of whdbg.com.

4. LeBron James: $59.8 Million

Kobe's NBA rival LeBron slides in just behind him at number four, the same as where he was in 2012. LeBron made $59.8 Million in 2013, making $17.8 million from his salary and $42 million from endorsements.

LeBron's key sponsors include Dunkin Brands, Coca-Cola, McDonald's, and Nike.

Photo courtesy of totalprosports.com

5. Drew Brees: $51 Million

The highest earning professional football player in 2013 so far has been Drew Brees, quarterback for the New Orleans Saints. Brees earned $51 million in 2013, his $40 million salary being boosted by $11 million in endorsements.

Brees' endorsement deals include Nike, Pepsi, Proctor and Gamble, and Verizon Wireless.

Photo courtesy of sportsbully.com.

6. Aaron Rodgers: $49 Million

Green Bay Packers quarterback Aaron Rodgers brought in a nice $49 million through June of 2013. His $43 million beats his rival Drew Brees, who claims the spot above him, but he only made $6 million from endorsements in the year.

Rodgers has fewer endorsement deals with most of his revenue coming from his deals with Nike and Pizza Hut, which is owned by Yum! Brands.

Photo courtesy of freefootballwallpapers.com.

7. Phil Mickelson: $48.7 Million

California-based golfer Phil Mickelson remains the seventh highest paid athlete this year, earning $48.7 million so far. Mickelson has made only $4.7 million from winnings but his $44 million in endorsements boost him up the list.

Mickelson's key sponsors include Callaway Golf, Barclays, and ExxonMobil.

Photo courtesy of masters.com.

8. David Beckham: $47.2 Million

Soccer superstar and English export David Beckham is the highest paid soccer player in this list, making $47.2 million. Beckham's mere $5.2 million is dwarfed by his endorsement earnings worth $42.0 million.

Beckham has key marketing deals with upscale grocer Sainsbury, Samsung and Swedish retailer H&M.

Photo courtesy of hotwallpaper2013.com.

9. Cristiano Ronaldo: $44 Million

CR7 as he is commonly known for his iconic number 7 shirt, Cristiano Ronaldo is the highest paid soccer player in Spain's iconic La Liga. Ronaldo made $23 million in salary this year as well as $21 million from merchandising.

Ronaldo has two large merchandising deals, notably with Nike and video game maker Konami. He also recently became a spokesman for Herbalife.

Photo courtesy of imagesci.com.

10. Lionel Messi: $41.3 Million

Ronaldo's bitter rival at FC Barcelona Lionel Messi, who some call the greatest soccer player of all time, rounds out the top ten after missing the list in 2012.

As the cover player for EA's FIFA 2013, Messi has a large deal with Electronic Arts. He also did a Super Bowl commercial for sponsor Pepsi and has a deal with Proctor and Gamble.

Photo courtesy of coolfbcovers.net.
View Comments and Join the Discussion!