Tiffany Earnings Preview: Revenue Growth, EPS Decline Expected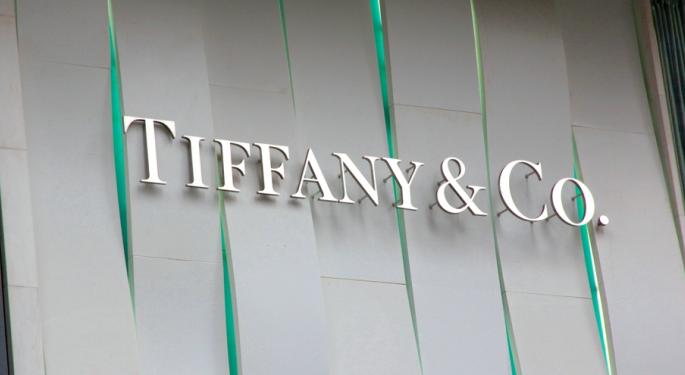 Luxury spending bellwether Tiffany & Co. (NYSE: TIF), which recently announced its 12th dividend increase in the past 11 years, is scheduled to report its first-quarter fiscal 2013 results Tuesday, May 28, before the markets open.
Growth has slowed in recent quarters for luxury retail stocks such as Tiffany. Investors in a company selling high-end products in a sluggish economy may be looking for more than a six percent dividend boost, considering Coach (NYSE: COH) recently raised its quarterly dividend by more than 12 percent.
See also: Stocks Hitting 52-Week Highs
Expectations
Analysts on average predict that Tiffany will report that revenue for the quarter rose more than four percent year-over-year to $855.16 million. But per-share earnings are expected to come to $0.52, down from $0.64 per share in the same quarter of last year.
Note that 60 days ago the consensus earnings estimate $0.58 per share, and that Tiffany fell short of earnings per share (EPS) expectations in all but one of the past five three quarters. The earnings beat back in the fourth quarter, which included the holiday season, was by about three percent.
Sales growth in the Asia Pacific region, particularly in China, helped boost the fourth-quarter results. But gross margins fell, due in part to precious metal and diamond costs. Tiffany forecast net earnings growth of six to nine percent and healthy free cash flow in 2013. The share price slipped a bit following the fourth-quarter report but recovered within a week.
See also: Tiffany Trades Up 2% on Q4 Results
Looking ahead to the current quarter, the analysts' consensus forecast calls for EPS to rise more than seven percent year-on-year on sales that are also more than seven percent higher. So far, full-year EPS and revenues are expected to be higher relative to the previous year.
The Company
Tiffany & Co. is a leading manufacturer and retailer of fine jewelry, especially known for its diamonds, and other luxury goods, such as china, crystal and fragrances. It operates more than 270 stores and is headquartered in New York City.
It is an S&P 500 component with a market capitalization of less than $10 billion. Tiffany's dividend yield is about 1.6 percent. The company was founded in 1837, and Michael J. Kowalski has been the chairman and chief executive since 2003.
Competitors include Blue Nile (NYSE: NILE), Signet Jewelers (NYSE: SIG) and Zale (NASDAQ: ZLC). Blue Nile beat EPS estimates while revenue and guidance were in line. Last week, Signet exceeded EPS estimates but fell short on revenues, and Zale swung to a surprise profit and named a new chairman.
During the three months that ended in April, Tiffany boosted its dividend six percent, was speculated as a potential buyout candidate, was one of the most shorted stocks on the S&P 500 and filed a lawsuit against Costco Wholesale (NASDAQ: COST) accusing it of selling counterfeit diamond rings.
Performance
Tiffany's long-term EPS growth forecast is more than 11 percent, and the price-to-earnings (P/E) ratio is greater than the industry average. But the operating margin is also higher than the industry average, and the return on equity is almost 17 percent.
The number of Tiffany shares sold short, as of the April 30 settlement date, was down more than 12 percent from the previous period and represented more than six percent of the float. But days to cover rose to more than seven, the second highest level so far this year.
Of the 23 analysts surveyed by Thomson/First Call who follow the stock, 11 recommend buying shares and just one recommends selling. The current share price has overrun the mean price target, meaning that the consensus is that there is no potential upside at this time. But a positive surprise or rosy guidance could prompt analyst to raise their price targets.
See also: Topeka Capital Markets Initiates Tiffany & Co. with Buy on Expected Recovery
The share price is up more than 29 percent year-to-date has pulled back a bit from the 52-week high reached last week. The share price has been above the 200-day and 50-day moving averages for most of this year. Over the past six months, the stock has underperformed Blue Nile and Zale, as well and the S&P 500.
Posted-In: Blue Nile Coach CostcoEarnings Long Ideas Short Ideas Previews Trading Ideas Best of Benzinga
View Comments and Join the Discussion!