Earnings Expectations for the Week of May 20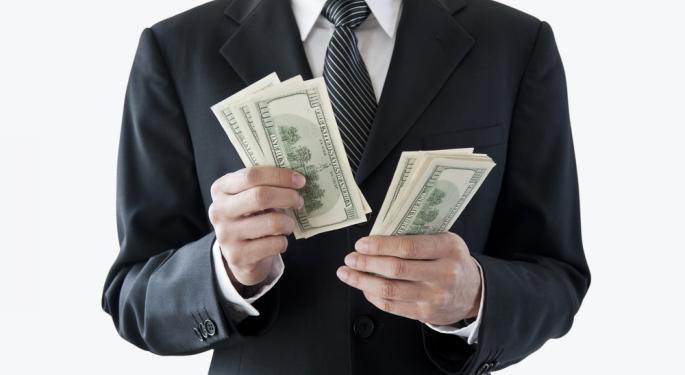 The start of the retail earnings season last week was a mixed bag.
Quarterly results from Walmart (NYSE: WMT), Kohl's (NYSE: KSS) and Nordstrom (NYSE: JWN) ranged from so-so to disappointing, while J.C. Penney (NYSE: JCP) posted a larger-than-expected net loss. Macy's (NYSE: M) was the standout, with relatively strong first-quarter results. There are plenty more on the retail earnings front this week.
On Tuesday, Home Depot (NYSE: HD) is scheduled to report before the opening bell, while rival Lowe's Companies (NYSE: LOW) shares its results Wednesday before the markets open. They both are projected to report per-share earnings more than 13 percent, relative to a year ago, to $0.77 for Home Depot and $0.51 for Lowe's. First-quarter revenue for the former is expected to be up about five percent year-over-year to $18.69 billion, while that of the latter crept up more than two percent to $13.45 billion.
First-quarter fiscal 2014 earnings from Best Buy (NYSE: BBY) are expected to come to $0.25 per share, on revenues of $10.64 billion. But in the same quarter of the previous year, the consumer electronics retailer posted $0.72 EPS and sales of $11.61 billion. The consensus EPS estimate for the quarter has ticked up a penny in the past 60 days, but Best Buy earnings fell well short of expectations in two of the past three quarters. The company is scheduled to share its results early Tuesday.
Other specialty retailers expected to report earnings declines this week include Advance Auto Parts (NYSE: AAP), America's Car-Mart (NASDAQ: CRMT), GameStop (NYSE: GME) and Staples (NASDAQ: SPLS).
Analysts are looking for earnings growth from AutoZone (NYSE: AZO), Dick's Sporting Goods (NYSE: DKS), Foot Locker (NYSE: FL), Hibbett Sports (NASDAQ: HIBB), PetSmart (NASDAQ: PETM) and Williams-Sonoma (NYSE: WSM).
First-quarter earnings from Target (NYSE: TGT) are forecast to come to $0.87 per share in Wednesday morning's report. That that would be down more than 16 percent from the year-ago period, and note that 60 days ago the consensus estimate was $0.96. Quarterly revenues are predicted to total $16.82 billion, which would be marginally lower year-over-year.
For its first quarter of 2013, Abercrombie & Fitch (NYSE: ANF) is expected to post a net loss of $0.05 per share, while revenues totaled $941.66 million. That compares to a net loss of $0.25 and $921.22 million in revenue the company reported in the same quarter of last year. Abercrombie had better-than-expected per-share profits in the previous three quarters. Look for the earnings report Friday morning.
Other apparel retailers expected to report net losses this week include Aeropostale (NYSE: ARO), Bon-Ton Stores (NASDAQ: BONT), New York & Company (NYSE: NWY) and Pacific Sunwear of California (NASDAQ: PSUN).
The Gap (NYSE: GPS) is expected to report Thursday afternoon that for its first quarter it saw a profit of $0.69 per share on $3.68 billion in revenue. That would be up from EPS of $0.47 and revenue of $3.49 billion in the same period of the previous year. And note that 60 days ago that EPS estimate was only $0.56.
Analysts are also predicting year-over-year earnings growth from Buckle (NYSE: BKE), L Brands (NYSE: LTD) and Urban Outfitters (NASDAQ: URBN) when they report this week.
EPS from Saks (NYSE: SKS) are expected to be the same as a year ago, while those from Cato (NYSE: CATO), Citi Trends (NASDAQ: CTRN) and Children's Place (NASDAQ: PLCE) and anticipated to have declined.
In its report early Thursday, Dollar Tree (NYSE: DLTR) is predicted to say that its first-quarter earnings rose more than 12 percent from the year-ago period to $0.57 per share. That consensus EPS estimate has not changed in the past 60 days. This discount retailer's revenues for the quarter are forecast to total $1.87 billion, or more than eight percent higher year-over-year.
Earnings growth is also anticipated from this week's quarterly reports from discount retailers Ross Stores (NASDAQ: ROST), Stein Mart (NASDAQ: SMRT) and TJX Companies (NYSE: TJX). But Gordmans Stores (NASDAQ: GMAN) and Kirkland's (NASDAQ: KIRK) are expected to say their EPS declined by at least half.
Aside from retail, the highlight this week may be the fiscal second-quarter report from Hewlett-Packard (NYSE: HPQ). The consensus forecast calls for $0.81 per share and revenues of $28.08 billion. That would be down from the $0.98 EPS and sales of $30.69 billion it posted in the same quarter of the previous year. HP is scheduled to share its results late Wednesday.
Analog Devices (NASDAQ: ADI) is also expected to post an earnings decline this week, while earnings growth is anticipated from Intuit (NASDAQ: INTU) and NetApp (NASDAQ: NTAP).
And analysts expect EPS from Campbell Soup (NYSE: CPB) and Hormel Foods (NYSE: HRL) to be about the same as in the year-ago period, but with some growth in revenues.
View Comments and Join the Discussion!
Posted-In: abercrombie & fitch advance auto parts AeropostaleEarnings Long Ideas Short Ideas Previews Trading Ideas Best of Benzinga