Mid-Day Market Update: US Stocks Fall on Monday, Gold Down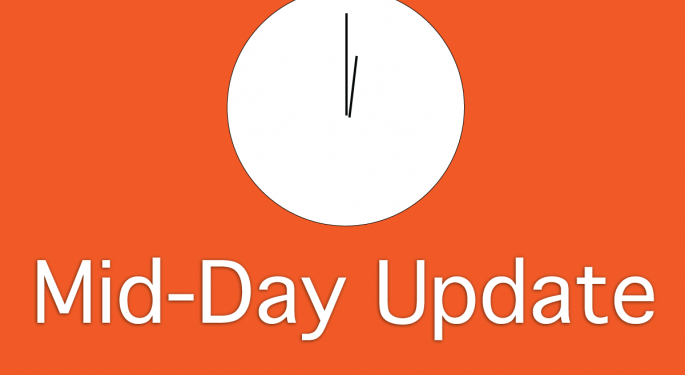 Midway through trading Monday, the Dow fell 0.20 percent to 15,089. The NASDAQ rose 0.22 percent to 3,444.14, while the S&P rose 0.04 percent to 1,634.41.
Top Headline
Following the record highs the Dow and S&P 500 witnessed last week, stocks fell on Monday, dragged down by materials. The Dow Jones Industrial Average dropped, led by Intel (NASDAQ: INTC) and Alcoa (NYSE: AA).
The S&P 500 also declined Monday, while the NASDAQ vacillated in and out of positive territory, following the short interval during which it touched a new 12-year high for the eleventh straight session.
Major averages were higher for the third consecutive week, while the CBOE Volatility Index (VIX) traded below 13.
Equities Trading UP
SolarCity Corporation (NASDAQ: SCTY) shot up 24.17 percent to $35.86. SolarCity is scheduled to announce its Q2 results after market close on Monday, with analysts expecting the company to post a loss of 26 center per share onrevenues of $29 million.
Tesla Motors (NASDAQ: TSLA) got a boost, shooting up 10.651 percent to $84.94. Following its better-than-expected Q1 results, Tesla Motors has raised it guidance for his quarter.
Theravance Inc (NASDAQ: THRX) was also up, gaining 15.34 percent to $40.230, after Elan (NYSE: ELN) paid $1 billion in return for Theravance's royaltis.
Equities Trading DOWN
GenVex, Inc (NASDAQ: GNVC) was down, falling 33.55 percent to $0.80. GenVex's trailing twelve month price/sales ratio is 2.11.
Recon Technology, Ltd ((NASDAQ: RCON) were down 15.02 percent to $1.81. Recon Technology reported its fiscal Q3 results, with total revenue of RMB7.5 million ($1.2 million), representing a 42.4% decline from the year-ago quarter.
Emerald Oil, Inc (NYSE: EOX) shares tumbled 8.99 percent to 6.28.Emerald Oil has entered into a definitive agreement with affiliates of the White Deer to sell its common stock shares.
Commodities
In commodity news, oil traded down 1.19 percent to $94.90, and gold declined 0.25 percent to $1,433.00.
Silver traded up 0.33 percent Monday to $23.74, while copper rose 0.10 percent to $3.36.
Eurozone
European shares were lower overnight as bond spreads crept higher while the euro weakened. The Spanish Ibex Index fell 1.39 percent and the Italian FTSE MIB Index fell 1.00 percent. Meanwhile, the German DAX declined 0.59 percent and the French CAC 40 lost 0.29 percent while U.K. shares fell 0.29 percent.
Economics
The US Treasury will accept noncompetitive bids for Treasury bills at 11:00 am ET and competitive tenders at 11:30 am ET. The 4-week bill announcement is scheduled for 11:30 am ET.
The smaller sizes of offerings for Treasury bill auctions gave a boost to the 3-month Treasury bill auction Monday at 4.86 and the 6-month auction at 5.25. The total amount for the 3-month Treasury bill auction for 1Q 2013 was $33.6 billion, at a bid/cover ratio of 4.66.
The total amount for the 6-month Treasury bill auctions for Q1 stood at $29.1 billion, with a bid/cover ratio of 4.93.
Posted-In: Earnings News Guidance Commodities Global Econ #s Economics Hot Best of Benzinga
View Comments and Join the Discussion!