Greenbrier Full Steam Ahead on EPS, Derails on Revenue and Guidance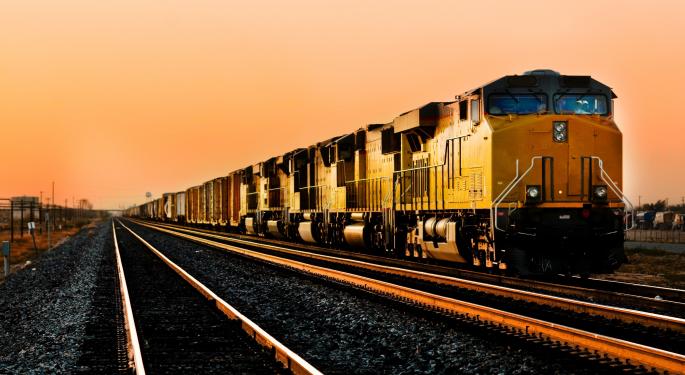 The Greenbrier Companies (NYSE: GBX) posted a strong fiscal 2013 second quarter on the earnings front, but is down on weak revenue and guidance.
The Lake Oswego, Oregon-based firm posted EPS of $0.45, down 21 percent year-over-year. However, it easily topped the Wall Street consensus of $0.37 per share.
Revenue finished down eight percent at just over $423 million, falling far short of the approximately $443 million analysts expected.
Manufacturing Slows, Wheels Need Rebalancing
The company's manufacturing segment dropped eight percent year-over-year with sales of $294 million.
Meanwhile, its wheel services, refurbishment & parts segment declined over six percent to $112 million.
A New Lease on Life
Greenbrier's leasing & services segment soared 85 percent with sales of $17.2 million.
Orders Accelerate
Greenbrier received 4,500 railcar orders during the second quarter, up 25 percent from Q2 2012.
And, since the end of the second quarter, the company has received 3,700 additional orders, marking a 60 percent increase from the same period in 2012.
Backlog Decelerates
Backlogged orders dropped over six percent to 11,700 year-over-year. Yet, the value of such orders increased 18 percent to $1.3 billion.
Degreasing the Wheels
On February 28, Greenbrier announced an asset purchase agreement with Canton, Ohio-based Timken Company (NYSE: TKR).
Under the deal, the company will sell substantially all equipment in its reconditioned wheelset roller bearings operation in Elizabethtown, Kentucky to Timken. And, it will enter into a long-term supply agreement with the machine tool and accessory firm for reconditioned and new bearings.
Greenbrier noted that, while the operation was profitable, "recent changes in rules related to reconditioned components and a constrained availability of certain key materials" reduced its strategic value and rendered it a non-core asset. It expects the move to add value to its earnings and free approximately $10 million in capital.
The deal is expected to close by the end of the third quarter.
Guidance Not on Schedule
Greenbrier expects FY 2013 EPS and revenue to round out similar to its 2012 figures, with the second half of the year being stronger than the first half.
If the railcar manufacturer closes FY 2013 as it did 2012, it would have EPS of $1.91 and revenue of around $1.81 billion. Both would fall short of analysts' estimates of $1.92 and $1.89 billion, respectively.
Greenbrier Derails on Wall Street
Greenbrier has hovered in the $19 to $22+ range since late January and continues to do so. The stock has fluctuated a bit in the pre-market and has declined slightly as of this writing.
Greenbrier is down around 0.25 percent on Thursday.
View Comments and Join the Discussion!
Posted-In: Earnings News Guidance Best of Benzinga