Tesla Turns Profitable With More News Coming!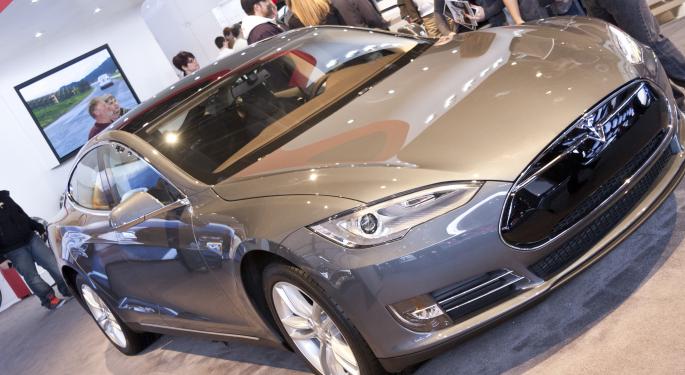 Tesla Motors(NASDAQ: TSLA) says it expected to show a profit in the first quarter. Wait. An electric carmaker showing a profit? What's next? 30-minute speed charging? Actually, yes.
According to USA Today, Tesla says it made 4,750 cars in the first quarter and all went to customers who had placed orders. This beat Tesla's estimate of 4,500 cars for Q1, which the company laid out in a February letter to shareholders.
Unfortunately, potential customers who want the cheapest starter version, priced at $57,000 are out of luck. The company has announced that it will no longer offer the Model S sedan. The reason? Low sales.
The company said orders for the 40 kWh battery pack version of its all-electric automobile only constituted about 4 percent of the mix.
Instead, Tesla will offer two more expensive, higher-watt versions, one rated for 208 miles per charge, the other rated for 265 miles on a single charge. This is the most of any electric car on the market.
Anyone who already has one of the starter 40 kWh cars on order will instead get a 60 kWh model that has been electronically limited. It will offer the range of the 40 kWh car but can be upgraded to full 60 kWh capability if desired.
Better yet, Tesla said the replacement cars have the hardware necessary to use the company's Supercharger fast, 30-minute, charging units that it is putting outside metropolitan areas.
Tesla's revised estimates are very different from those of analysts polled by Thomson Reuters who said, recently, that they projected a Q1 loss of 7 cents a share, according to The Wall Street Journal.
The "profit" announcement, Sunday, came several days after Tesla's chief executive officer, Elon Musk, used Twitter to say major news was forthcoming from the carmaker.
However, that's not all. Forbes reports that Musk made it clear Sunday that there was more news to come. The news, slated for Tuesday, Musk said was "arguably more important" than Sunday's news about profitability.
Expectations of a Q1 profit, along with the launch of the "Supercharger" charging stations, which allow recharging half the battery pack in about 30 minutes, provides Tesla's long investors with some reason for optimism.
Meanwhile, those holding more than 30 million shares short may be a little less enthusiastic.
Tesla is up almost 20 percent or $7.47 a share, Monday, selling for $45.37 in the late morning hours.
Posted-In: Elon Musk Tesla Wall Street JournalEarnings News Retail Sales Media Best of Benzinga
View Comments and Join the Discussion!