Neogen Matches Estimates, Flat on Tuesday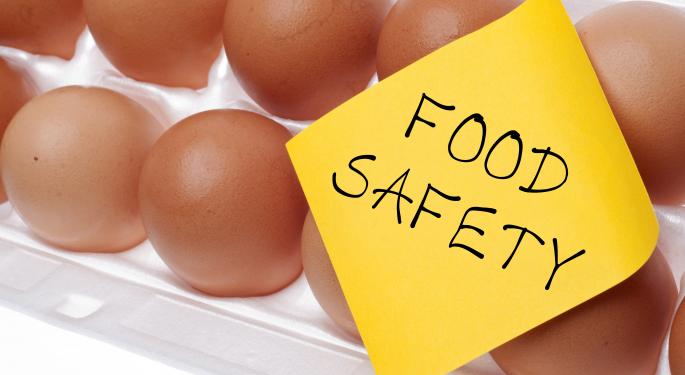 Neogen Corp. (NASDAQ: NEOG) remains flat on Tuesday after matching FY 2013 third quarter estimates.
The Lansing, Michigan-based firm's EPS rose 23 percent to $0.27, matching the Wall Street consensus.
Revenue closed up nearly 14 percent at $51.06 million, narrowly edging expectations of $50.84 million.
Diagnosis: Success
Neogen has reported revenue increases in 84 of the last 89 quarters on a year-over-year basis. Specifically, over the past eight years, revenue has grown every quarter as compared to the same quarter in the previous year.
Delicious Results
Neogen's food safety segment grew 15.5 percent versus Q3 FY 2012. Revenue finished at $25.3 million for the quarter.
The company has matched this growth rate for the year, as well. Over the first nine months, this segment has generated $77.5 million - an increase of 15.3 percent versus the first nine months of FY 2012.
Holy Cow
The diagnostics company posted a revenue of $25.7 million in its animal safety segment for the third quarter, topping its Q3 FY 2012 results by 12 percent.
During the quarter, sales of the company's test kits for meat inspection and complementary Scotland-based laboratory services more than tripled year-over-year. This was due to the company's response to the horse meat scandal in Europe in which "ground beef" was found to contain horse and pig meat.
Meanwhile, Neogen's genomics testing service business grew 20 percent during the quarter due to increased sample volumes from existing customer bases and increased sales efforts in Brazil and Europe.
For the first nine months of FY 2013 versus the same period in FY 2012, this segment grew 8.4 percent to approximately $74 million.
Smelling a Rat
The company's rodenticide sales continued their rebound in the third quarter and increased significantly year-over-year. Regulatory changes had led to a decline in sales in this category in 2012.
Acquisition of Scidera Genomics
Neogen opened the year with its acquisition of Davis, California-based Scidera Genomics on January 1. According to the company, Scidera was a pioneer in the development of canine, cattle, poultry and swine testing.
Details involving the value of the deal were not disclosed at the time.
Market Reaction
Neogen has hovered in the high $40s for most of 2013 and continues to do so. The stock is trading at around $48.60 as of this writing.
Neogen is about even on Tuesday.
Posted-In: Scidera GenomicsEarnings News Best of Benzinga
View Comments and Join the Discussion!