Earnings Expectations for the Week of March 25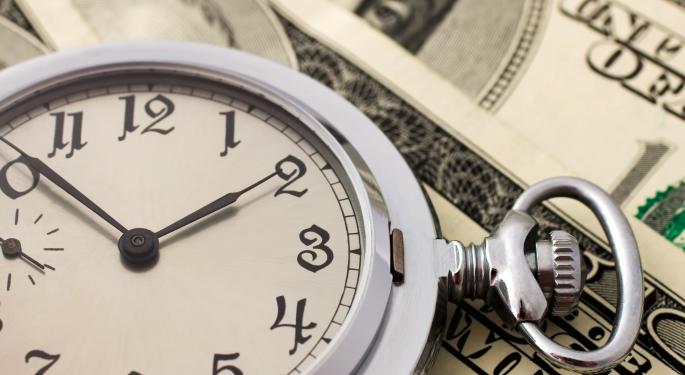 Here is a quick look at what analysts expect to see from SAIC (NYSE: SAI), Mosaic (NYSE: MOS), GameStop (NYSE: GME) and some of the other most prominent quarterly reports scheduled for this week.
Accenture
Second-quarter fiscal 2013 earnings from Dublin-based Accenture (NYSE: ACN) are expected to come to $0.97 per share, on revenues of $7.07 billion. In the same quarter of the previous year, the management consulting, technology services and outsourcing company exceeded consensus earnings per share (EPS) estimates when it posted $0.97 per share and $6.80 billion in revenue.
The consensus EPS estimate for the second quarter has not changed in the past 60 days. And Accenture has not fallen short of earnings expectations in the past eight quarters. The company is scheduled to share its results Thursday after the markets close.
Apollo Group
For its second quarter of fiscal 2013, Phoenix-based education company Apollo Group (NASDAQ: APOL) is expected to post earnings of $0.18 per share, while revenues totaled $822.80 million. That would be down from EPS of $0.58 and $969.55 million in revenue the company posted in the same quarter of last year.
Here too, the consensus EPS estimate not changed in the past 60 days. Apollo Group's EPS topped consensus expectations in the past four quarters. The beat in the first quarter was by more than 35 percent. Look for the earnings report first thing Monday morning.
Dollar General
Fourth-quarter earnings from Dollar General (NYSE: DG) are forecast to come to $0.90 per share in Monday morning's report, while fiscal year EPS totals $2.85. That compares to $0.87 and $2.37 per share, respectively, in the year-ago periods. Both estimates are unchanged from 60 days ago. The discount retailer beat analysts' EPS expectations by five percent in the third quarter.
Quarterly revenues are predicted to total $4.26 billion, and those for the full year to come to $16.07 billion. That would be less than six percent higher year-over-year for the quarter and up more than eight percent for the full year.
GameStop
Per-share earnings of $2.09 per for the fourth quarter and $3.12 for the fiscal year are anticipated when this specialty retailer shares its results Thursday before the opening bell. That would be up year-over-year by more than 17 percent for the quarter and about eight percent for the year. The video game purveyor has not fallen short of analysts' EPS estimates in the past eight quarters.
However, revenues are forecast to have slipped year-over-year, more than three percent to $3.45 billion for the quarter that included the holiday shopping season, and about eight percent to $8.78 billion for the full year.
Mosaic
In its report Thursday morning, this Minnesota-based agricultural chemicals company is expected to say that its fiscal third-quarter earnings rose more than 26 percent from the year-ago period to $0.87 per share. Note that analysts underestimated the company's per-share earnings in three of the previous six quarters.
Quarterly revenues from this Fortune 500 company are forecast to total $2.3 billion, which would be marginally higher than a year ago. So far, sales for the current quarter are forecast to be higher sequentially and year-over-year.
PVH
PVH (NYSE: PVH), maker of branded apparel, is expected to report Wednesday afternoon that for its fiscal fourth quarter it saw a profit of $1.50 per share on sales of $1.60 billion. That compares to the EPS of $1.18 and sales of $1.53 billion reported in the same period of the previous year. Analysts underestimated EPS in the past eight quarters.
The full-year forecast calls for EPS up almost 16 percent to $6.39, as well as revenue about two percent higher to $6.01 billion, relative to the previous year.
Red Hat
Raleigh, North Carolina-based enterprise software company Red Hat (NYSE: RHT) is expected to say that for its fourth quarter of fiscal 2013 it saw a profit of $0.30 per share. And $349.64 million in revenue also is expected. That would be up from $0.29 per share and $297.01 million in the same period of the previous year.
For the full year, analysts are looking for EPS up about six percent year-over-year to $1.17, while revenue is more than 17 percent higher to $1.33 billion. The report is scheduled for late Wednesday.
SAIC
Fourth-quarter fiscal 2013 earnings from this defense contractor are expected to have swung to $0.51 per share from a net loss of $0.49 in the same period of last year. Full-year EPS are estimated at $1.52, compared to a year-ago net loss of $0.02 per share. Both consensus estimates have ticked up by a penny over the past 60 day.
Revenues are predicted to come in at $2.71 billion for the quarter and $11.20 billion for the year. That would be up more than eight percent and almost six percent, respectively, year-over-year. Look for the quarterly report Tuesday after the closing bell.
Posted-In: accenture Apollo Group dollar generalEarnings Long Ideas Short Ideas Previews Trading Ideas Best of Benzinga
View Comments and Join the Discussion!