Horizon Pharma Tops EPS Estimates, Falls Short on Revenue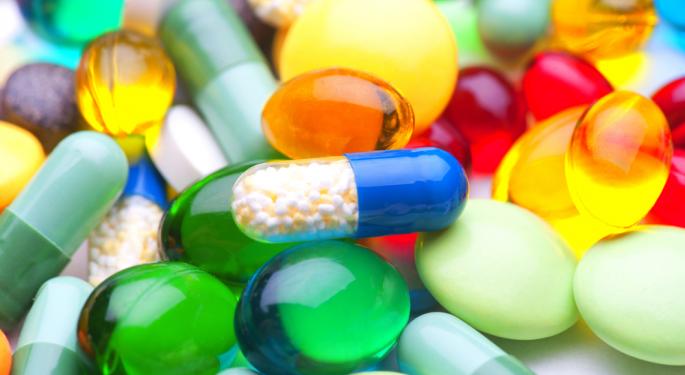 Horizon Pharma (NASDAQ: HZNP) is down on Monday despite topping estimates during the fourth quarter and full year.
The Deerfield, Illinois firm posted a loss of $0.34 per share, topping its Q4 2011 performance of a $0.97 loss. This figure also easily topped the Wall Street consensus of a $0.47 loss per share.
Fourth quarter revenue closed at $6.7 million, nearly doubling the $3.5 million the firm reported in Q4 2011. However, this was below analysts' expectations of around $7.6 million.
For the year, the biopharmaceutical company lost $1.96 per share compared to its loss of $5.38 per share in 2011. On this note, Horizon also topped analysts' expectations of a loss of $2.24.
Full-year revenue finished up 184 percent at $19.6 million. However, it fell short of the Wall Street consensus, which was about $20.5 million.
Too Many Tablets in One Basket?
Horizon generated $7.1 million during the fourth quarter and $11 million in 2012 from its DUEXIS tablets. Respectively, these figures represent 89 and 56 percent of the company's total revenue.
The heavy reliance on DUEXIS, particularly in the fourth quarter, echoes that of Affymax (NASDAQ: AFFY), on its OMONTYS® product. Affymax, which relied on OMONTYS to the tune of 93 percent of its revenue during the third quarter of 2012, recalled the drug on February 23.
On the following trading day, the stock plunged 85 percent to an all-time low. It has yet to recover and is trading 82 percent below its February 22 closing price as of this writing.
Of course, no such incident has occurred with Horizon. And, with this being a penny stock, significant risks can be expected.
However, by heavily relying on a single drug, a recall, negative news report or other serious event could send the stock spiraling downward. With this in mind, investors may want to be cautious before betting the farm on this company.
That said, Horizon doesn't face the level of risk that Affymax faced, given that its second-leading product - LODOTRA - accounted for 42 percent of its sales in 2012. Thus, if something goes wrong with either drug, the drop would likely be less severe than Affymax experienced.
Market Reaction
Despite its successful fourth quarter and 2012 EPS figures, Horizon is down on Monday. The drop is apparently in response to lackluster revenue figures.
Horizon had performed rather well since early March and closed at a two-month high of $2.48 on Friday. However, the stock has dropped below $2.40 in the morning hours of trading.
Horizon is down around four percent on Monday.
Posted-In: LODOTRA OmontysEarnings News Best of Benzinga
View Comments and Join the Discussion!