The Men's Wearhouse Looking Good After Seeking Alternatives for K&G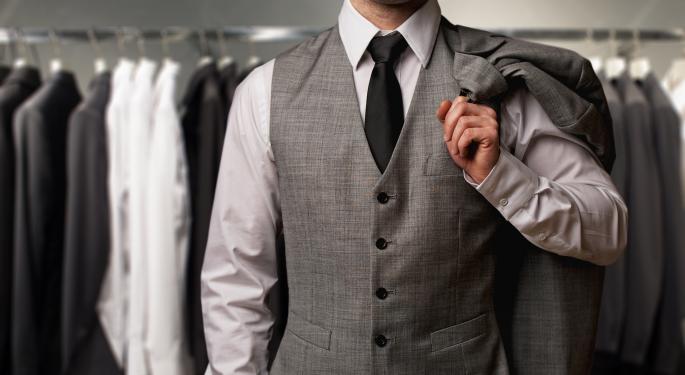 The Men's Wearhouse (NYSE: MW) is up big on word it has hired Jefferies to evaluate strategic alternatives for its K&G chain.
K&G's comparable store sales declined 4.6 percent in 2012. The fourth quarter comparable store sales figure was even worse, finishing down 5.7 percent year-over-year.
Meanwhile, net sales at K&G declined 0.1 percent during the fourth quarter and 2.4 percent for the year.
On this note, CEO Doug Ewart stated, "Sales at K&G were disappointing as customers did not respond to our promotions and new marketing campaign as well as expected."
Yet, a deal involving K&G is far from certain. In a release on Wednesday, the Houston-based company noted that it offered "no assurance that it will enter into any transaction in the future, and no decision has been made to enter into a transaction at this time."
Fourth Quarter Results Not Tailored to Estimates
In the fourth quarter, The Men's Wearhouse lost $0.07 per share. This was the same amount the company lost in Q4 2011. However, analysts were hoping for a $0.05 loss per share.
Fourth quarter revenue climbed 8.2 percent year-over-year and finished at $608.4 million.
Full-year EPS finished up 11 percent and closed at $2.55.
Total 2012 revenue closed at $2.49 billion - a 4.4 percent increase from 2011.
Fancy Results for Men's Wearhouse Locations
The company's Men's Wearhouse locations saw an increase of 9.1 percent in net sales during the fourth quarter. For the year, net sales increased 7.4 percent.
Comparable store sales grew one percent in the fourth quarter and 4.8 percent in 2012.
Taking Customers to the Cleaners
The company's MW Cleaners chain saw a 16.3 percent increase in sales during the fourth quarter.
For the year, sales grew 12.6 percent.
Selling More in the Great White North
Net sales for the company's Canadian brand - Moores - grew four percent in the fourth quarter and 2.3 percent in 2012.
However, comparable store sales declined 5.5 percent during the quarter.
For the year, though, comparable store sales at Moores climbed 1.5 percent.
Corporate Apparel Segment Looking Sharp
The Men's Wearhouse's corporate apparel segment declined 1.7 percent in 2012.
However, this segment performed very well in the fourth quarter, with net sales growing 21.5 percent.
Guidance Fits Just Right
The Men's Wearhouse expects 2013 revenue to rise 2.85 to 3.85 percent. If this pans out, revenue will finish in the $2.56 to $2.59 billion range. Note that the Wall Street consensus is $2.57 billion.
As for EPS, the company expects to finish between $2.70 and $2.80. Analysts expect the firm to post earnings of $2.77 per share.
Dressed for Success
Despite its lackluster earnings, The Men's Wearhouse has surged on word it may alter its course with K&G.
Over the past four months, the stock has held steady in the high-$20s to low-$30s. However, it is approaching the $35 mark on Thursday and has reached its highest point since early-November.
The Men's Wearhouse is up around 20 percent on Thursday.
Posted-In: Doug Ewart Jefferies & CompanyEarnings News Guidance Rumors Management Best of Benzinga
View Comments and Join the Discussion!