Salesforce Continues Surge After Successful Fourth Quarter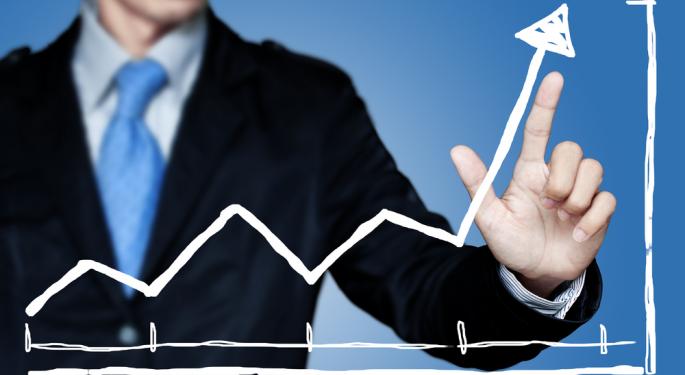 Benzinga reported Salesforce.com's (NYSE: CRM) five percent surge after releasing fourth quarter earnings after the bell on Thursday.
Salesforce ultimately finished up around 1.4 percent for the day.
The company topped estimates on both the EPS and revenue fronts, leading to a continued surge on Friday.
Fourth quarter EPS closed at $0.51, beating the Q4 2011 performance of $0.43 per share. This figure also topped the Wall Street consensus of $0.40.
Revenue closed at $835 million for the fourth quarter, up 32 percent year-over-year. As with EPS, revenue came in above expectations, as Wall Street wanted to see about $831 million.
Full-year EPS finished at $1.63, topping the FY 2012 figure of $1.36.
Revenue climbed 34 percent during FY 2013, closing at $3.05 billion.
Major Growth Across the Board
Subscription and support revenues finished at $785 million for the quarter and $2.87 billion for the year, growing 32 and 35 percent, respectively.
Professional services and other revenues closed at $49 million for the quarter and $181 million for the year, rising 31 and 29 percent, respectively.
Guidance on Par
Salesforce expects Q1 FY 2014 revenue to finish in the $882 to $887 million range. This is in line with the Wall Street consensus of around $886 million.
The company expects its full-year revenue to close in the $3.82 to $3.87 billion range. As with Q1 guidance, this figure is in tune with analysts' expectations of $3.85 billion.
Salesforce Unveils Cloud Service Mobile
On Tuesday, Salesforce introduced its Cloud Service Mobile product.
The tool can deliver agent-guided assistance to customers on mobile devices via any web browser. This can be thought of along the lines of the remote assistance PC users have become accustomed to.
Also, customers will be able to find answers in a one-stop online community instead of browsing through several sites, as is common among web users.
Additionally, the tool offers a live-chat feature in which customers can chat with customer service representatives via their mobile device instead of making a call or chatting from a PC. On this note, customer service agents can also provide web-based service on-the-go instead of from their desk.
With the mentioned features and their potential implications on the world of customer service, it will be interesting to see if Cloud Service Mobile takes off and becomes a key source of revenue for the firm.
Salesforce Reaches Record High
Salesforce has experienced a few significant swings in the past few months.
On December 11, the stock climbed over four percent. This was apparently due to news that President Obama's campaign used multiple Salesforce products to orchestrate its successful 2012 re-election bid.
Then, on February 25, the stock dropped over four percent and closed below $165 for the first time in nearly two months. The stock finished the day a bit above $163. There was no apparent reason for the decline.
On Friday, Salesforce is trading above $180 for the first time in its history.
Salesforce is up around 6.5 percent.
Posted-In: Earnings News Guidance Tech Best of Benzinga
View Comments and Join the Discussion!