Don't Worry About Olive Garden's Rebranding, The Breadsticks Will Remain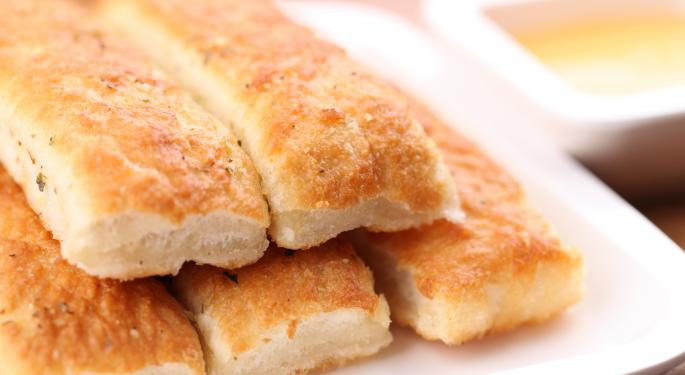 Because it's worked so well for J.C. Penney (NYSE: JCP), Best Buy (NASDAQ: BBY), Hewlett-Packard (NYSE: HPQ) and RIM (sorry, Blackberry)(NYSE: BBRY), now another well-known brand is going to try it too.
Olive Garden, one of the restaurant chains owned by Darden Restaurants (NYSE: DRI) announced a major rebranding. Because a new logo is definitely going to drive more traffic into the restaurant, soon the sign will be changed. Add to that, less restaurant openings, less severe price increases, interior facelifts to give it a more modern feel, more healthy options, and new uniforms.
If you've never been to an Olive Garden (the restaurant, not an actual olive garden), it's an overeater's dream. Endless soup, salad and breadsticks and sampler platters that would intimidate one of those professional hot dog eaters. It's a sight to behold.
It's all about Tuscany inside. It has that old world Italian vibe going on with servers wearing the traditional white shirt with the black tie. (soon to be a more modern black look)
But all of that, including the menu, is changing, according to CNBC. Out with the old, in with the new, and that includes the CEO. In January, Dave George became Olive Garden's new CEO. A slide in a presentation to investors said, "We were slow to react to changing guest needs," another slide said. "The experience takes too long." (Of course the experience takes too long. It's because of the glorious all you can eat breadsticks!)
The menu changes will involve smaller portions, lower prices and healthier options. Studies show that there's some serious ROI when restaurants incorporate more healthy options but when terms like "reinvent" enter a CEO's vocabulary, there's trouble brewing.
Olive Garden's same restaurant sales were down 1.2 percent in fiscal year 2012. This is the icing on the tiramisu as the company has seen steady revenue drops. Of course, the excuses run rampant although management deserves some credit for owning the mistakes.
The company cited promotions that didn't take into account that diners don't have as much discretionary money as they used to. Increased payroll taxes, higher gas prices, and the normal, "It's the economy, stupid" excuses have been mentioned as well.
But to be fair, it's not all about Olive Garden. The casual dining space as a whole is having trouble serving up big profits. Restaurants like Chipotle (NYSE: CMG) and Panera (NASDAQ: PNRA) are taking the customers that find McDonalds (NYSE: MCD) too cheap but restaurants like Olive Garden too expensive and time consuming. The whole space is feeling the pinch.
J.C. Penney is reinventing. How's that working for it? Investors should be happy to see that a problem is being addressed but reinventing takes a lot of money and the confidence that management, who hasn't known what the customer wants for quite a while, had an epiphany and suddenly has all of the answers, is tough to swallow.
One of the oddest metrics reported recently came from The Week. It reported that Public Policy Polling asked 500 people whether they thought Olive Garden was "a quality source of authentic ethnic food." 43 percent of Republicans and 41 percent of Democrats said that it was. (Nobody really knows what that means or why the Olive Garden is a political issue.)
Darden is down 18 percent from its September highs while rival Domino's (NYSE: DPZ) is up 35 percent. Clearly, consumers still have restaurant money to spend. Can a reinvented Olive Garden capture some of that?
But the most important announcement, as reported by nearly every article covering this story, is that Olive Garden will continue offering the endless breadsticks. Breadstick bulls estimate an EPS hit of 50 cents if they were eliminated.
View Comments and Join the Discussion!
Posted-In: Blackberry Chipotle darden DominosEarnings News Management Events Best of Benzinga