J.C. Penney Plunges on Earnings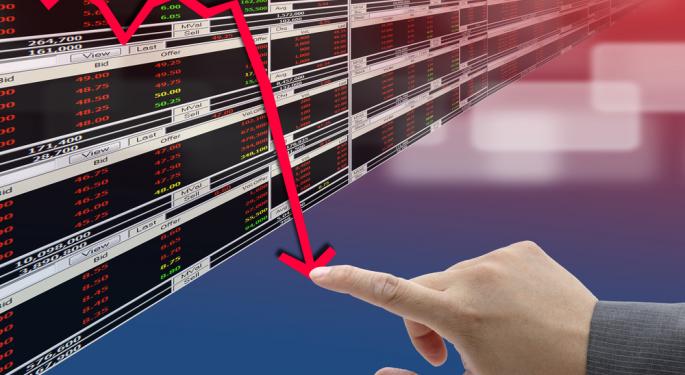 J.C. Penney (NYSE: JCP) is down big on Thursday in the aftermath of a poor fourth quarter and full-year performance.
The Plano, Texas-based department store chain reported a loss of $1.95 per share during the fourth quarter. Analysts had hoped for a loss of $0.18 per share. The latest figure was down considerably year-over-year, as well, as the company finished Q4 2011 with a loss of $0.41.
Revenue declined from the fourth quarter of 2011, too, finishing down over 28 percent. J.C. Penney pulled in $3.9 billion during the quarter.
For the year, J.C. Penney reported a loss of $3.49 per share.
Full-year revenue closed at around $13 billion, declining nearly 25 percent from 2011.
Comparable Store and Online Sales Down Big
Comparable store sales dropped 31.7 percent during the fourth quarter and over 25 percent for the year.
Online sales declined 34.4 percent during the fourth quarter and 33 percent for the year.
It's All About the Pensions
J.C. Penney's pension expenses increased 464 percent during the fourth quarter on a year-over-year basis. This was likely due to lump-sum payments it made to former employees.
According to an October, 2012 Pensions & Investments article, the company offered a lump-sum payment to 35,000 former employees who were vested in its pension plan and intended to send out most of those in December.
For the year, the company's pension expenses climbed 192 percent.
New Shops Opening in 2013
The company plans to open close to 20 shops designated for home products in its stores during the spring.
Also, J.C. Penney will open nearly 700 Joe Fresh™ apparel shops on March 15.
Additionally, the company intends to open 60 Sephora shops inside J.C. Penney stores during 2013, raising the total to 446. Sephora is a French cosmetics chain.
Gilford Downgrade Looks Good
On February 15, Benzinga reported Gilford's downgrade of J.C. Penney from Hold to Sell. Since that time, the stock has since dropped over $3 per share, largely on the weak earnings report.
Market Reaction
After hovering in the high-teens to low-$20s for the past three months, J.C. Penney is trading below $17 on Thursday. The stock is currently at its lowest point since mid-November of 2012.
J.C. Penney is down around 20 percent on Thursday.
Posted-In: Earnings News Best of Benzinga
View Comments and Join the Discussion!