Target Narrowly Misses Estimates, Down on Wednesday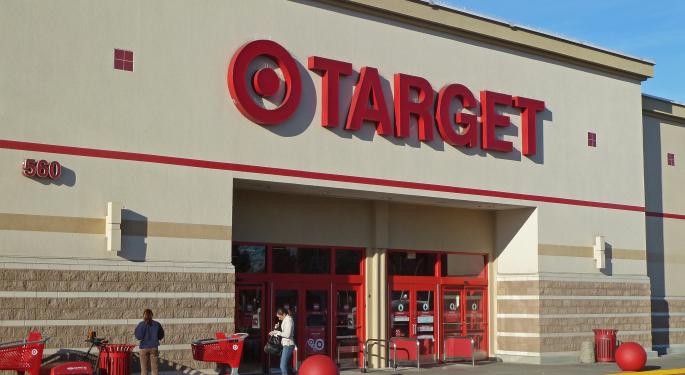 Target (NYSE: TGT) is down on Wednesday after narrowly missing analyst expectations on the EPS and revenue fronts.
The Minneapolis-based retailer closed the fourth quarter with an EPS of $1.47 - up five percent year-over-year. However, it fell slightly short of the $1.48 Wall Street hoped for.
Revenue finished at $22.4 billion - up seven percent year-over-year. Yet, as with EPS, it came in just short of analysts' expectations of $22.69 billion.
For the year, EPS finished at $4.52, topping expectations of $4.40.
Full-year revenue rose five percent and rounded out at $72 billion. However, this also missed expectations by a slim margin, as Wall Street wanted to see $73.16 billion.
Retail Segment Above Target
Target's US retail segment grew around seven percent during the fourth quarter versus the same period in 2011. The company's US retail sales climbed 6.8 percent for the full year.
Credit Card Segment off Target
Average receivables declined 4.6 percent during the fourth quarter in Target's US credit card segment. For the year, this figure dropped around five percent.
Target Becomes a City Slicker
Target opened the first five of its CityTarget locations in 2012.
As its name implies, CityTarget is geared toward urban dwellers as well as commuters and tourists. Its offering include "urban essentials, on-trend fashions and exclusive designer collections", according to the firm.
Thus far, the company has targeted West Coast markets with its latest mold. Four of the first five CityTargets were built in the Los Angeles area (two locations), Seattle and San Francisco. The other was built in Chicago.
And, additional CityTargets will open in Los Angeles and San Francisco in 2013 along with one in Portland.
Turning Over a New Maple Leaf
Target is expected to enter the Canadian market in 2013. The company, which currently operates nearly 1,800 stores domestically, plans to open 124 stores in Canada during the year.
Strong Guidance
Target expects to post an EPS of $1.10 to $1.20 during the first quarter. Even at the low end, it would top analysts' expectations of $1.05 per share.
For the year, the retail giant is shooting for $4.85 to $5.05 per share. If this pans out, the company will top the $4.82 per share Wall Street currently anticipates.
Market Reaction
Target has been a very consistent stock, hovering in the high $50s to low $60s for most of the past nine months. And, despite its lackluster earnings report, the company continues to hover in this range, resting a bit below $63 as of this writing.
Target is down around two percent on Wednesday.
Posted-In: Earnings News Guidance Best of Benzinga
View Comments and Join the Discussion!