Wal-Mart Beats EPS Estimates, Increases Annual Dividend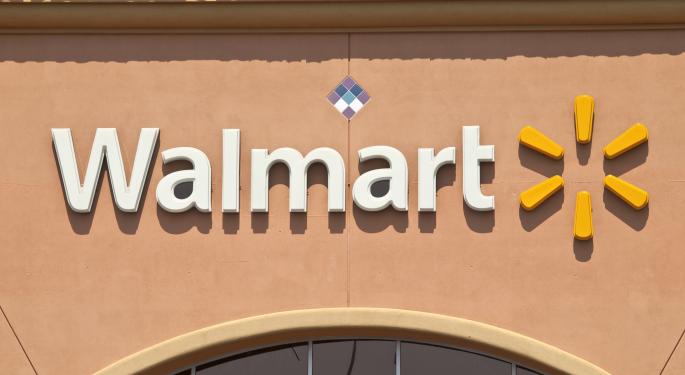 Wal-Mart (NYSE: WMT) released its FY2013 fourth quarter earnings Thursday, topping analysts' expectations.
The world's third-largest company reported an EPS of $1.67 for the quarter, topping analysts' expectations of $1.57. This figure was up on a year-over-year basis as well, finishing 14 percent higher than the $1.46 reported during the said period.
Revenue came in slightly below expectations during the quarter. While Wall Street hoped for $128.77 billion, Wal-Mart finished the quarter at $127.9 billion. Yet, this figure was up four percent year-over-year.
For the year, EPS came in higher than expected. Wall Street wanted to see $4.92 per share and Wal-Mart finished with an EPS of $5.02. Compared to last year, this represents a 10.6 percent increase.
Yearly revenue was also up compared to FY 2012. Wal-Mart finished FY 2013 at $469.2 billion - a five percent increase from the previous year. However, this figure fell slightly short of analysts' hopes of $470 billion.
Modest Gains in the U.S. and Sam's Club
Net sales in the US finished at $74.67 billion, up 2.6 percent year-over-year. For FY 2013, this figure finished up 3.9 percent at $274.5 billion.
For Sam's Club, net sales were $14.5 billion for the quarter and $56.42 billion for the year. As compared to FY 2012, these figures rose 3.4 and 4.9 percent, respectively.
Strong Growth Abroad
Net international sales rounded out at $37.95 billion, up around seven percent year-over-year. For FY 2013, this figure closed at $135.2 billion - a 7.4 percent increase from FY 2012.
39th Consecutive Dividend Increase
The board of directors of Wal-Mart has approved an annual dividend of $1.88 per share for fiscal year 2014, up 18 percent from the FY 2013 dividend of $1.59.
Wal-Mart will pay the dividend in quarterly installments of $0.47 per share. The payments will be made on April 1, June 3 and September 3 of 2013 as well as January 2, 2014.
The news shouldn't be a surprise to seasoned Wal-Mart investors. The Bentonville, Arkansas company has increased its dividend every year since its first dividend of $0.05 per share in 1974.
Lower-Than-Expected Guidance
Wal-Mart expected Q1 FY 2014 EPS to finish from $1.11 to $1.16. Analysts are looking for $1.18 per share.
For the full year, the company expected EPS to round out in the $5.20 to $5.40 range. Thus, chances are this figure will finish below the $5.37 per share Wall Street wants to see.
Market Reaction
Wal-Mart has hovered in the high $60s to low $70s since early November of 2012 and continues to do so. As of this writing, the stock rests a bit under $71.
Wal-Mart is up over two percent on Thursday.
Posted-In: Earnings News Guidance Best of Benzinga
View Comments and Join the Discussion!