Weight Watchers Posts Strong Fourth Quarter, Drops on Earnings Guidance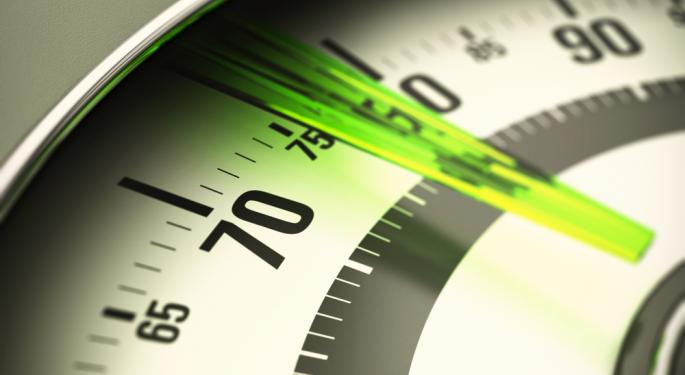 Weight Watchers (NYSE: WTW) is down big on Thursday on word of lower-than-expected guidance for 2013.
The New York City-based weight management firm posted an EPS of $1.03, easily topping Wall Street expectations of $0.87. This figure exceeded the company's Q4 2011 performance by 1.7 percent, as well.
On the revenue front, Weight Watchers also had a successful quarter. Revenues were 17.6 percent higher than the same period in 2011. The company posted fourth quarter revenues of $407.9 million, topping analysts' expectations by over $10 million.
For the year, EPS closed out at $4.23, beating out analysts' hopes of $4.08.
Revenues for the year finished at around $1.83 billion, edging by the firm's 2011 performance of $1.82 billion. This figure also narrowly slipped by Wall Street expectations of $1.82 billion.
Losing Weight in North America and UK
The company generated less income at its physical locations in North America and the U.K. than during the same period in 2011. Of particular note was a significant decline in paid weeks on both fronts and an even larger decline in attendance, suggesting the firm's brick-and-mortar operations are declining in popularity on both sides of the pond.
Weight Watchers' revenues in North America finished at $175.1 million in the fourth quarter, down nearly two percent year-over-year. Paid weeks were down around 7.5 percent and attendance was down 14 percent.
Meanwhile, UK revenues dropped around nine percent for the quarter, finishing at $31.8 million. Paid weeks declined nearly 18 percent and attendance dropped around 23 percent.
Gaining Weight in Central Europe
On a positive note, Weight Watchers grew in Central Europe.
The firm's revenues grew well over three percent year-over-year in this region, finishing at $39.8 million. Paid weeks were up 11 percent and attendance remained flat.
Weight Loss Going Virtual
WeightWatchers.com had a healthy performance during the fourth quarter, up 17.6 percent year-over-year. The site finished the quarter with 1.87 million subscribers - an 18 percent increase compared to fourth quarter 2011.
Guiding Successful Weight Loss for its Stock
Analysts were hoping for a full year EPS of $4.75 in 2013. However, Weight Watchers' guidance suggests a far lower result.
The company expects earnings to close out at $3.50 to $4 per share during 2013. If correct, the firm will finish 16 to 26 percent below expectations.
As a result, Weight Watchers' stock has lost a lot of weight on Thursday. After hovering in the low-to-mid $50s over the past three weeks, the stock now sits in the mid-$40s. It is presently at its lowest point in the past six months.
Weight Watchers is down nearly 16 percent on Thursday.
Posted-In: Earnings News Guidance Intraday Update Movers Best of Benzinga
View Comments and Join the Discussion!