Green Mountain Coffee Posts Strong Fiscal First Quarter, Plunges on Weak Q2 Guidance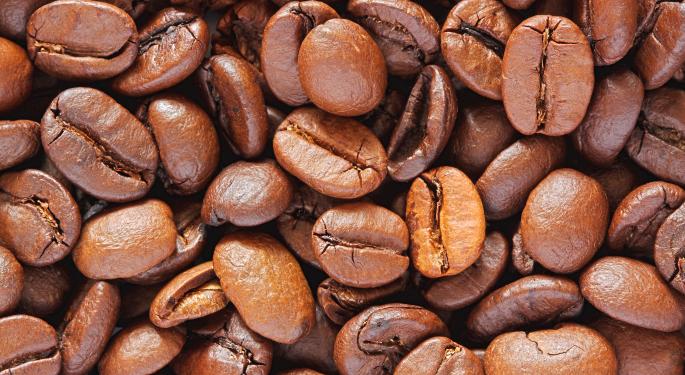 Green Mountain Coffee Roasters (NASDAQ: GMCR) posted a strong first fiscal quarter, but is down big on Thursday after forecasting a weak second quarter.
The Waterbury, Vermont firm blew away analysts' expectations of $0.65 cents per share during the first fiscal quarter of 2013, finishing at $0.76.
Sales were just above estimates of $1.33 billion, rounding out at $1.34 billion for the quarter.
The strong quarter boosted the coffee producer's share price by 3 percent on Wednesday. Closing at $48.94, the stock finished at its highest point since closing at $49.52 on May 2, 2012. Investors may recall that the stock dropped 48 percent the following day after a disappointing earnings report and lowered guidance.
Q2 EPS Guidance on Target, Sales Below Estimates
Green Mountain expects its second quarter EPS to finish in the $0.70 to $0.75 range. Analysts expect an EPS of $0.73.
However, while analysts expect revenues to close at $1.06 billion for the quarter, the coffee maker expects to come in below that mark. The company believes revenues will be 14 to 18 percent higher than the same period last year. If that pans out, revenues will finish in the $1.01 to $1.04 billion range.
Weak Second Quarter, Strong Year?
Despite a weak sales forecast, Green Mountain expects sales to finish 15 to 20 percent higher than fiscal year 2012. If accurate, revenues will close in the $4.44 to $4.63 billion range. As such, the company expects to hit around or above the $4.5 billion consensus.
Meanwhile, EPS is expected to come in above the mark this year. Analysts believe the firm will finish at $2.71 per share. Green Mountain plans to top expectations and round out fiscal year 2013 with an EPS of $2.72 to $2.82.
Green Mountain Coffee Gets Roasted in the Market
Green Mountain doesn't only give jitters to its customers. It can also do so to investors, as evidenced by the market's response to its latest report.
Investors have taken off the gloves on Thursday on word of Green Mountain's second quarter sales guidance. The firm has been battered in trading and is at its lowest point this month.
Green Mountain is down nearly 10 percent on Thursday, apparently in response to its lower-than-expected sales forecast.
Posted-In: Earnings News Guidance Best of Benzinga
View Comments and Join the Discussion!