LifeTime Fitness Tumbles as Americans Avoid the Gym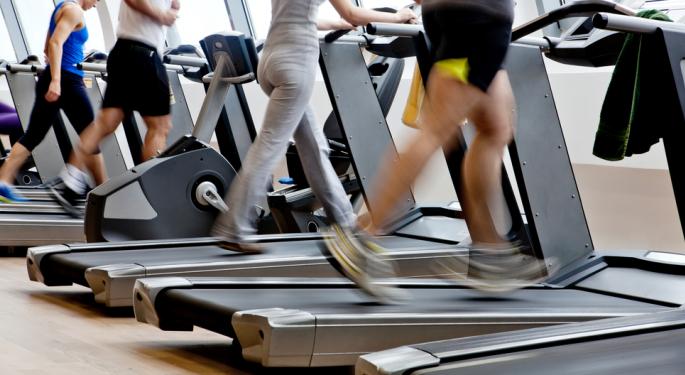 What happened to all those "I'm going to lose weight and get fit" New Year's resolutions? Life Time Fitness (NYSE: LTM), which operates exercise and recreation centers, would sure like to know. 
The company's stock is down 21 percent Friday and no amount of financial leg lifts or fiscal ab crunches seem to be able to change that trend.
LTM announced preliminary results for Q4 and 2012 full year Thursday. EPS and revenue both fell below analysts' estimates. The company also cut its full-year outlook and forecast fiscal 2013 earnings lower than analysts expect.
For the past year, expectations include revenue of $1.125-1.127 billion, net income of $110.0-111.5 million and diluted earnings per share of $2.63-2.66.
LTM's preliminary 2012 results included approximately $0.07 of diluted earnings per share impact in Q4 from losses from Hurricane Sandy as well as unrelated self-insured expenses, and costs related to the inaugural launch of Commitment Day, according to the Business Wire report. 
Commitment Day is a year-round movement, starting on January 1, urging people to commit to healthy eating, exercise, personal responsibility, giving, and a healthy planet.
Apparently, not enough people were willing to commit to Commitment Day. The Company reported that it experienced slightly lower year-over-year membership growth than planned, coupled with higher membership acquisition costs during the fourth quarter of 2012. 
Preliminary 2013 guidance expectations include revenue of $1.2-1.22 billion, net income of $120-124 million and diluted earnings per share of $2.85-2.95 for the year. 
Three new center openings are planned during the coming year, including one in the first half and two in the second half of 2013. This, in addition to the existing 105 centers under the Life Time Fitness and Life Time Athletic brands in the United States and Canada.
Meanwhile, William Blair downgraded Life Time Fitness to Market Perform from Outperform, citing worsening membership trends following the company's weaker than expected Q4 outlook and guidance.
Other stocks in the fitness, healthy living arena are mixed at midday. Weight Watchers (NYSE: WTW) is up 0.5 percent. Town Sports International Holdings (NASDAQ: CLUB) is down 1.3 percent, and even Bowl American (NYSE: BWL-A) is seeing losses of 0.8 percent in trading Friday.
Maybe after scarfing down all those chicken wings and beer during the Super Bowl, we will settle down for some serious fitness-related healthy living. Maybe not.
Posted-In: Bowl American Lifetime Fitness Weight WatchersEarnings News Best of Benzinga
View Comments and Join the Discussion!